North Carolina immortalizes Brennan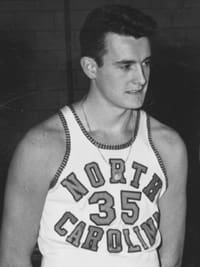 RALEIGH — Pete Brennan has received honors before, but he figured at this point of his life the recognition he received for being an outstanding collegiate basketball player would have stopped.
But this week, Brennan was inducted into the North Carolina Sports Hall of Fame in honor of his accomplishments during his career as a UNC basketball player during the years of 1955-58.
The moment meant so much to him that he could not discuss it when he was introduced to the media because the thoughts being the son of immigrants who came to this country from Ireland proved to be too emotional.
"I'm a first generation," Brennan said. "To be a born in New York of immigrant parents, and then to be honored in the Sports Hall of Fame, it's a tremendous accomplishment to me and a great honor.
"What I can't believe is that after 50 years, we're still being honored. It just doesn't seem right. It would seem that would have ended a long time ago. I guess the '57 team struck a chord in the people of North Carolina's hearts.
"Roy Williams honored us with the '82 team," Brennan said. "The ACC honored us down in Tampa [at the league tournament]. And I'm being honored in Raleigh."
It has been a big year for the men from the 1957 team because this is the 50th anniversary of that 32-0 season in which Carolina won its first NCAA men's basketball tournament. The following season, Brennan took over as the leading scorer for Lennie Rosenbluth, who graduated in 1957.
Brennan, who came to Carolina from Brooklyn, N.Y., led the team with 21.3 points per game. He was a first-team All-American and the Atlantic Coast Conference player of the year.
Nonetheless, his finest moment as a Tar Heel came in the national championship game against Kansas and Wilt Chamberlain. During the first overtime, Brennan grabbed a rebound off a missed free throw and raced the length of the court and hit a jump shot with four seconds remaining to send the game into a second overtime.
Carolina eventually won its second consecutive triple-overtime game to capture the title. The evening before (the games were played on Friday and Saturday night, back-to-back) UNC had defeated Michigan State in triple-overtime to advance to the championship game.
Brennan, one of 10 children, admits he enjoyed getting to score again his senior season. Rosenbluth had taken most of the shots the previous two seasons.
"It made me feel tremendous," Brennan said. "As a senior in high school, I led Brooklyn in scoring at 29 points a game. As a freshman, I averaged 25 points a game. Then all of a sudden it went to 13-pointsomething and then 14-pointsomething. But I was rebounding well. It was like I went from a total team player to more of a shooter, which is what Lennie was. Lennie and I were both ACC players of the year that played on the same team."
These days, Brennan lives in North Carolina. He lived in New York for part of his adult life, but he says he spent more of it in North Carolina. He worked in the clothing business for Burlington Industries.
"I lived in New York for quite awhile," Brennan said. "But I have lived in North Carolina for more than half my life. I've lived in the Outer Banks for the last two years. I lived in Charlotte for quite awhile. I was with Burlington Industries. I was in a number of small towns with them.
"I was in the clothing business, manufacturing sport coats and suits."
He always knew the 1957 team's championship had made a big impression on the state, but he says he did not realize just how much until the school honored the '57 and 1982 champions at halftime of the game against Wake Forest this past season.
"When I sitting in the stands before the introductions, Sam Perkins said to me: 'Pete, I just want to tell you how much your team meant to us. You guys had done it, and it made us feel we could do it. You were very important to us.'
"When we were out in the floor, James Worthy kept pointing his finger at us. I thought he was saying, 'We could beat you.' What he was saying is, 'We're coming over there to hug you guys.' The '82 team came over and we all hugged each other, one by one.
"I called Roy Williams the next day and I told Roy: 'When I was hugging Michael [Jordan] and James and all the other fellows, I really didn't feel it was the '57 team and the '82 team. I felt like we were just one.'
"He said: 'Pete, that is exactly what I'm trying to do. That is Carolina history. Pete, I want it to be the Carolina family.'"