Travis Wear out indefinitely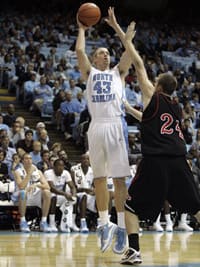 CHAPEL HILL --- University of North Carolina forward
Travis Wear
severely sprained his left ankle yesterday and will not play in tonight's game against Duke.
Wear is on crutches and is out indefinitely after landing on a teammates' foot while grabbing a rebound in Tuesday's practice. X-rays did not show any fracture.
The freshman from Huntington Beach, Calif., is averaging 4.5 points and 3.5 rebounds in 15 minutes of action in Atlantic Coast Conference games.
He was Carolina's first post player off the bench since an injury to sophomore
Tyler Zeller
put Zeller on the shelf since the first ACC game.