Idaho: Andrew Wasserman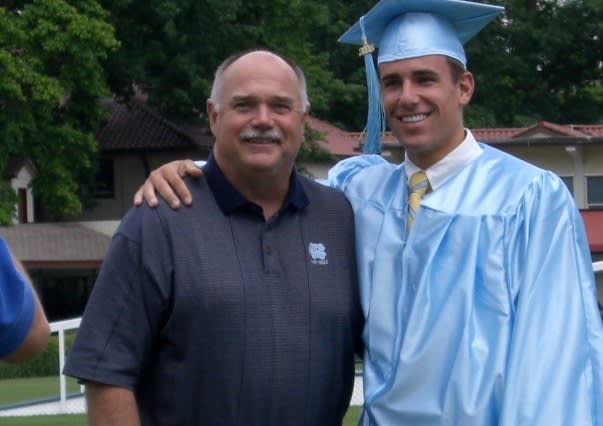 Maybe Andrew Wasserman's story isn't exactly like the one depicted in the famous movie "Rudy," but there's certainly a common thread among the two tales, which makes his experiences as a North Carolina football player a terrific story.
Wasserman grew up in Coeur D'Alene, ID, which is located along the western end of the state and a mere 2,537 miles from Chapel Hill. Not exactly a place where kids find themselves dreaming of playing for the Tar Heels.
But Wasserman did, though it was after he got a first-hand taste of what all things UNC were like in the middle of his childhood. His mother attended grad school in a nursing program at UNC, so the family uprooted from Idaho and spent a year-and-a-half in Chapel Hill while she finished school. Then it was back to Coeur D'Alene. By then, however, Wasserman was all in. He was a Tar Heel.
"I had a window there as a kid where I was all about Carolina sports," Wasserman said. "I was obsessed with football and I'd ride my bike from our house in Carrboro to the practice fields to watch the team practice. I'd cut out clippings from the (Daily Tar Heel) and have the players sign them.
"One of them, and I still have this 25 years later, says 'To Andrew, a future Tar Heel great. Your friend, Mack Brown.' The fact that Mack is back just makes me so happy."
Wasserman's stories are seemingly endless and soaked with pride. From his 18 months in Chapel Hill as a kid to when he eventually walked onto the team as a student and even getting into a few games.
"One afternoon in October, I asked (then-starting quarterback) Jason Stanicek if he'd come play football with me and my friends for my 10th birthday," Wasserman recalled. "He said yes and then he actually showed up. And he brought (linebacker) Rick Steinbacher with him, who was on the staff when I walked on 10 years later…
"Talk about making an impact on a kid. So, it was things like that that definitely kept the connection strong even after we moved back to Idaho."
Fast forward a decade and Wasserman was a student at UNC. He never played organized football in Idaho but assumed the role of Jerry Rice for years with his friends. A love for the game was within him, but his mother's nursing experiences were such she didn't let him suit up with any actual teams. That changed in college.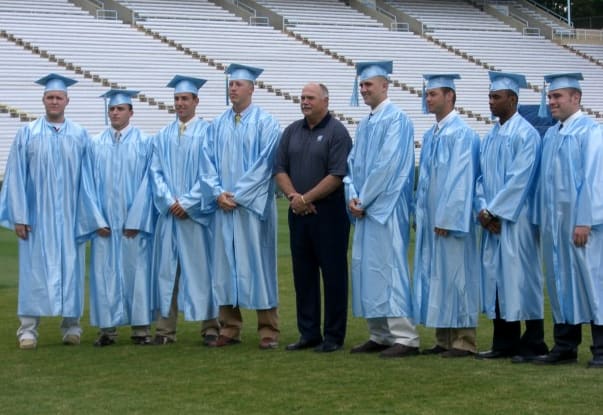 Wasserman played on a club team at UNC and as a sophomore posted some impressive numbers as a wide receiver. So, he put together a highlight tape, got a letter of recommendation from his coach and sent them to John Bunting, Carolina's head coach at the time. Wasserman was granted a tryout that spring.
He played well enough – caught a couple of passes in the spring game – and was brought back in the fall and made the team. He was on the roster wearing No. 84 and dressed for every home game in 2004, including the night Connor Barth beat Miami in one of the most thrilling finishes in Kenan Stadium history. Wasserman made the travel team in 2005, occasionally held for the field goals and extra points and was on the "hands" team, aka the onside kick return unit.
Wasserman almost played a snap as a wide receiver, which was his listed position on the official roster.
"I was sixth on the depth chart at receiver - way way down," Wasserman recalled. "In our first game that season (2005) against Georgia Tech, we were running a five-wide formation and our coach couldn't find Mike Mason, so I got thrown in there. I made it into the huddle but then (quarterback) Matt Baker called a time out. I've never forgiven him (laughter)."
Laughter, good vibes and a connection to something that can't be taken away.
"Everything about it was awesome," he said. "I was really lucky to have a coach like John Bunting who treated walk-ons really well, and I just remember having so much fun being a part of the team. The guys were nice, the coaches were nice, and while I was waaaaay behind football IQ-wise, everyone seemed willing to help me catch up. Jarwarski Pollock would pull me aside and explain route combos, even Darian Durant would stop to explain things. These guys didn't have to do that… Just a good group of guys."
Oh, and for that Rudy connection?
"I remember one day my older sister happened to be in Chapel Hill for work and stopped by practice, and when I saw her she was crying because of how surreal the whole thing was," Wasserman remembered. "I was this kid who'd been obsessed with Carolina football, and now here I was. I think if I'd stopped to think about it I would have kind of psyched myself out, but I was just having fun. Really, that's what it was about."