Fortin Recovers From Slow Start, Builds Toward Next Year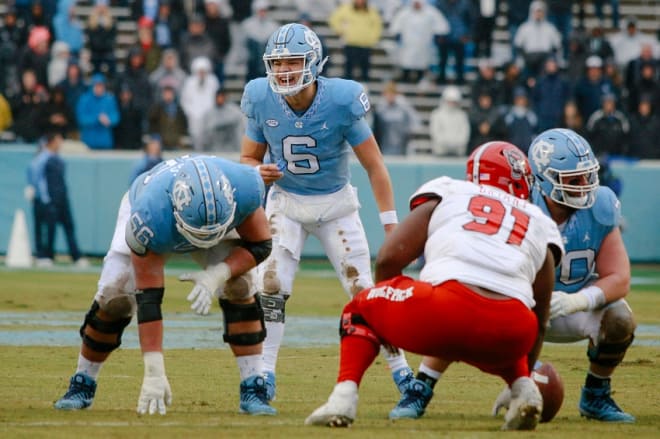 CHAPEL HILL - True freshman quarterback Cade Fortin got his second career start on Saturday in North Carolina's 34-28 loss to rival North Carolina State, and after a slow start, the Georgia native acquitted himself quite well.
Going into the contest, Fortin had played just 49 snaps - eight against ECU, 40 against Virginia Tech and one against Duke. However, Fortin had his best game as a Tar Heel against the Wolfpack, finishing 19-40 for 276 yards, one touchdown and one interception.
Fortin, who was a four-star quarterback out of North Gwinnett High School in Suwanee, GA, this time last year, missed most of his senior season after breaking his fibula. In the Virginia Tech last month, which was his other start, Fortin suffered another injury setback after hurting his knee in the first half.
Since this was just his fourth appearance, Fortin retained his red shirt and will be a freshman again next season, though he would have been happy to see more action this season, even if it meant losing the redshirt.
"It really wasn't an issue for me," Fortin said after the game. "I mean, had I played more than four games, it's the coaches' decision. I would have been ready to do whatever I could to help the team out."
In spite of that, Saturday's game didn't start all that well for Fortin. He completed just 2 of 12 pass attempts for 15 yards, but finished strong, going 17-28 for 261 yards throughout the remainder of the contest, with 200 of those yards coming in the second half.
"I think we just came out in the second half and started making plays," Fortin said. "The o-line did a great job all game, the receivers did a great job all game. But I think definitely that second half we had a little juice."
Despite the result, UNC head coach Larry Fedora was happy with Fortin's overall play on a cold, wet day in Chapel Hill.
"Cade did a nice job as a true freshman," Fedora said. "I thought he threw the ball around well. He took care of the ball, he took some hits out there today and for the most part he put the ball where it should go."
Anthony Ratliff-Williams, who caught two passes for 76 yards against the Wolfpack, was also full of praise for his young teammate and is excited for what he can do going into next season.
"I've seen him grow… he's not a freshman anymore," Ratliff-Williams said. "And, definitely after the reps he gets and the experience he has now, he has that under his belt to gain more confidence."
Even though UNC's season didn't go as planned finishing just 2-9, Fortin still has fond memories of his freshman season and is looking forward to the future.
"It was a great one," he said. "All glory to God, I got the opportunity to play as a true freshman and that doesn't happen very often. And, definitely with the new redshirt rule which is awesome, I got to get my feet wet a little bit. This is just something I'm going to build off going into next year."
Cade Fortin Postgame Interview