The Bench And Its Lack Of Use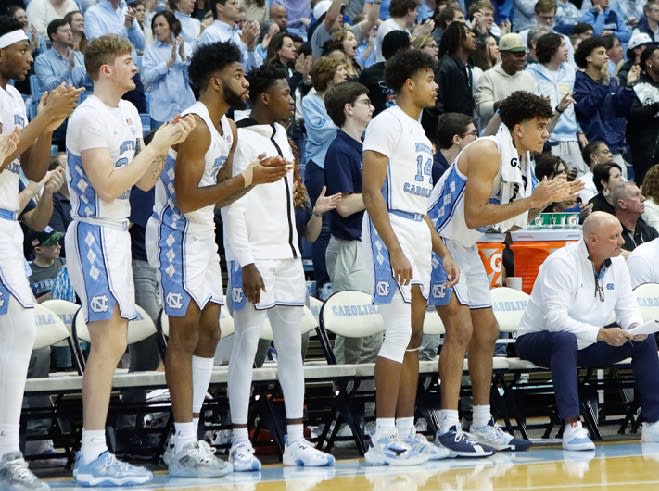 The North Carolina Tar Heels' starting five were branded as the "Iron Five" during their historical run to the National Championship game last season. The nickname reflected the players' vigorous stamina from enduring high-volume playing time.
The "Iron Five" were a celebrated moment for UNC last year but ended up being part of its downfall this season, as the Heels became the first preseason No. 1 team to not make the NCAA Tournament since the field expanded to 64 teams in 1985.
UNC coach Hubert Davis played all five of his starters at least 30 minutes per game this year. Starting guard Caleb Love ranked fourth in the ACC and 47th in the nation in minutes per game RJ Davis ranked eighth in the ACC and 78th in the nation in mpg. The Heels had all five starters in the top 40 in ACC minutes per contest. No other team in the ACC had five starters averaging 30-plus, and only Notre Dame (11-21, 3-17 ACC) had four players averaging 30 or more minutes.
Obviously, UNC is under new management, but the Heels have not had all five starters average 30 or more minutes each in the past 25 years. To take it a step further, before the Davis era, UNC had only five teams with three players averaging at least 30 per contest since 1998.
So why is this a relevant issue?
Carolina's 1997–98 and 1994–95 teams lacked depth so the starters logged 30-plus minutes each. They also combined to have five first-round draft picks and nine NBA players between them, including Jerry Stackhouse, Rasheed Wallace, Jeff McInnis, Vince Carter, and Antawn Jamison.
This year's starting five could possibly have a couple of NBA players, but nowhere near the star power of the aforementioned teams, the first 94-95 club coached by Dean Smith and the 97-98 squad coached by Bill Guthridge. Love and Davis have been good college players, and at times excellent. Armando Bacot respectfully earned the unlimited playing time and arguably showed up with his play while being double- and triple-teamed all season long.
Hubert Davis said multiple times he would use his bench, and late in the season, said he would make adjustments, hinting at playing time alterations.
"I'm continuing to look at that, not just offensively but defensively, with some different things to put us in a better position to get steals and deflections, get stops, (and) offensively the get better shots, to get more shots to the guys that we want them to shoot," UNC's coach said on February 17, two days before a loss at NC State.
"And try combinations out there that might work better when teams are really packing the paint against us and making it very difficult for us whether it's to feed the post or penetrate and be able to get to the basket."
But neither ever happened. Nothing changed the rest of the way.
The tools on the bench largely wen unused. No tweaks, pivots, or alters.
The offense still fluttered, as Leaky Black continued going unguarded on the perimeter, as his defender often released to help double Bacot in the post and impede dribble drives.
Pete Nance struggled as a stretch four, further hindering offensive flow, not to mention lengthy shooting slumps he incurred. Nance had a stretch of 13 games when he failed to hit double figures nine times, only grabbed 10 rebounds twice, and shot at least 50 percent twice, all while averaging 6.8 points, and 5.6 rebounds in 30 minutes per contest in that span. He shot 32 percent from outside for the season, and averaged right at 10 points.
Love's season-long performance was the most perplexing. He had a clear green light to shoot at pretty much any time, yet was shot 29.9 percent from beyond the arc on the season, and was below 30 percent in 18 of 33 contests.
Furthermore, the Tar Heels' offensive numbers worsened in February after peaking in January. The team appeared tired, didn't run sharp sets, and had a tough time creating when sets broke down. Even RJ Davis said after the win over Boston College in the ACC Tournament he was grateful for the lopsided win because it allowed the starters to sit for the last five minutes.
"It was good for me, I can't lie," he said. "I got a little rest and got to cheer on my teammates and be happy for them."
So, were the reserves just not capable of regularly giving the starters lengthier blows? Could anyone on the bench provide needed sparks, especially late in the season when the Heels really struggled? They converted less than 30 percent of their threes in nine of the last 16 games.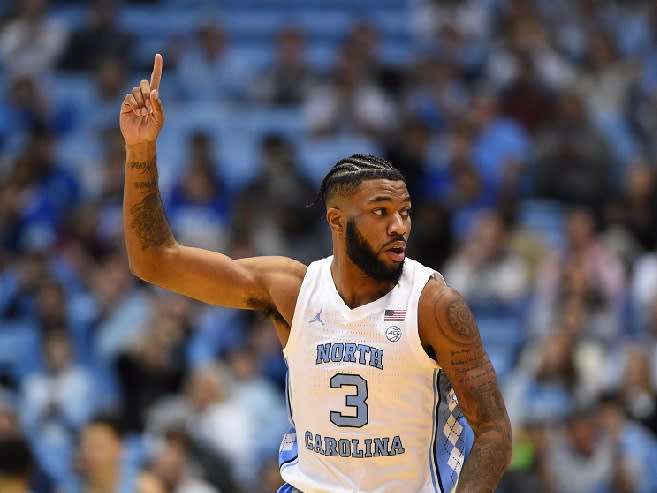 Carolina's bench consisted of six 4-star recruits, three of whom contributed in some way in last year's run. Yet, UNC finished the season ranked No. 360 out of 363 Division One teams in bench usage.
Snap shots tell us the bench could have helped more:
*Jalen Washington was thrown into the lineup after an injury to Bacot early in the loss at Virginia. Washington scored 13 points in 27 minutes after only playing a total of 19 minutes in the previous 12 games. The next game, he played 19 minutes, contributing six points in a blowout win over Louisville.
He played only 113 minutes on the season, and after the Louisville game, his high was eight minutes, was at six in another, five twice, and the rest four or less.
*Dontrez Styles is arguably the best athlete on the roster. At 6-foot-6 and 210 pounds, he can jump out of the gym. This team lacked athleticism and explosion. Styles logged 40 minutes in UNC's two wins opening games of the NCAA run last year, but ended up appearing in just 15 games this season as opposed to 30 a year ago, and playing 89 minutes opposed to 175 last season.
*Sophomore D'Marco Dunn and junior Puff Johnson were the only reserves to average at least 10 minutes off the bench. Dunn is supposed to be a quality perimeter shooter, so perhaps there was times Davis could have inserted him into the lineup when Love or the regulars were struggling. Johnson had a jack-of-all-trades roll, and was probably the one reserved best used for his skillset.
*Freshmen Seth Trimble and Tyler Nickel saw their playing time diminish. Nickel played 25 minutes in a loss at Virginia Tech, 18 in a win over The Citadel, and 12 in a win at Syracuse. Outside of those three games, he logged just 97 minutes in the other 22 contests in which he appeared.
Trimble averaged 14.2 minutes over the first 17 games, and just 5.1 over the last 16.
The rotation for North Carolina was a mystery. There was no set rotation, players could go two weeks without playing and then log 12 minutes in consecutive games. It was a challenge staying ready, not to mention the pressure reserves feel when given sporadic time on the court.
"I feel like the more game play you have the more comfortable you get – you're going to be real tight," Style said after the win over Boston College in the ACC Tournament, noting he was tight when he got into a game at Florida State after not playing in six of the previous seven contests.
"You're a basketball player, you be anxious, you be nervous a little bit. That's the thing about me, I'm going to be anxious, but getting into the flow, I'll be alright."
Only the bench guys other than Johnson never really got that chance, even when starters did play well, appeared to pace themselves on the floor at times, and when they were just downright tired.
Davis always pushed back when asked questions about his use of the bench. Instead, he championed his approach saying he uses the bench as a motivator and to push for accountability.
Just two years into his career as a head coach, Davis isn't a finished product by any means. He still has much growing to do, and this is an area that likely will be a part of the staff's self-evaluation this offseason.