3-Star QB Conner Harrell Commits To North Carolina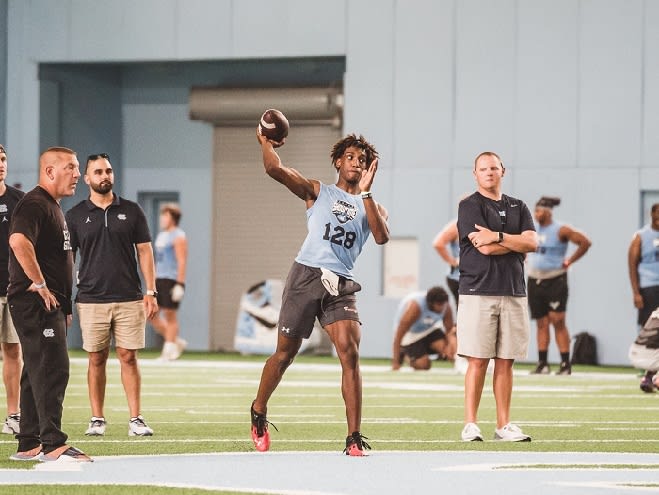 Conner Harrell, a 3-star class of 2022 quarterback who attends Thompson High School in Alabaster, AL, announced Sunday he will play football at North Carolina.
At 6-foot-1 and 190 pounds, Harrell chose UNC over Michigan and Northwestern, but also has offers from Auburn, West Virginia, Tennessee, Louisville, TCU and many others.
Harrell took part in UNC's Showtime camp on June 19, visited Michigan the next day, and was back in Chapel Hill for his official visit the following weekend. He announced two days after the Michigan trip he was revealing his decision on July 4, even though he hadn't yet taken his OV to UNC.
The trips to Chapel Hill had a significant impact on Harrell reaching a decision.
"I loved the campus and facilities, the campus is not very spread out and it is beautiful," Harrell told THI. "The facilities were also top notch."
Harrell was offered in the spring and met with Carolina's coaches via zoom but getting to spend time with them in person getting to know them was huge in this process, too.
"It was great meeting (UNC) Coach (Mack) Brown and (offensive coordinator) Coach (Phil) Longo in person," Harrell said. "They are both very honest, which I respect about them, but they are also very personable."
Relationship building when visiting as a recruit often includes getting to know the current players, and that went well for Harrell, too.
"Some of the best things about the visit was getting to be with the players that are already there and learn what UNC had to offer from that standpoint," he said.
The No. 28 overall prospect in the state of Alabama, what is it the UNC staff has told Harrell they like about his game?
"The staff likes my ability to throw but also be able to extend plays when I need to," he said.
Harrell is ninth member of Carolina's 2022 recruiting class and the fifth to commit in the last few weeks.
Deana's Take:
"Harrell will come into a great situation where he can learn the Air Raid offense. His skills at the Showtime Camp were off the charts. He is a very athletic kid with a strong arm."
Conner Harrell Highlights