{{ timeAgo('2022-06-11 17:43:57 -0500') }}
football
Edit
4-Star 2023 CB Kaleb Cost Commits To UNC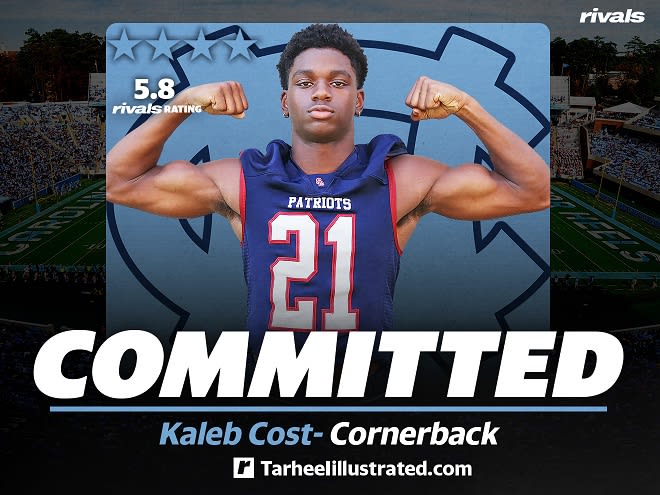 Kaleb Cost, a 4-star cornerback who attends Sandy Creek High School in Fayetteville, GA, has announced he will play football at North Carolina.
Cost, who is 6-foot and 180 pounds, chose the Tar Heels over offers from Pittsburgh, UCF, Tennessee, Florida State, and Mississippi State, among many others.
"North Carolina, they set the standard," Cost told THI on why he chose UNC. "They've been loving me since the first day they recruited me. Everybody, the whole coaching staff hit me up the first day. I felt the love. That's really what I was looking for in the recruiting process, where the love was at.
"They said I have the opportunity of playing day one with a lot of DBs leaving and everything this year, going to the draft, doing their own thing. That's a big thing."
Carolina sees Cost in the cornerback and star role. His relationship with defensive backs coach Charlton Warren was one of the keys in Cost committing to the Tar Heels.
"I love Coach Warren as a coach but it is much bigger than that," he said. "He's a dad-coach-mentor. He recruits specific players that fit UNC. We've built a strong relationship throughout this recruiting process and I have learned a lot."
In addition, Cost is a highly rated baseball player, which also helped in this decision, as he plans on playing for Scott Forbes' program as well.
Cost is rated the No. 45 player in the nation in his class at the cornerback spot, and he is the No. 29 overall prospect in talent-rich Georgia.
Cost took his official visit to UNC over the first weekend of June, which is when he made up his mind.
Deana's Take:
"Kaleb Cost is a fantastic athlete. It's an outstanding pickup for the staff to land a top 30 player out of the talent-rich Peach State. His versatility and skills will get him on the field early."
Kaleb Cost Highlights