{{ timeAgo('2020-06-30 15:55:56 -0500') }}
football
Edit
5-Star CB Tony Grimes Commits To UNC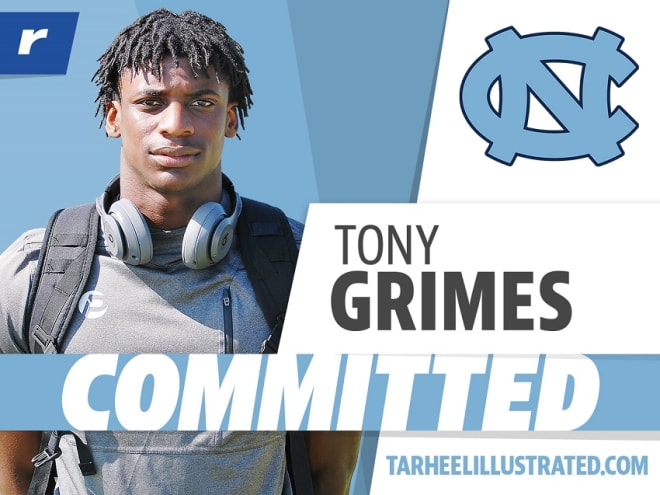 VIRGINIA BEACH, VA - Tony Grimes, one of the top defensive backs in the nation, announced Tuesday evening he will play football at North Carolina.
Grimes, a 5-star cornerback who attends Princess Anne High School in Virginia Beach, VA, chose the Tar Heels over Ohio State, Georgia and Texas A&M.
"I love the coaching staff, in particular Coach Brown, Coach Bly and Coach (Jay) Bateman," Grimes said.
Grimes' relationship with UNC assistant coach Dre' Bly was big in his decision, as Bly is also from the Tidewater area and carries tremendous credibility with athletes from the region. Grimes, however, has gotten to know Bly over time and they've built a trusting relationship that will now carryover into college.
More than Bly, Grimes has total faith in the entire staff, from the top with Mack Brown to defnesive coordinator Jay Bateman and the rest of the staff.
"Coach Brown is hard but fair. He will coach me hard and love me harder," he said. "I love coach Bly. He is a great DB coach and I think (he) can develop me to be an All-American and a first rounder, top 5 pick. Plus, he trains (NFL DB Stephen) Gilmore. Just think, I will be getting all that knowledge for the next three years for free.
"Coach Bateman is a gifted DC. He will always put me in a scheme to be successful as a player."
This isn't just a football decision for Grimes, who also noted being just three hours from Chapel Hill is a plus.
"I love the top 10 business school," he said. "Academics is top notch. Campus life seems healthy."
The 6-foot-1, 180-pounder is the 17th member of UNC's class of 2021 and its first 5-star prospect. In fact, Grimes is Carolina's first 5-star commitment since Elijah Hood flipped from Notre Dame to Larry Fedora's Tar Heels in 2014.
In addition, 10 of UNC's other 16 committed prospects are 4-star kids while the remaining six have 3-star ratings. Grimes is the No. 13 overall prospect in the nation and No. 1 at his position. He's an enormous pickup for Mack Brown's program and he's joining a terrific group rated No. 8 in the nation, a ranking that should move up with Grimes' commitment.
Grimes said he likely will enroll in August if there's no fall season in Virginia, skipping his senior year of high school. As of this writing, it's uncertain whether he will remain in the class of 2021 or move up to 2020. THI is on site for the annoucnement and will have more on this Tuesday evening.
That said, UNC is bringing in the talent, and that was also a factor for Grimes.
"Top three QB, top five LB, top 10 WR, plus the have a top-five recruiting class for 2021," Grimes said. "I think the NFL will be looking deep into UNC's program and that's good for me and all the 20's 21's 22's etc."
And with all of that, Grimes has huge team ambitions at UNC, as well.
"We will win a natty."
Deana's Take:
"With UNC getting a commitment from 5-star DB Tony Grimes it's huge. He will start a new pipeline of talent from the very fertile recruiting area of the Tidewater region of Virginia. This is a big day in UNC football."
Tony Grimes Highlights
Tony Grimes Interview - 6-27-2020
Stay with THI for more coverage Tuesday evening from Virginia Beach.