{{ timeAgo('2023-01-16 14:42:17 -0600') }}
basketball
Edit
5-Star G Ian Jackson Commits To UNC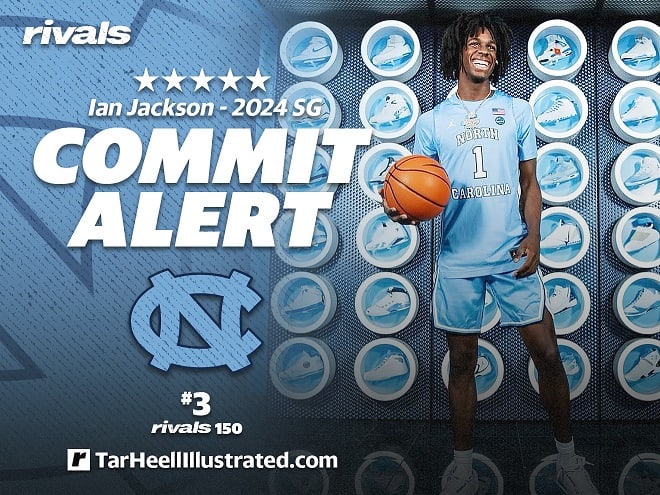 North Carolina continues to build what has shaped up as a remarkable recruiting class for the 2024 as the fourth member announced his intentions Monday with 5-star shooting guard Ian Jackson committing to Hubert Davis and the Tar Heels.
Jackson, the No. 3 player overall in the class, chose UNC over Kentucky and Arkansas. He took an official visit the second weekend in January, and had an amazing time, sources have told THI. So, nine days later, Jackson has made it public he will be a Tar Heel.
"I got to watch them. I was actually at the Final Four, so I got to watch them there," he said. "I think they are a phenomenal program. I've got peers who I am familiar with who go to that school now. I feel like the coaching is great... It is a place where I could definitely thrive, and he could definitely help me get where I want to go."
Jackson took an official visit to Kentucky in the fall and was at Arkansas a few days after being in Chapel Hill. For some time, UK was considered the leader, but Davis and UNC closed the deal with the fantastic official visit.
As for what kind of player Carolina is getting, Jackson, who is 6-foot-6 and 170 pounds, has a wide range to his game. He's a driver, can post smaller guards, and can shoot from the perimeter, though his high school coach at Cardinal Hayes in the Bronx, NY, said consistency is something Jackson is working on.
As for the kind of kids heading to Carolina in 18 months, Joe Lods couldn't say enough.
"There might be some locker room issues in college, but it won't deal with him," Lods said. "A college coach can sit there in a team meeting and talk about offense and defense, and he will be totally engaged in it. Or if they ask how he guarded a ball screen he'll say, 'Oh, I hedged it.' Or 'what are we running? We're running this play coach.'
"He's not the kid on his cell phone while the coach is talking. He's going to be in the front row totally helping him win. He's that kind of guy."
Jackson is the fourth member of UNC's class of 2024, joining Drake Powell, Eliot Cadeau, and James Brown. The class is currently ranked No. 1 in the nation.
Ian Jackson Highlights