5 Takeaways From UNC's Loss To Marquette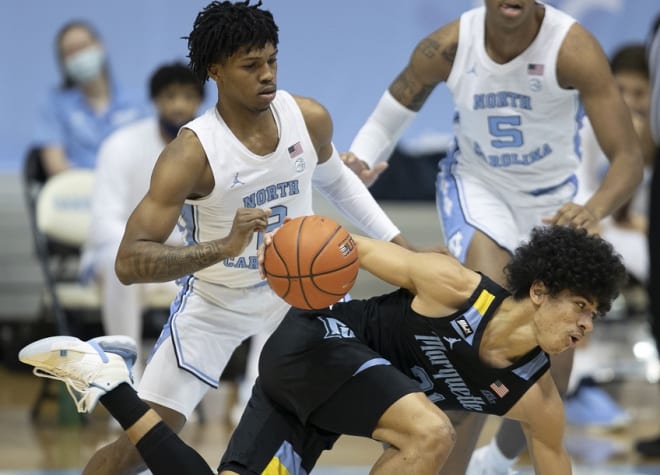 CHAPEL HILL – North Carolina responded to its best performance of the season in destroying Louisville this past Saturday with perhaps its worst in a n 83-70 loss to Marquette on Wednesday night at the Smith Center.
The Tar Heels routed Louisville by 45 points, but were down all night to the Eagles, and just never could sustain anything on either end of the floor.
Carolina trailed by 16 at halftime and cut the margin to seven at one point, but Marquette used a 10-1 run to gain separation and salt away the game.
Garrison Brooks led UNC with 18 points, RJ Davis added 11, and Walker Kessler chipped in 10. No other Tar Heel scored in double figures.
UNC dropped to 14-8 on the season while the Eagles, who came in having dropped six of their last eight games, improved to 11-12.
Here are 5 Takeaways from UNC's loss to Marquette:
The First Half
Carolina has been flat at times this season, but not as listless as it was in the first half of this game. Marquette's bench was overflowing with energy while UNC's had literally none, aside from Roy Williams. On several occasions, Williams was lecturing a player while the action was going on behind him for longer stretches than he has in the past. He appeared to be coaching effort more than at any time since before the New Year.
Offensively, the Tar Heels couldn't put the ball in the basket, hitting just 11 of 30 shots, with three of the buckets dunks by Garrison Brooks, so they were 8-for-27 on non-dunks. The perimeter players were a combined 1-for-14 with the lone bucket a runner off the glass by RJ Davis.
Brooks and Walker Kessler were a combined 8-for-9 with Kessler doing some nice things. But otherwise, it was UNC's worst offensive half since the loss at Clemson. Even more unbecoming than in the loss at Virginia, because the Tar Heels at least got plenty of open looks that night, they just didn't knock them down.
"Well, I think they were more aggressive on the defensive end, but we did some crazy things. Some of our turnovers, we threw a lob, got a big guy running down the court, we throw it out over his head out of bounds," UNC Coach Roy Williams said. "We have the ball at a big post player, he tries to hit the other post player at the basket and throws it behind him.
"We get an offensive foul twice. So yeah, we've made some progression, getting better with taking care of the ball, but we didn't have very good judgment today."
Defensively, the Heels were just as bad. Marquette regularly put the Heels in mismatches after switching on screens. The Eagles shot 50 percent for the half, and that's with missing plenty of other wide open looks. Drives to the basket either ended in a fairly uncontested layup or, if UNC picked up the drive, kickouts to wide open Eagles on the perimeter.
UNC didn't do much of anything right on that end of the floor in the first half.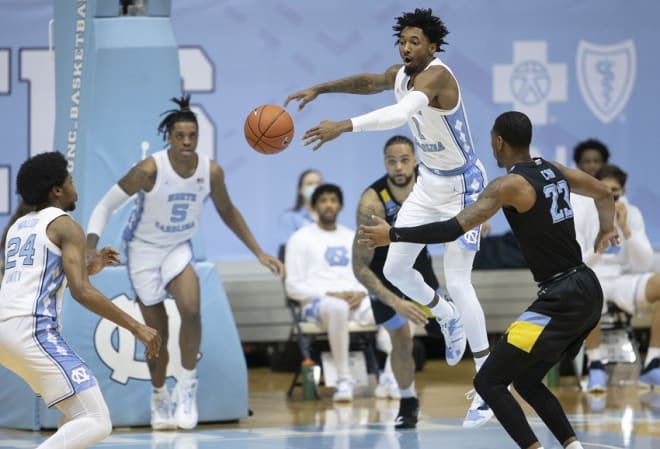 The Second Half
The Tar Heels still didn't have great energy after the intermission, which was a bit of a surprise, but things picked up once Williams had his team pressure in the backcourt. They got four turnovers out of it, but only scored on one of them. Two of the missed opportunities were early enough in the half to have made a difference had the Heels converted, but a missed three and turnover doomed those chances.
Carolina did hurry up the Eagles and flustered them a bit while being infused with needed energy. As a result, they forced turnovers on the other end – four in a four-minute stretch that saw the Heels cut the margin to 65-58 with 7:51 left.
"I think our pressure really helped us," Brooks said.
Yet, the Tar Heels just couldn't cut any deeper. Poor shooting, leaving open shooters and not enough boxing out did them in. Marquette used a late 10-1 run in building an 81-64 lead with 1:31 remaining.
No Punch From The Perimeter Guys
Garrison Brooks had a nice night, scoring 18 points on 8-for-10 shooting, and Walker Kessler was 5-for-6 off the bench. Overall, the front line totaled 40 of Carolina's points. But the perimeter guys simply had a poor night, as they combined to convert 8 of 34 shots from the field.
The numbers: RJ Davis 4-for-10; Kerwin Walton 2-for-9; Leaky Black 1-for-4; Andrew Platek 1-for-4; Anthony Harris 0-for-1; and Caleb Love 0-for-6.
The Heels were 5-for-18 from three-point range on the night after missing all six in the first half.
"We got some good looks, a couple of open shots," Davis said. "Myself, Andrew (Platek), Kerwin (Walton), Caleb (Love), we've just got to knock them down. Marquette did a good job I think, playing defense, pressuring, but we had some good looks that we could have knocked down and just didn't fall tonight."
In particular, Love really struggled missing all six of his shots, and that now makes it four consecutive games he's not been in double figures since scorching the nets for 25 points in the win at Duke.
The freshman point guard finished the night with one point and has averaged just 5.0 points per game since the win at Duke and has shot just 8-for-31 from the floor since as well. He is 1-for-13 from three-point range in that span, too.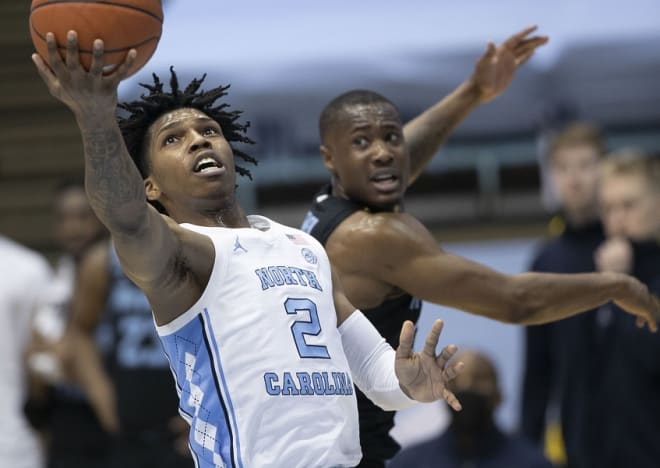 Turnover Issue Returned
UNC had been making progress with the turnover problems that had plagued it for much of the season, as the Heels were charged with 29 total turnovers in the three games leading to Wednesday's contest. But it fully returned on this night with the Heels doing so 19 times leading to 19 Marquette points.
Whereas seven Tar Heels had at least three assists each in Saturday's win over Louisville, six Tar Heels had at least two turnovers on this night: Davis 4; Black 3; Love 3; Brooks 2; Walton 2; and Day'Ron Sharpe had 2.
Most of the damage came in the first half, as Marquette turned 10 UNC turnovers into 13 points. Carolina was a bit better in the second half with eight turnovers leading to six points.
"We've made some progression, getting better with taking care of the ball, but we didn't have very good judgment today," Williams said.
No Glass Advantage
Marquette is a solid rebounding team, so it's no surprise the Tar Heels didn't dominate the backboards, but only grabbing one more than the Eagles – 35-34 – is emblematic of how the game went for the Heels. They were out-everythinged on quite a few missed shots, including on the defensive end.
In fact, Williams immediately turned to the bench and subbed in a player for one who didn't box out three times in the first half alone. Carolina had more offensive rebounds – 13-8 – but allowed 11 second chance points. UNC also missed 35 shots compared to 27 misses by the Eagles.
"The first two possessions of the game, we don't get any box outs and they get three shots the very first possession of the game," Williams said. "Luckily, they missed those."
Sharpe led Carolina with 11 boards, but no other Heel had more than five.