A Couple Of Positives Amid An Array Of Concerns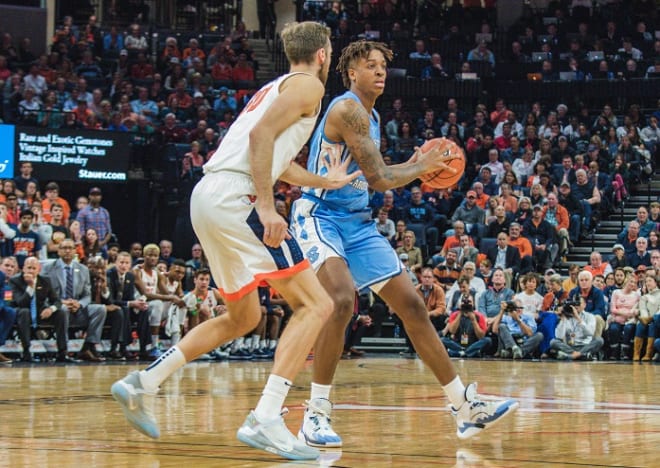 CHARLOTTESVILLE, VA – While North Carolina's 56-47 defeat at Virginia Sunday and third loss in four games offered up plenty of concerns for the Tar Heels' faithful, there were a couple of storylines that could help render a different course moving forward.
Freshman forward Armando Bacot wasn't shelved with an ankle injury as UNC indicated during Friday's press conference, instead the 6-foot-10 former McDonald's All-America started and played 25 minutes.
He suffered the injury during Wednesday's loss to Ohio State and at the time didn't think he'd be back playing any time soon. But Bacot was, though he wasn't super productive scoring 11 points on 5-for-8 shooting while the rest of the team was 12-for-38, and he grabbed just two rebounds.
But that Bacot toughed it out and played is really big for him and for the Tar Heels.
"Last Wednesday was scary, it swelled up huge," he said. "A lot of people thought it was broken, but I felt better and I look at it like this, there's people out here that go to work with injuries, do different stuff, so I can go out there and play 30 hard minutes with a messed up ankle."
UNC Coach Roy Williams said Bacot's ankle "ballooned up" a lot after the game Wednesday night. But while he was out recruiting Thursday, the coach got a text from the trainer who told him the ankle looked much better.
"I came back in Friday, I walked downstairs and he was in the hallway and I said 'What's up, Limpy,'" Williams said. "And he broke out into a little jog for about 15 feet and said 'No, I'm not limping anymore.'
"It really shows a lot of toughness, it shows how quickly his body recuperated. (Saturday) morning, I still didn't think I would play him. In the afternoon, we let him go on five-on-zero drills, (he) didn't have any pain, didn't have any pain afterward, the swelling had gone down quite a bit but he had no pain."
Bacot told Williams during Sunday morning's shootaround the ankle had continued improving and that he really wanted to play.
"I'd say of all the guys, if I'm going to be very critical, he'd probably be the guy I'd be least critical about," the coach said following the loss to the Wahoos.
In addition to getting Bacot back much sooner than expected, freshmen guards Jeremiah Francis and Anthony Harris made their UNC debuts, which was also a surprise.
Prior to Friday's practice, Harris wasn't expected to play for perhaps another month, and the word on Francis was he'd be out even longer. But both were cleared to play following Friday's practice and a source close to the situation told THI before Sunday's game they were available.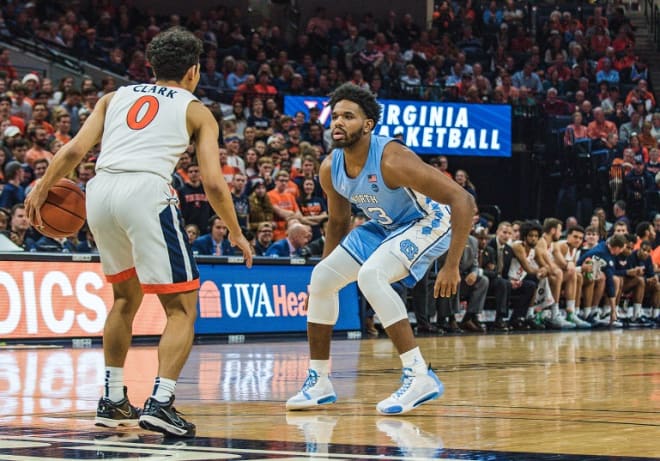 Both players checked in with 7:42 left in the contest and Carolina trailing 47-35. Harris played six minutes scoring four points converting both of his field goal attempts. Francis, who mostly played the point allowing Cole Anthony to move off the ball, played three minutes scoring one point, grabbing a rebound, turning over the ball once and committing two fouls.
"I do hope it will be good," Williams said about having them back. "I do think they're tough kids, I'd like for us to be tougher, there's no question about that… I think they're wonderful kids that had very, very serious injuries.
"Jeremiah Francis hadn't played in two years… Anthony was hurt last November, so it's been 13 months. We've tried to be precautious. A lot of people think he'd be released after nine months (but) we've been overly cautious… The kids feel confident that their injuries are not hurting them anymore (and) hopefully they'll do some things that will help us."
The Tar Heels won't play again until Sunday when Wofford visits, so this week will be about final exams, getting Bacot healthier and possibly integrating Harris and Francis more into things.
That, on an afternoon where just about everything else didn't go well, is a sincere positive for the Tar Heels.
Armando Bacot Postgame Interview