A Kansans perspective on Roy Williams Part 1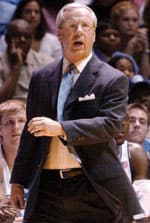 This article originally appeared in Carolina Blue's print publication.If you would like to read more stories like this one, sign up for a subscription today! by
clicking here
or calling
1-888-TAR-HEEL
.
To request a free trial issue of Carolina Blue, then simply fill out the form
here
and we will ship you a copy at no charge.
(Limit one per household, please. Offer not available to current subscribers. US addresses only please)
[Editor's note: This Is Part One of a three-part article on Roy Williams' leadership abilities and his decision to return to North Carolina, from the Kansan's perspective.]
For the first 15 years of his career as head coach of the Kansas University men's basketball team, not only was Roy Williams considered by Kansans and many others to be a great coach-he enjoyed a reputation as something more.
His reputation is easily summarized by legendary former UCLA coach John Wooden, who described Williams this way: "I know Roy cares much for his players as individuals.... The fact the he stayed there (in the year 2000)-and I know he was torn about going back to North Carolina, but he stayed at Kansas-says everything you need to know about how much he cares about those players."
Wooden was referring to Williams' decision to stay at Kansas after turning down an offer to coach at North Carolina, his former school and where he grew up.
Kansans viewed Williams as an intense, honest, emotionally open, nice guy whose teams epitomized teamwork. He was a leader who was gracious as a loser and humble as a winner.
Williams' very-public, stressful, and difficult decision to change jobs and move from Kansas to North Carolina presents a unique opportunity to look into a leader's inner world of thinking. Because stressful situations tell us much about someone's leadership, examining how he handled his decision to leave KU let's us determine if Williams actually deserved the positive reputation he had enjoyed
Part I- Is Williams a Traitor? [below] deals with the question of Williams' reputation and whether he betrayed it and KU when he left Lawrence to go to North Carolina. PART II - Is Williams a Leadership Role Model? explores the extent to which Williams is a leadership role model and describes a theory of leadership from which to view Williams' behavior. PART III- The Worldview of Roy Williams describes Williams' thinking and suggests ways people can learn to think more effectively as a leader by emulating his worldview.
PART I - Is Williams a Traitor?
The story of Roy Williams' rise as a premier coach in college basketball goes back to Roberson High School where he played basketball, was elected student body president, and was voted "most dependable" by his classmates. After playing basketball at North Carolina and graduating, he began coaching in high school. Later, he took a job as an assistant under legendary North Carolina men's coach, Dean Smith. There he became the 2nd assistant and learned all he could under his former coach and then mentor.
Meanwhile, back at Kansas, after winning the national championship in 1988, then Kansas coach Larry Brown left KU to coach in the NBA. University of North Carolina coach Dean Smith called KU's athletic director and recommended his 2nd assistant, Roy Williams for the head coaching job there.
In a risky move, KU gave Williams the job and the Roy Williams era at KU began.
The rest is basketball history. During his time at KU, Williams was, to say the least, exceptionally effective as a coach in terms of winning. Only three coaches (Rupp, Bee and Tarkanian) have ever reached 400 victories in fewer games; his .805 winning percentage is best among active coaches; his 418 victories is second only to Phog Allen at Kansas; he has more Final Four appearances (four) than any other Kansas coach ever; his teams won nine of 15 Big Eight/Big 12 championships, while no other program won more than two during that period; only three active coaches (Knight, Krzyzewski and Olson) have more Final Four appearances; and his teams had 14 consecutive NCAA tournament appearances, a record among active coaches exceeded only by Olson's 19 at Arizona.
Williams' record as a coach is an exceptionally good, competitive one. Other than not having yet won a national championship, no one would dispute his superb basketball record.
However, besides being an effective coach, many considered Williams to be a leader who set a morally sound example. He was a good, classy, compassionate person who kept his word, treated others well, worked hard, and lived right. He was an intense, emotional coach who often shed tears of appreciation at press conferences. He proved nice guys can win. And there was no sign of the moral or emotional problems that have led to the downfall of so many coaches.
The combination of his coaching success and his appeal as a leader and role model, made Roy Williams one of the most talked about, well-known persons in Kansas since he arrived there 15 years ago.
How Williams earned his reputation
Williams earned his reputation by doing lots of things well and making very few mistakes.
From the time he arrived at KU 15 years ago, as a "no name second assistant" - as he described himself - Williams worked to improve the already-great KU basketball program. He came on the heels of Larry Brown and his 1988 national championship.
Besides his tireless focus on basketball in terms of recruiting, practicing and playing games, he also did much more. In support of the KU basketball program he conducted weekly TV programs and countless media interviews; he supported the Special Olympics; he held reunions for former players; his player graduation rate was higher than any of the other Final Four teams the last two years; he did "Late Night with Roy Williams," and he mentored his players after they left the program, continuing to help them develop as people, and more.
In the process, Williams exhibited four specific patterns of behavior as a leader: communicating authentically, carefully mentoring players, preventing public "bad behavior," and responding to criticism non-defensively.
Williams Communicated Genuinely and Authentically
At his press conferences, in his television interviews, and during games Williams communicated authentically and genuinely.
He was outwardly joyous when things had gone well. He expressed appreciation and grief with equal emotional openness, sometimes being moved, or being sad, and in either case, sometimes coming to tears. Or he had tears of disappointment if a game turned out badly.
Williams was emotional. He came across even a bit corny at times. But he didn't come off as phony or emotionally scripted. He said how he felt. He was congruent in that his words matched his emotions and his body language. For these reasons, many people perceived him as trustworthy, genuine, a person devoid without any phoniness.
Williams Mentored His Players
Williams mentors his players with his urging and example. An instance of this happened in late 2002 with Jeff Graves, one of his tall, inside players. Graves showed up for the 2002-2003 season more than a few pounds overweight. Williams had told him that 250 to 260 pounds was a proper playing weight. Graves agreed. Then he arrived at practice at the beginning of the season weighing about 290 pounds.
Williams gave him a requirement before he could fully participate as a player on the team: he must run a mile in 6:30. To help him do that Williams ran with him periodically until Graves was able to get his time down to 6:30, losing his weight in the process. The fact that Williams did more than tell Graves what to do... that he, at over 50 years old actually got out and ran with him, meant a great deal to Graves. And Graves went on to be a key player later in the season when star forward Wayne Simien got injured. Graves ended up starting and helped the team get to and nearly win the championship game.
We will never know how many little things Williams did for his current and past players to help make them successful in basketball, in school and in life. Certainly the 64 percent graduate rate his players enjoyed, tops in the last two Final Fours, and 10 percent over the KU's general graduation rate, is support for the idea that Williams is a mentor as well as a basketball coach.
Williams Didn't Behave Badly Very Often
Williams didn't throw chairs across basketball courts nor throw ashtrays at office secretaries. He didn't choke players. He didn't abuse them verbally with profanities. He didn't get drunk and behave inappropriately at parties with young women. He didn't abandon his university job for orders of magnitude more millions in the NBA.
Not doing these kind of things has been a plus for Williams' reputation in an atmosphere where such unfortunate behaviors are all too common.
Williams Responded Non-Defensively to Criticism
Coach Wooden once said that, "Many people do not listen to criticism. If so, that is their weakness."
Williams, on a few occasions, did say things that offended people. When the criticism came back to him he rarely responded defensively. He listened and responded to earn forgiveness.
For example, after a high-scoring game last year with UCLA which KU won 99-98, Williams quipped, "Are you going to tell me you didn't like this more than 19-17 at halftime.... We're trying to make it a game of basketball skills, not a weight-room contest." Williams was making reference to the halftime score of the 2000 NCAA national semifinal between Wisconsin and Michigan State, a game Wisconsin lost, 53-41.
Williams' comments bothered people connected to the Wisconsin team. Williams did not respond to these criticisms with defensiveness or insensitivity. Rather, he said that he, ". . . tried to immediately say it was not anything against (their coach) Dick Bennett." He said that he, ". . . wrote Dick a letter, and he wrote me back a nice note. He said he agreed with me the game of basketball had gotten too rough, but some people took it that I was just pointing at their one game." Williams went on to say, "Dick knows how I feel because you cannot have any more respect for anybody than I have for Dick Bennett." He added, "Bo Ryan (current UW coach), the job he did this year was great, too. I don't think I have any problem with the Wisconsin basketball family, but there might be some people out there that didn't appreciate what was said."
Another one of Williams' recruits, J.R. Giddens was accused of being part of a shoplifting incident. It came out in the paper. Williams was asked about it. He didn't jump to conclusions. He didn't defend Giddens. He supported him and in the end, Giddens with acquitted of any wrongdoing.
These incidents illustrate how a leader can maintain a good reputation. In the case of the Wisconsin controversy, instead of being defensive, Williams working hard to reconcile any problems resulting from his comments. In the case of Giddens, he waited.
These patterns of behavior, and his winning record, created his positive reputation. And then came the decision he had to make about North Carolina the first time around in the year 2000.
Williams' Big Decision the First Time Around
When the UNC head coaching job opened up in the year 2000, Williams thought about it for a few days. He went through the process of making a major-life decision. In the end he said, "I'm staying" to a relieved and happy crowd at KU and (from a distance) to a sad and disappointed crowd in North Carolina. The decision angered several of his family members, he said later, and was a big sacrifice for him most of all. About a year later, Bob Frederick, Williams' boss and the athletic director who hired him, was forced out and was replaced by Al Bohl after a nation-wide search. Bohl's hiring was the beginning of two difficult years for Williams. The resulting atmosphere in the department according to Williams was not "cohesive." Williams said, ". . . it was a difficult two years. I couldn't wait to get on the court and away from the madness. The basketball court was my salvation."
Three years went by from his "I'm staying" announcement. Williams coached. The Jayhawks won. New recruits signed on. During this period Williams' teams prospered, reaching the Final Four in 2002 and 2003.
Through March, 2003, Williams seems to have maintained good relationships with people with whom there are real or potential problems. Based on public statements by many of his players, former players, fellow coaches and others, Williams had been consistent for 15 years at earning high levels of trust, respect and admiration from the many people he interacts with and influences. And then came the events that began April 1st, 2003.
Williams' Decision the Second Time Around
When Matt Doherty resigned as head coach at UNC on April 1st, during last year's NCAA tournament, the opportunity for being the head coach at UNC returned as both an ambush along his path for his first national championship and as an opportunity for his career and his life.
Reporters began asking Williams if he was going to stay at KU. He told them he wanted to focus on his players and helping them to prepare for their Final Four games. The reporters continued asking anyway.
Then came the firing of his boss, Al Bohl, and Bohl's subsequent verbal attack against Williams (through a driveway press conference at his house.).
In reply to Bohl's charge that he was a victim of his "hatred and vindictiveness," Williams initially declined comment. After thinking about it he issued a statement that said, "It is always sad for the individual involved when a situation such as this occurs and a change is made. We had difficulties, and we were not as cohesive as the athletic department needs to be. This made the atmosphere somewhat difficult.
"Dr. Bohl tried extremely hard, and it is important now that we stop blaming individuals and pull together to be as successful as we can be."
According to Robert Hemenway, KU's Chancellor, Williams "never asked for Bohl's removal."
Williams could have attacked back and responded in kind, proving the accusation Bohl made a true one, but he didn't. Later, Williams did say that Bohl, ". . . never did anything for me in two years" and that he didn't want "to be like" him. Once again, Williams found ways to respond honestly to criticism, in this case criticism of the most vicious kind, without attacking back at his accuser in the same way he was attacked.
After the Bohl incident, Williams still had a decision to make-to stay or leave?
Reporters continued to ask Williams about the job in North Carolina. His team kept winning.
After defeating Marquette by a margin that could have easily been 50 points had he kept his best players in the game, KU made it from the Final Four to the final two-the game for the national championship. Williams and his team were full of hope at winning that elusive NCAA championship, which would be Williams' first ever and KU's first since 1988. That dream was not to be and KU lost in a close contest to Syracuse, a game not determined until the last KU shot missed at the buzzer.
Williams Uses Profanity
Immediately after that loss, while walking to the locker room to talk with his distraught players, Bonnie Bernstein, a CBS TV reporter asked him about the North Carolina head coaching job.
After saying once that he didn't want to talk about it, she posed the question to him again, asking, "But if they offered the job right now, would you be willing to take it?" In a now legendary comment, Williams responded with a profanity, "I don't give a s--t (expletive) about North Carolina right now!" he said. He then walked off to talk with his players after the biggest basketball loss of their lives.
Williams Mulled over his Decision
After that game, Williams took a few days to consider his future. Once again he had to make perhaps the most important decision of his life.
He wanted to balance his relationship between the KU basketball family and his UNC basketball family. He wanted to balance his relationship between his friends who were "the brothers" he didn't have, with his relationship with his one remaining parent-his aging father-as well as with his ailing sister and his son, each of whom lives in North Carolina. He wanted to balance his loyalty to his mentor, coach Smith, with his loyalty to the recruits to whom he promised he would stay at Kansas. He wanted to balance his desire for his dream job and to return to his roots in North Carolina with his 15 years of success in a community in Kansas he loved. At one point in the process, at the prompting of his son, he also considered what he wanted when Scott said to him, "Dad, forget everything else. Do what you want to do." At that time, he was still balancing and said in reply, "That's the problem, Scott, I don't know what I want to do."
He kept thinking. He didn't know the answer. This infernal plate-spinning-like balancing problem was one that he couldn't solve, not in the short-term. After four days, he ran out of time, for at some point he believed that he was hurting people because of the amount of time he was taking to decide. I don't think anyone could have solved it to everyone's satisfaction, not if they cared about all the people Williams cared about as intensely as he did. He had to decide who to hurt, who to disappoint, who to make angry, and he didn't want to hurt anyone. However, the nature of the situation was that people would be hurt, thousands of people. And it was complicated by the fact that all of this was being reported in the newspapers and on television every day, a stress most of us can't imagine.
Williams finally decided that when the jet he was in landed on the way back from a trip to California that he would finally decide.
The jet landed. He chose North Carolina, or so he thought.
He then met with his current and some former players to tell them about his decision. Jeff Bosche was at that sad meeting. When asked what Williams said in the meeting, he said, "He just told us he loved us."
He talked with reporters about his decision, trying to avoid getting into details, saying, "Fellas, thanks very much. All the junk that's been going on, it's been hard because people haven't believed me as much as I would like them to believe me. But I felt like I owed everything to those 13 kids. Thanks for not pursuing it any farther further." He then flew off to North Carolina for a press conference to announce his decision publicly.
In the hours leading up to the press conference in North Carolina, while Williams had made the decision, he didn't feel relieved. He felt awful. He was in a state of agony. He threw up during the night. Tears continued to flow. He continued to waver. He later said he, "... went back and forth 5000 times."
So high was the intensity of his commitment to his KU players that he said, "Other than the death or serious injury to my family members, I've never had more difficulty than this afternoon when I told those 13 young men I was leaving."
Early in the morning, he saw a picture of Omar Wilkes, one of his recruits. That image prompted him to change his mind and picked up the phone to reverse his decision. But he didn't make the call. In the end, Williams stuck to his decision.
Williams Attempts to Make Amends
During his North Carolina press conference, which was also aired live in Kansas City, he took the first 15 minutes and talked about the people who supported him in Kansas. He appreciated each of his players. He appreciated each of his four recruits. He said that he had been trying to call them and would continue to try later in the evening. He appreciated the people who welcomed him to Kansas and supported him there.
He was sad and tearful through much of the press conference. By the time he had finished he spoke glowingly about 35 people from Kansas, 46 people in all.
Near the end of his press conference, he looked at his new players and began his new relationship with them by saying, "I'm going to care about you guys [pointing] - and it's not going to be just about the number of points and rebounds that you get. I'm going to care about you every day of your life, the way the greatest coach in the history of any level of basketball taught me to do."
Soon after his press conference he traveled back to Kansas and attended the KU basketball banquet with players, coaches and their families followed by a public awards ceremony. He would be facing those whom his decision disappointed and angered.
Once he arrived back in Lawrence, he continued to support his former players. According to The Kansas City Star: "Williams arranged a meeting of three sports agents with departing seniors Nick Collison and Kirk Hinrich and their families in the Naismith Lounge. 'With all that he had going on then, I really appreciated him doing that for me,' Hinrich said."
At the ceremony Williams got a standing ovation from a crowd of 2000. At one point, one person yelled, "traitor!" Apparently Williams had regained the trust of Nick Collison's dad, Dave Collison, for he stood up and said to the heckler, "You should be ashamed of yourself." The crowd apparently agreed with Mr. Collison. No more heckling. Williams told the crowd, "It was 15 fabulous years. And I hope that in time everybody will look at it like that, because regardless of what happens, it'll be 15 fabulous years for me."
In an evening characterized by applause, appreciation and ovations, the players seem to indicate that they forgave Williams for leaving. For example, Michael Lee, a sophomore guard on the team said, "We're going through some tough times right now, but I want to say to coach Williams, 'I love you.'"
In response to doubts about whether Williams was trying to lure his recruits to violate their commitment to KU, according to a newspaper account, "Williams reiterated that he hadn't been tampering with KU recruits David Padgett and Omar Wilkes when he discussed them repeatedly during his introductory press conference Monday in North Carolina and during television interviews on Tuesday."
Of that possibility, Williams said, "I'd give my left leg rather than take something away from Kansas." Earlier in the day, he was even more emphatic, saying, "For someone to say I'm trying to do something negative to Kansas is like saying I'm trying to kill myself."
He knew all the healing was not yet complete. He said, "Hopefully, time will heal the other hurts." The restoration of Williams' relationships in Kansas begun, but people continued to criticize him publicly.
Williams continued to give interviews to reporters who confronted him with the criticism of his own players.
Joe Posnanski, a reporter at The Kansas City Star, published an interview the day after the banquet and awards ceremony. He asked Williams this question: "Your players have been critical. You have heard Wayne Simien say he gave his right arm for you. You have heard Keith Langford say he did not come to Kansas for this. There were others. How do you respond?"
Williams said, "Players are like your children. They do things you disapprove of sometimes. They say hurtful things sometimes. But you don't stop loving them.... They're kids. And they're hurt. I understand.... Wayne said he gave his right arm for me, I don't think that's right. I think he gave his right arm for his teammates. I think he gave his right arm for himself and his team. I love Wayne Simien. And I hope as time goes on, he will appreciate that I did everything I could for him. And I always will do everything I can for him." [Williams cries again.] "I hope all my players realize that someday."
Is Williams a Traitor?
There are over 3000 "Benedict Williams" T-shirts somewhere in Lawrence Kansas. Numerous critics accuse Williams of being a traitor. Others think he is not. So which is it? In light of the evidence, did Williams' decision to go to North Carolina make him a traitor who betrayed KU?
To answer the traitor question we must clarify what the terms "traitor" and "to betray" mean. My dictionary says that a traitor "is one who betrays his country, cause, friends, etc." and that to betray is "to deliver into the hands of an enemy by treachery, fraud, or unfaithfulness in violation of trust."
Such a definition presupposes singularly selfish intentions such as money, fame or other personal gains, without regard to the effect his decision had on others.
What would Williams have had to do to be a traitor who betrayed those at KU who contradicted his prior good record as a leader?
If he had violated a contract to stay at KU he would have betrayed the contract and perhaps the integrity of his word.
If he left his players to take a job for more money when he already made over a million dollars a year then, he could be considered greedy, perhaps even a traitor in that he valued huge amounts of money over his commitments to his players.
If he had left in a steely cold, insensitive and unremorseful way, then, he might reasonably be considered as someone who didn't care how others felt about his decision, perhaps even a traitor in an emotional sense.
But he didn't do these things. He had no lifetime contract to stay at KU. He didn't leave for money, or fame. He didn't leave in a cold, insensitive, unremorseful way.
He left to be with his father, his sister, his son. He took his wife back home to her roots. He left to be with his mentor, coach Smith. He returned to be at his old school, his basketball roots. Williams did break a commitment he made to his players and recruits to stay at KU during their tenure as players. However, he broke that commitment to deepen another commitment to his immediate family members in North Carolina and his extended "family" there as well.
He had to abandon one group of people or reject another group of people, both of whom he cared deeply about. It was an unresolvable dilemma. In the short term there was no win-win solution possible for Williams. The genuineness of Williams' loyalty to both sides of this conflict is apparent in the difficult struggle he went through in making the decision. Still, he attempted to balance all the factors he considered. He cared. He showed remorse. He said he "felt like" he betrayed his recruits. He wavered. He vomited.
There were critics who wrote letters to the editor, editorials and public statements who insisted that Williams was disloyal and betrayed people in Kansas; that he was full of "hatred and vindictiveness", that he was "just a basketball coach" who "lied" to them and "in one week destroyed everything that he built in the 15 years he was at KU;" who said that "Roy should be shown our disgust." These critics were insisting that Williams be loyal to KU alone while not considering his own family members-his aging father (his only surviving parent), his sister who has been ailing, his son, his mentor, coach Smith, his roots, his original basketball family, and his loyalty to himself and his own preferences.
Because of the personal and legitimate factors Williams struggled with in making his decision, the expectation by Kansans and other critics alike that he stay at KU no matter what was selfish. The fact that KU fans in the Midwest got to enjoy having Williams as the KU basketball head coach for 15 years, is worthy of appreciation, not criticism, in light of the evidence.
While looking into the future, there is a test to determine whether Williams was genuine in his struggle with his decision to stay or leave. Williams has a plaque on his desk that someone gave him as a gift. It says, "Statistics are important but relationships last forever." Kansas City Star reporter Joe Posnanski says that Williams says "it is what defines him."
If indeed he is true to the slogan on his desk, that "relationships last forever" then he will work hard to maintain relationships with former colleagues, players, recruits and friends at KU, and will develop new ones with equal trust, respect and closeness in his new job and location.
Through his agonizing, tearful struggle to decide, and the great effort he made to maintain his relationships and minimize harm, Williams' did just that. He worked hard and showed how much he cared for the people affected by his decision. And his actions since then demonstrate that he still cares in spite of the criticism aimed at him. This is not betrayal. It is loyalty. It is human. It is sensible. Williams is not a traitor. He is a great coach and a good, loyal person who changed jobs.
Kelly Patrick Gerling, Ph.D. is a psychologist, leadership development consultant and freelance writer living in Kansas. He is also a devoted fan of KU basketball. His business, The Leadership Project, specializes in offering consultation, facilitation and training in leadership development to organizations and individuals. You can find out more about his work at www.leadershipproject.net. To contact him call 913-724-2400 or e-mail kelgerling@aol.com.