ACC Media Day: UNC Breakout Sessions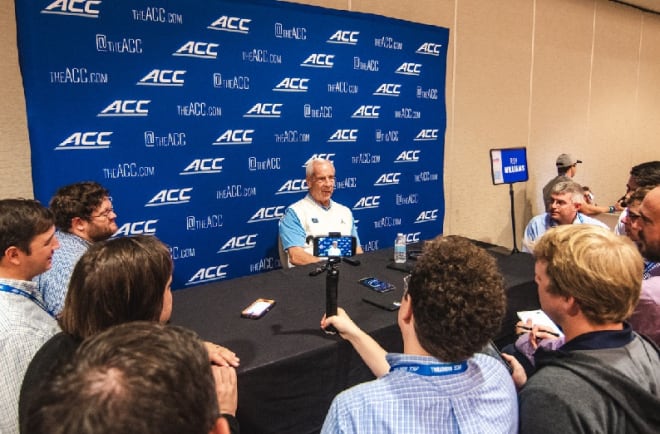 Note: Full videos of the interviews of Roy Williams, Brandon Robinson and Garrison Brooks are below along with some exceprts and notes from what was said.
CHARLOTTE – ACC Operation Basketball is a time for the media from around the conference's footprint and nation to have access to all 15 teams in one place on one day. So, many of the questions coaches and players get are asked by media that normally don't cover them, which makes for a variety of topics.
North Carolina Coach Roy Williams and Tar Heels Brandon Robinson and Garrison Brooks took part in the breakout area Tuesday at the Marriott City Center and had some interesting things to say. Below are their interviews with a few tid bits pulled from what they had to say.
Please note that the breakout interviews really weren't in a breakout room, they were in the same room as the main press conferences at the dais, so it's somewhat difficult to hear what Williams and the players are saying at times.
Here are their interviews with some notes and quotes:
*UNC has run eight practices and have only had 11 guys participate in each of the practices.
*Roy said Brooks, Robinson and freshman Cole Anthony have been the team's leaders so far.
*BRob says everything they do in practice is to win, every drill, every rep, right to the coaches in which Roy pulls out his keys to open the door before Steve Robinson.
"We compete in everything we do because I think life is competitive" - Roy
*The players that have stood out to Roy so far: Cole, BRob, Garrison, Justin, Christian, Armando
*Paraphrasing Roy: Walker does some good things and Andrew has been hurt – will get reps with the white team when he's healthy. *Roy: "BRob is always shot ready"
Roy Williams
*Regarding the California law that was passed allowing college athletes to make money on their likeness and if it would be disruptive to a team, Williams said:
"I can't answer any of those questions and I don't think anybody can except to say we've definitely been moving at a snail's pace," he said. "The last several years, it's gotten much more student-athlete friendly, which I think is good. Cost of attendance money to all the student-athletes I think is great.
"We're moving in that direction, (but) to me is the best thing about this is to spurn the NCAA to do it quicker and better. I really don't want politicians making our rules for us. They should, as (Gonzaga coach) Mark Few says, 'Stay in their own lane. We have a lot of crap going on in our own country, let's take care of that before worrying about basketball and football.'
"I do think perhaps that emphasis on their part as politicians may spurn the NCAA to make moves quicker. No one knows what it's going to look like and it's hard to even think about making a comment."
*Williams didn't mention Leaky Black when he was at the dais answering a question about the player who have stood out. It was clearly an oversight. He was asked in the breakout area about Black, and here's what he said:
"In a lot of ways he's our most important player because he can do so many things," Williams said. "We've had eight practices (and) he's probably practiced 30 percent of the time. When he's on the court, our team is completely different than when he's not on the court.
"We've got to get him out there. He's better defensively than anybody else, he gets his hands on more balls, gets his hands on more offensive rebounds. The shot hasn't been going in for him this year but he's got such a small sample size of shots he's taken because he's only play like 30-35 percent of the time."
*On what he's learned about his team so far in practice?
"The biggest thing is we're going to struggle scoring. Cam and Luke and Kenny aren't there, so we better be a little bit better in every other area: Run it a little better, get more action around the rim because we don't have the three-point shooting."
*Staying on the scoring struggles topic, how do Christian Keeling, Cole Anthony and Justin Pierce factor into making up for the lost seniors?
"I don't think there's any doubt they're not the (same) shooters, just look at the stats. Three guys that scored in double figures. Cam was number one in the ACC in three-point shooting, (and) I don't see that guy out there on the practice floor…
"Kenny was the best defensive player we had. Luke Maye – you don't have to be a nuclear physicist to see that those guys aren't those three guys so they've got to help in other ways because they're not those guys.
"Justin and Christian are going to be able to handle things more easily than the freshmen…
*On how has Brooks expanded his game?
"Not as much right now. He's had some problems with his wrist in the shooting hand so he hasn't shot it as much or as much as you want him to because we need him to be a bigger scorer for us this year and we haven't seen that as much during practice. But we have seen him more aggressive, taking the ball to the basket, rebounding and trying to score right there."
*Recruiting has obviously picked up a lot the last couple of years after a three-year stretch in which Williams struggled bringing in the kinds of players he did for most of his first 25 years as a head coach at Kansas and UNC. But it has clearly returned to normal in recent years and is as hot right now as any time in nearly a decade. What has been the big change in the uptick in recruiting?
"It's not an uptick, there was a three-year period it was almost impossible with everything else," he said, noting that over the first 11 years at UNC he recruited 25 McDonald's All-Americans but over a three-year period from 2015-2017 he brought in just one.
"I didn't get that dumb that quickly nor have I gotten that smart that quickly. It's easier when you don't have that cloud hanging over head for several years. I've gone to see kids just as much and probably more, their homes, their games, they've been on campus visits. It's just back to a different atmosphere than it was during those three years."
Garrison Brooks
*Forward Sterling Manley missed 16 games during his sophomore year through a knee injury and, after having surgery in the off-season, still has not been cleared to play going into this season.
Brooks, who arrived in Chapel Hill with Manley in 2017, has been in his teammate's corner through his injury struggles and praised the work he's put in to get back to 100 percent.
"That's my guy, man, that's my guy from day one," Brooks said. "I've been in his ear always trying to tell him it's going to be alright, keep getting better, you just need to keep working on your body and keep working on your game. He's been doing that, he's been working on his game really hard.
"So I think that's one of the biggest things for us. He's going to keep working hard but he's been in good spirits, I think that's the best thing for him because he's been working hard. The best thing is, he's been working hard on his game and I respect it."
*In his freshman year at UNC, Brooks played 14.6 minutes per game, averaging just 4.5 points and 3.5 rebounds. Those stats nearly double last season during his sophomore campaign as the Lafayette, AL, native averaged 7.5 points and 5.6 rebounds on his way to becoming a key contributor for the Tar Heels.
As he prepares to enter his junior season, Brooks talked about what he would tell his freshman self if he could go back in time. Here's what he had to say:
"Take better care of yourself, you obviously didn't do it enough your freshman year. Just keep working hard and try to be persistent with what you do. Look at the basket, you never looked at the basket to score. Just be more comfortable, try to loosen up. You're real tight, you're scared, you're nervous to make a mistake."
So, how long did it take for him to get comfortable on the court?
"A year and a half," Brooks said with a smile. "So basically like halfway through my sophomore year."
Brandon Robinson
*Graduate transfer Christian Keeling, who's from Augusta, GA, grew up less than three hours away from Douglasville, GA, native and senior guard Brandon Robinson.
The pair competed against each other on the AAU circuit when they were younger and, according to Robinson, he played a big part in getting Keeling to eventually choose UNC.
"I've known Christian since we were probably in ninth grade. I played AAU against him in eight and ninth grade. So, I knew him before I came to Carolina.
"He was trying to pick a couple other schools, he was talking about going to some other schools, like putting out graphics and stuff in other jerseys and every time he did it, I used to text him and be like, 'that's not it, man, you already know you need to come to Carolina.'"
*Robinson came into his own in the second half of the season last year, playing double-figure minutes in 14 of UNC's 15 games from Dec. 29 to Feb. 20.
The senior discussed some of the struggles he had as a junior, particularly in the beginning of the season, with confidence and how he worked through it.
"I'd say after Christmas, things started to click for me," he said. "My teammates came to me and were like 'man, be the confident player we know you are and be that player that you are when you play pick-up and just go out there and show people you can play. Don't go out there and think too much, be yourself.' So I think, them being in my ear each and every day about me being myself and me being able to play, that just helped me go out there and show people what I can do."
Which teammates were there to support him the most?
"I'd say Garrison and Sterling. They were in my ear a lot about me just being myself because they could tell that I was not being myself. I was just kind of like in my own head, not just being free. They told me just go out there and play."