AJ: 'Wal-Ker Kess-ler' Soaks It In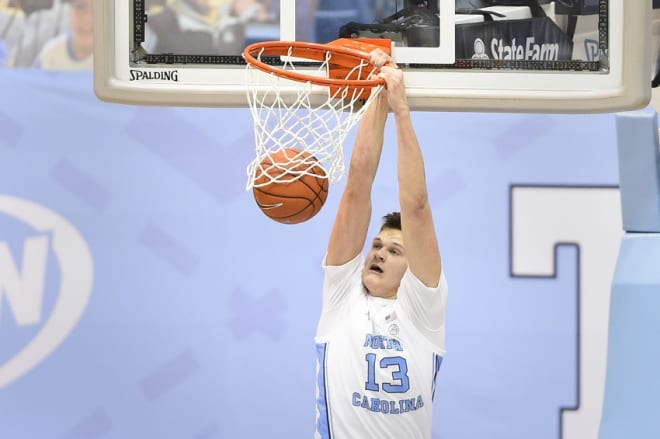 CHAPEL HILL – When the final seconds ticked off the clock from North Carolina's 78-70 victory over No. 11 Florida State on Saturday at the Smith Center, freshman forward Walker Kessler looked up into the stands and took in the surroundings.
He lost himself in the moment, wanting to secure it for years to come. It was special. It was surreal.
"Well, it wasn't the empty seats," he said about 20 minutes later, explaining what he was doing. "So yeah, it was definitely the crowd."
In pre-pandemic times, the Dean Dome would have been jam-packed with 21,750 fans doing their best sixth-man rendition trying to nudge the youthful Tar Heels to a needed victory in their quest for NCAA Tournament viability.
But that wasn't exactly the case, though to Carolina's newbies it might as well have been so.
For the first time this season, fans were allowed in the Smith Center, though with a limit at just 15 percent capacity, a mere 3,263 were in the building, 2,400 of whom were students. They are classmates of the players, though mostly faces they'd never seen before on campus, thanks to online classes in the fall.
But the Heels saw and heard them Saturday, especially Kessler.
These eyes have covered games in the Smith Center for 25 years, probably some 400 or so, give or take a few, and rarely have these ears heard the building chant a freshman's name three different times in the same game, much less the same half. Until now.
"Wal-ker Kess-ler" clap, clap, clap, clap, clap!
"Wal-ker Kess-ler" clap, clap, clap, clap, clap!
And a worthy honor it was.
Imagine the emotion swirling inside the students to finally have a chance to see their guys play hoops in person. Some of the 800 or so "regular" fans in attendance had the lump-in-the-throat thing going on just being in the building, two of them admitted about 30 minutes before tipoff.
They wanted to embrace the pageantry of it all: The banners, jerseys, lineup-intro video, "Jump Around," and the other trimmings that make this one of the sport's great shrines to the game.
And they wanted to see North Carolina play like North Carolina. Not the bunch that floundered its way to a 13-point loss to Marquette last Wednesday, but one that did their fabled history proud while satisfying their hopes.
Kessler obliged.
He was off-the-charts sensational. For an afternoon, he rivaled many of Carolina's great freshmen from its past. He was Antawn Jamison good. He was Tyler Hansbrough good. He turned in one of the most memorable performances by a UNC pup in a big game in a long time, especially considering the opponent and Heels' need.
Harrison Barnes in the ACC Tournament good. J.R. Reid good.
Kessler came off the bench to give UNC the mother of all juice injections. How about 20 points on 9-for-10 shooting, eight rebounds, and four blocked shots. And that juice, lots of juice. Infectious juice.
Joseph Forte good. Phil Ford good.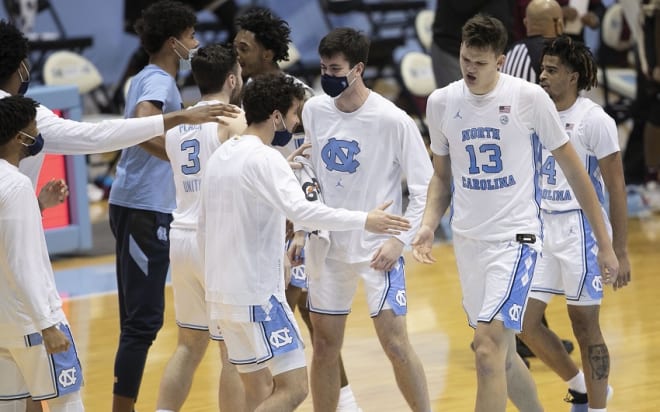 "I just thought he was phenomenal for us," said UNC Coach Roy Williams, whose landmark 900th career victory was overshadowed by Kessler and Carolina's comeback.
The Tar Heels trailed 39-23 late in the first half when things started to change. A 6-2 close to the half made the FSU lead a manageable 12-point margin. Manageable only if the Heels played some D and found ways to score against one of the top teams in the nation.
By the time 8:56 remained in the contest, Carolina led 59-52 following Kessler's third dunk of the night, and after a magnificent pass by Leaky Black, that capped a 36-13 run spanning 13:35 of the game. Kessler scored 14 points in the run, including eight from the 19:06 to the 15:20 mark in the second half. That was the spark that really got UNC's fire going.
He also grabbed four rebounds, blocked two shots and had a steal that led to his own jam during the eruption.
Kessler was electrifying, and the crowd joyously serenaded him for his amazing performance. The 7-foot-1 Georgia native was humbled.
"I mean, that was my first time experiencing anything like that," he said. "I get kind of chills and kind of smiling about it because it was just a seventh full, 3,000 out of 21,000. I'm kind of lost for words honestly."
Kessler's game has been ascending for about three weeks, and perhaps more similar performances will mark his future. This was one game, so don't mistaken him as equal to the Carolina greats noted above, but this was an effort worthy of its celebration.
The crowd appreciated him, and Kessler appreciated the crowd.