Arkansas: Tommy Thigpen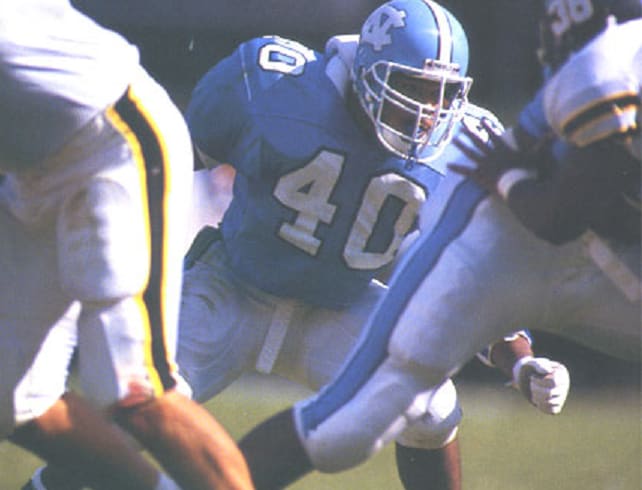 (Note: THI is naming the greatest former UNC football or basketball player from each of the 50 states. The criteria is the player had to live in the state he represents at some point before arriving at UNC. The duration doesn't matter, he just had to live there. College and pro careers were factored with a lean toward their UNC accomplishments.)
Tommy Thigpen was born in El Dorado, AR, and spent the first 16 years of his life there before moving to Potomac, VA, which is in the outer reaches of the Washington, D.C., suburbs.
From there, he was heavily recruited by Mack Brown to the University of North Carolina. The decision to attend UNC propelled Thigpen to a long and successful career in football.
First, he was a star player for the Tar Heels almost right away, and later he's been one of the more highly regarded recruiters in major college football, a 25-year career that has included three stops at his alma mater, including his current post as Carolina's co-defensive coordinator and linebackers coach.
As a player for Brown, Thigpen started for four seasons amassing 409 tackles, 32 for a loss of yardage, including 14 sacks, and being named to the All-ACC team three times, including the first-team in 1991, his junior year.
"Tommy is as good a linebacker as there is in college football," Brown said prior to the 1992 season. "He has dominant speed with the ability to hit. He can hit you in the open field, close from behind, or cover backs out of the backfield. He can run full speed and not slow down to hit. It is a very special player who does not have to break down to hit and Tommy is one of the very best."
Thigpen was the captain of the 1992 team that went 9-3 and defeated Mississippi State in the Peach Bowl, finishing the season ranked No. 18 in the nation. That's even more remarkable considering the Heels were 1-10 during his freshman season.
The Heels were 6-4-1 in 1990, with the tie coming against Georgia Tech, which won a share of the national championship that season. It was the Yellow Jackets' only blemish. UNC went 7-4 in 1991 barely missing out on a bowl game (there were only 18 bowls at the time), and then the 1992 season launched the program to a different level.
Thigpen was as much a part of that process as any player. Looking back, he lays out exactly what Carolina was facing when he arrived and how things changed.
"In 1989, when I got here as a player, the cupboard was bare, there weren't many Division One football players on our team," he said. "In fact, it shouldn't have been a surprise that we ended up being 1-10. We probably should have won three or four games, but we still weren't a team that was very talented.
"My last season, we went to the Peach Bowl in 1992 against Mississippi State in Atlanta and you start thinking about the draft choices from Rondell Jones to Thomas Smith to Austin Robbins, Bracey Walker. You go down the lineup there were a number of guys in the NFL that had long durations in the league. What was the difference? Coach Brown came in and changed the talent pool."
Thigpen was drafted by the New York Giants and played two seasons for the Barcelona Dragons of the World League of American Football.