Berry Makes Young Fan's Day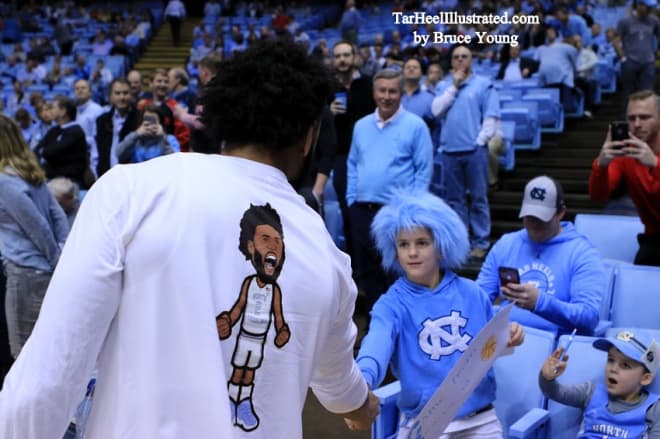 CHAPEL HILL – Lane Christensen met his idol Saturday afternoon at the Smith Center.
An eight-year-old North Carolina basketball fan from Omaha, NE, Christensen and his family made the trek to Chapel Hill for the Tar Heels' game versus rival N.C. State, courtesy of a Christmas present from his grandparents.
He sat courtside during warmups before the family retreated to their seats in the upper deck of the Dean Dome. But while sitting not far from the Tar Heels as they got ready to play N.C. State, Christensen held a handmade sign intended to draw the eyes of CBS, which broadcast the game, and his favorite player, UNC senior Joel Berry.
So after Berry did some stretching and was about to join the team's shoot around, he was alerted to Christensen's sign. He looked at it and walked over.
"First game, Came from NeBraska to See Joel Berry score," the sign read.
Berry walked over, shook Christensen's hand and said a few words before going back onto the court.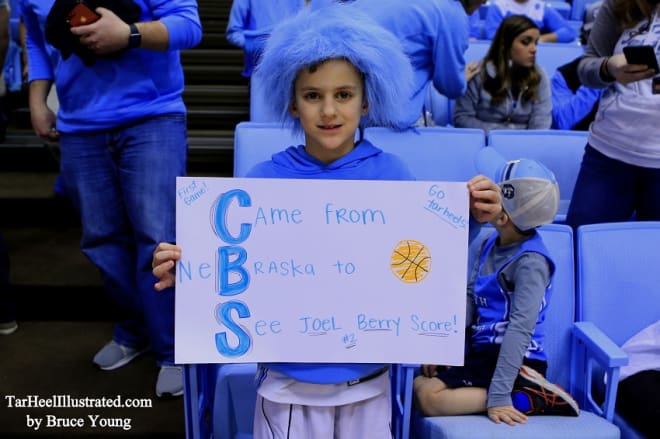 The young Tar Heels fan said it was pretty cool meeting Berry and that his favorite thing about the senior guard is how he scores, dribbles and passes.
"All of them," he said, wearing a smile that barely fit in the 22,000-seat arena.
Christensen also thought it's pretty cool he got to shake the hand of a Most Outstanding Player from a Final Four, an honor Berry won last April in leading the Tar Heels to the national championship.
"Yeah," he said, still smiling.
It wasn't just Lane's first game at UNC, it was his father, Jake's, too. A longtime UNC fan, the Nebraska native had already passed along his passion for the Tar Heels to his son. While this was Lane's moment, it was also dad's.
"I've probably been a Tar Heel fan for about 25 years," Jake said. "He's been in it since he was three or four years old."
A diehard Berry fan, this small gesture by Berry will last a lifetime for Lane.
"It's awesome," Jake said. "He'll be super pumped, something he can remember forever."
Jamie Christensen, Lane's mother, got joy out of seeing Lane and his brother taking it all in.
"To see the looks on their faces and their eyes, just how big they are, is awesome," she said. "I don't think he quite knows what to think about it.
"We saw him yesterday on campus and he waved to him and he hasn't stopped talking about it since. This will be something he can remember for the rest of his life."
Knowing that THI caught the moment on video, Jamie said, "He will love to show all of his buddies that one, for sure."
It took less than a minute, but Berry acknowledging Lane will last forever.