Brown 'Disappointed' In ACC's Response To Questionable Hits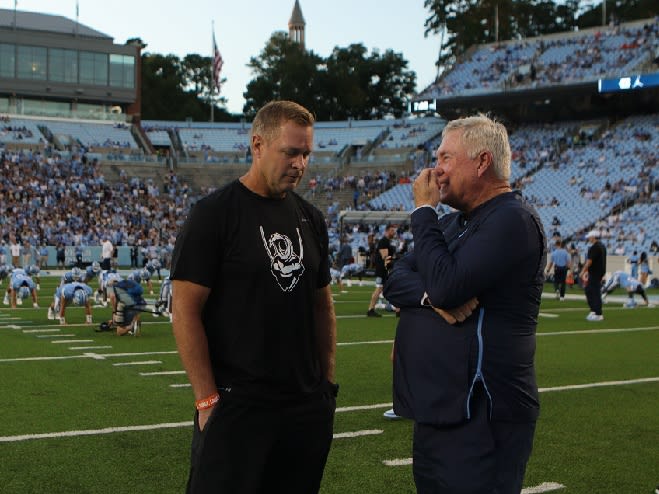 CHAPEL HILL – Mack Brown went through the proper channel earlier this week, as he and all coaching staffs do in the ACC when submitting questionable calls for the conference to review, but wasn't too happy with the outcome.
North Carolina's coach included a couple of controversial hits two of his players received during a 59-39 win over Virginia on Saturday night. One resulted in a flag on the field, the other did not.
The plays in question were a hit Virginia's Joey Blount put on UNC wide receiver Josh Downs that went viral on social media, which occured during a 21-yard run by Ty Chandler in the third quarter. No flag was thrown, and UNC didn't discover it until watching the film, though Downs mentioned it to some teammates before the game ended.
Also, Carolina center Quiron Johnson had his helmet ripped off by UVA defensive tackle Aaron Faumui, and then after the helmet came off, Faumui appeared to hit Johnson in the face. He was flagged for a personal foul for facemasking, but nothing regarding the apparent smack to Johnson's face. It should also be noted that Downs was later involved in a play in which UVA defensive back Coen King was disqualified for targeting when he hit Downs leading with the crown of his helmet.
So, UNC included the first two instances in its weekly list of plays submitted to the ACC, and the conference chose to make no public announcements regarding the hits, and whatever it told Brown did not please him at all.
"When I addressed it with the conference office, and I thought it was a teachable moment for them, too, about player safety, (and) I've never been more disappointed than the response I got," UNC's coach said following practice Wednesday morning. "That's all I'll say, we're moving on with it."
The play involving Johnson could be explained as football getting a bit heated, which happens, especially in the trenches along the line of scrimmage. The hit on Downs appeared to go beyond that. He had pulled up on the play and was not looking at Blount, who shifted directions from tracking Chandler and instead went right at Downs, who is not only UNC's leading receiver, but the top receiver from any Power 5 team with 399 yards.
Blount popped Downs hitting his right side and immediately knocking him to the turf.
"I had run a dig route on the play," Downs said Tuesday evening. "I had turned around and I got hit. I didn't really think anything of it, I wasn't paying attention. He caught me lacking. But there really wasn't much to it… I don't think it was that clean, but it is what it is."
Brown acknowledged the challenge officials have these days with offensive schemes using more and more of the field. But the clear dissatisfaction with the ACC's decision to do nothing about the hit on Downs speaks directly to player safety.
"We're at a time in our lives where people have never talked more about our game and player safety," Brown said. "And the health and the safety of the players are more important than anything. I love the young people who play this game, most coaches I really admire and respect. But the players are special, and to keep the game like it is, we've got to keep it safe."
Neither Johnson nor Downs missed any snaps as a result of the instances, and Brown praised them for keeping their cool and moving on to the next plays. Downs said it happens sometimes in football, but he wasn't interested in making more out of the play than had already been made.
"I'm not happy with it, but it's not that big of a deal," he said. "I've been cheap-shotted before. I've played football since I was like six or seven, and it is what it is, pretty much."
Downs finished the game with eight receptions for 203 yards and two touchdowns. Johnson played 51 snaps in his second career start.