Carolina Mandate: A Thousand Made Threes Each Week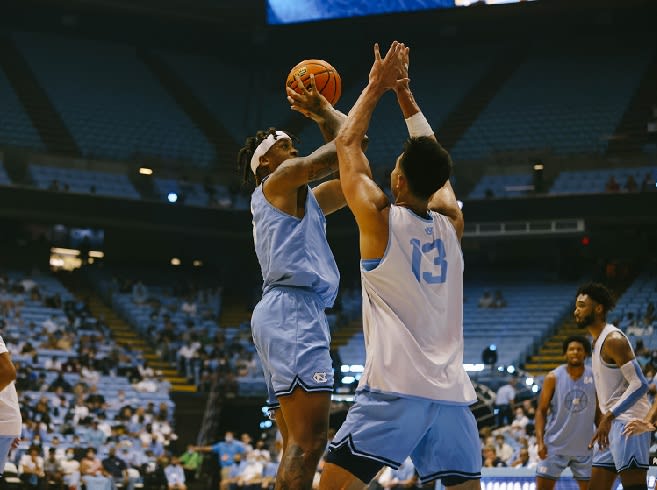 Converting perimeter shots is not something at which North Carolina excelled last basketball season.
The Tar Heels had a few splashes from three-point range, but outside of dealing with Kerwin Walton, opponents weren't exactly stressing over the Heels going off from beyond the arc.
Why UNC wasn't all that proficient from outside is twofold: The Heels were an interior-dominated team somewhat by design but also out of necessity. The latter is because Carolina's perimeter guys just didn't knock down shots. Aside from Walton, who entered the starting lineup in late December and remained there the rest of the way, the Heels did not shoot well.
As it was, UNC converted 31.8 percent from three-point range, ranking No. 263 in the nation out of 340 Division One teams that participated last season. Carolina ranked No. 306 averaging just 5.6 converted threes per game. So upon taking over for retired legend Roy Williams, new UNC Coach Hubert Davis was quite clear his team will take and make more perimeter shots.
The mantra since last spring: Every player on the team must make 1,000 threes a week. Period.
"Coach Davis wants us all to shoot because the way his offense is, his philosophy, he wants a high volume of threes," said UNC junior forward Armando bacot. "But he still gets on us. Like (recently) in practice, it was a two-on-one, we were breaking the press and (freshman) Dontrez (Styles) leaked out to the wing and tried to shoot a three versus doing the little two-on-one thing, so Coach Davis got a little mad about that.
"So, he doesn't want us to be all shooting threes like a Virginia Tech. But he definitely wants us to take more threes and honestly I would be surprised if we weren't like a top two or three shooting team in the ACC."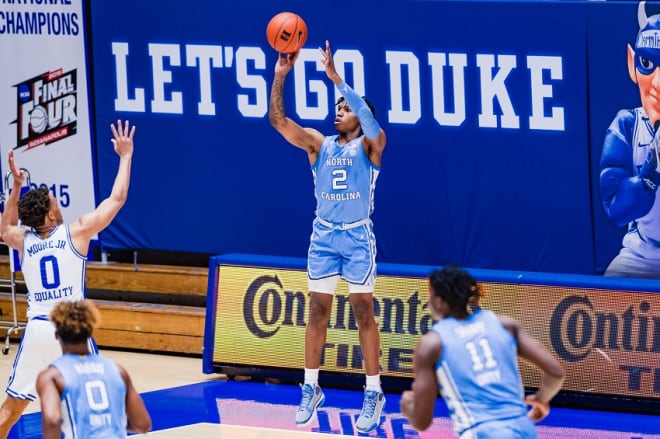 The seven returning scholarship Tar Heels combined to shoot 139-for-436 from outside last season, which is 31.9 percent, and that includes Walton's rather lethal 58-for-138 effort, which was 42 percent.
A more open offense with big men capable of stepping away, even outside the three-point circle, and knock down shots is one of Carolina's new wrinkles under Davis. He wants his bigs to shoot, but the guards must convert as well.
Caleb Love struggled at 26.6 percent (34-for-128) and RJ Davis was at 32.3 percent (32-for-99). Leaky Black, the longest tenured scholarship Tar Heel now in his fourth season, made only 10 of 45 attempts playing on the wing. Four conversions came in a win at Miami last January. So, everyone must meet the mandate, not just Bacot and the bigs.
"We all made a thousand a week," Love said. "And just as far as me shooting, I'm in the gym every morning at 8 AM with B-Rob (graduate manager Brandon Robinson) and my managers. And they help me and I'm working out every morning. So, I'm just sticking to my work there and just being that confident-level guard and striving."
Bacot, who is 6-foot-10 and 240 pounds, attempted just one three last season, from the top of the key in a win at Pittsburgh. He missed. But he was highly efficient near the rim, converting 62.8 percent from the floor and leading the Tar Heels in scoring at 12.3 points per contest.
Davis wants more from Bacot and for Bacot, however. This is about the coming season as well as the years after.
"We've had great discussion about him and his dreams and goals of playing at the next level in the NBA," Carolina's coach said. "And one of the things that I told him is in order for that to happen, 'you're going to have to develop a perimeter game,' being able to handle the basketball, make plays on the perimeter."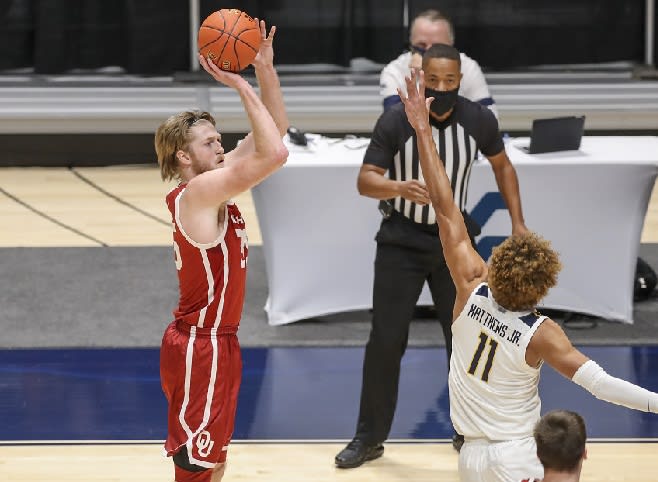 So, Bacot has put in the work.
"That started right when I announced I was coming fully back, we started just making 1,000 threes a week," he said.
The work is paying off, as well.
"Just seeing my progress, my percentages are going up and then just incorporating it into open gyms and stuff like that, getting some game reps and then I started to feel more confident," said Bacot, who noted he's shooting "like 40-something" percent in live work in practice.
The pressure isn't entirely on Bacot to channel his inner Hubert Davis from three, a reference to his coach who is third all-time in NBA three-point shooting percentage. UNC's trio of transfers combined to convert 77 of 210 threes last season, which is 36.7 percent.
Brady Manek, who is 6-foot-9, was 48-for-128 at Oklahoma, and Dawson Garcia, who is 6-foot-11, was 26-for-73 at Marquette. Their additions, along with 6-foot-8 Justin McKoy, who was 3-for-9 at Virginia, bolster Carolina's perimeter game. But getting the returning guys to raise their percentages is the mission, even though it might be a bit to ask of the bigger dudes.
"Nah, they didn't complain," Love said. "Because we all want to achieve something. So, that wasn't a lot at all."
Carolina didn't exactly make a lot of threes last season, but with Davis' per-man credo, that could change this winter.