Clint: The Class Of 2017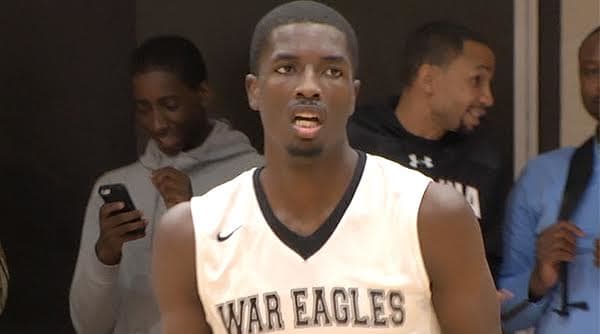 Not that it surprised anyone who followed it closely on the premium message boards, but when Kevin Knox II chose to select Kentucky last week over Duke, North Carolina, Florida State and Missouri -- that closed the book on the class of 2017 for Roy Williams.
THI takes a look at the class overall, and provides our take on the signees that will all enroll this summer in Chapel Hill:
Jalek Felton
Obviously, the slippery-quick 6-3 nephew of Raymond Felton, is the gem of the class from an impact perspective. He is the highest rated prospect that they signed.
He's a creative playmaker who has easy quickness and he can get to the basket with his burst. He's able to make plays as a passer on the move and he's a perfect up-tempo player for the UNC pace. We like him better off-the-ball, but he can also play the point at times.
His areas of improvement mostly involve being consistent with his exertion. He'll need to play hard and bring the intensity every time out.
Andrew Platek
UNC fans on our site tend to love guys like this when they play for other teams like Butler, Notre Dame and Virginia. And here's the thing -- this boy can stroke it. He's not a one-trick pony, but I'd be misleading people if I didn't say his best skill is his outside jumper, because it is.
He also has a solid frame, he's a better defender than many might imagine, and he'll sneak a handful of rebounds from his two-guard slot.
Platek isn't a top-100 player but he's the type that will learn the system quickly, play a controlled, steady game and earn the staff's trust.
Brandon Huffman
When you talk about what this rugged 6-10 center brings to the Tar Heels, you have to start with a humble openness to be coached.
And what staff develops bigs better than North Carolina? Exactly.
His touch, feel and skills are still developing, but we love his energy, his motor, his body and his blue-collar eagerness to play his role. He'll rebound. He'll throw his big 245-pound body around and the kid loves to dunk anything he can.
It's best to give him some time to develop as he has a ways to go, particularly with his low post scoring. But we think you'll see him provide front court depth and he'll get better each season.
Sterling Manley
I never was able to watch him live, so I had to resort to talking to my best Ohio sources and watching videos. THI's Rob Jones did watch him back in the Fall, however, and I trust his opinion.
Manley is a center and he'll likely be able to defend, block shots and rebound as his first ways to contribute.
The Ohio center is a true low post guy who has tremendous size and length. But coming back from two leg fractures is definitely something that takes time. And it will take some time. His conditioning will be key as he gets used to playing the pace that he'll have to play in Chapel Hill.
Garrison Brooks
This recruitment was an interesting one to follow, as the 6-10 PF originally committed to play for his father at Mississippi State. But he asked for his release and eventually committed to North Carolina, where his heart was all along.
Brooks is being groomed to play the power forward role at UNC where he'll have more freedom to play facing the basket. But he's also big, strong and versatile enough to play center as well.
Brooks is a fine shooter with range and he really stokes it from the 13-17 foot area with success. He can play inside; rebounding, jousting for position and blocking shots with his impressive wing-span but it's his comfort playing away from the basket that makes him a difficult cover for opposing centers who may have to guard him.
Brooks is a guy that can really shine in a UNC uniform because of the secondary break that the Heels run. He runs well, has good hands and he's a potential All-American type in Roy Williams' system. It just may take a couple of years for him to put it all-together.