{{ timeAgo('2021-04-06 10:27:40 -0500') }}
basketball
Edit
Davis Pays Football Heels A Visit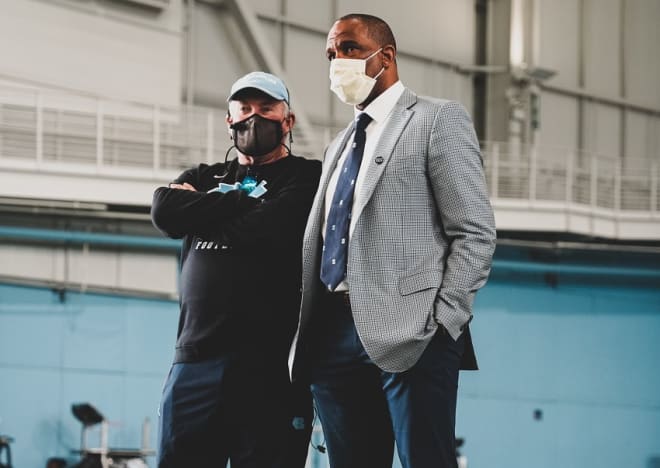 CHAPEL HILL – It has been less than 24 hours since Hubert Davis was announced as North Carolina's next basketball coach, and the former assistant isn't wasting any time making the rounds on campus.
Davis met with UNC's football team following its sixth practice of the spring on Tuesday morning, just a few hours before his introductory press conference in the Smith Center begins at 2 pm.
For UNC wide receiver Emery Simmons, Davis' talk with the team was something he really enjoyed.
"It was good," Simmons said after Tuesday morning's practice. "It's good to hear somebody's backstory with Chapel Hill and with how long they've been in Chapel Hill."
A Burke, VA, native, Davis has deep roots in Chapel Hill. Davis played under Dean Smith at UNC from 1988-1992, scoring 1,615 points and setting the Carolina record for three-point percentage at .435, a record that still stands today.
After a 12-year NBA career, including stints with the New York Knicks, Toronto Raptors, Dallas Mavericks, Detroit Pistons, Washington Wizards and New Jersey Nets, Davis spent seven years as an ESPN analyst and co-host of College GameDay before joining former UNC Coach Roy Williams staff as an assistant in May 2012.
UNC football coach Mack Brown also served as a football and color analyst on ESPN before returning to Chapel Hill in Nov. 2018 and Simmons said Davis reminds him a lot of the Hall of Famer.
"Just for him to come up and talk to us, it reminds me so much of coach Brown with just hospitality and the kindness and caring for this university, and that's what I got from him," Simmons said.
Simmons also said Davis' love for Williams was obvious and that he is ready for the challenge that lies ahead.
"He loves coach Williams, but he feels like he gave him the knowledge and the tools to keep Carolina at the same level that it is now," Simmons said.