{{ timeAgo('2023-01-25 01:56:53 -0600') }}
basketball
Edit
Davis Puts 'Body On The Line' In Helping Heels Get Tough Win
SYRACUSE, NY – Perhaps Pete Nance summed it up best, as Tuesday night was approaching Wednesday morning in the bowels of JMA Wireless Dome, when discussing the play of RJ Davis earlier that night.
Davis didn't exactly stuff the stat sheet, though he had solid numbers in North Carolina's 72-68 victory over Syracuse, but it was another element to his game that was as important as anything in the Tar Heels winning their fourth consecutive game.
Toughness. And Davis brought boat loads into this cavernous building, so much that it assuredly even cost him a comfortable night's sleep.
"RJ's tough. He took that first one and got back up and came in and made some big-time plays," Nance said, when asked about a charge Davis took on Orange freshman guard Judah Mintz with 10.7 seconds remaining and the Heels clinging to a one-point lead.
"That was probably one of the biggest plays of the game, him taking that charge against Mintz sticking his nose in there. Kind of an underlined hero of the game, RJ, for sure."
Nance had just put the Tar Heels ahead, 69-68, with a layup off a wild sequence along the baseline following his missed free throw. The Orange chose to push the pace, with Mintz darting up the court intent on getting to the rim. Only Davis was alongside him, and eventually in his path long enough to draw a charge.
But this wasn't just any old charge, and it wasn't Davis' first attempt of the night leading to an injury. He tried something similar with Mintz early in the second half, but was whacked in the nose and went to the bench for a while.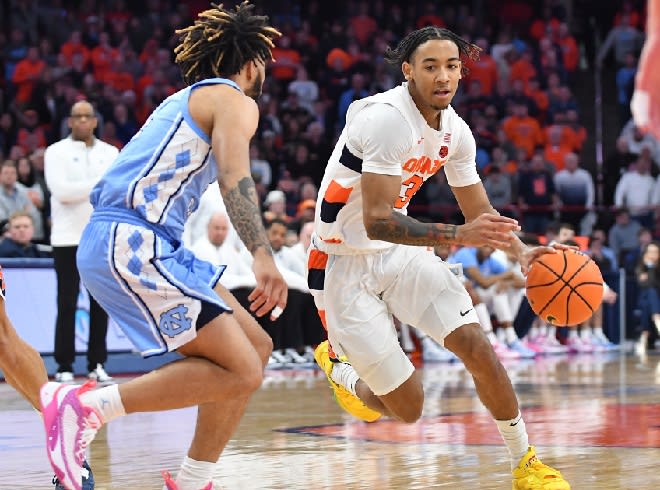 On the decisive drawn charge, however, Davis took a blow above his eight eye, causing considerable pain. He was down nearly at the same spot as earlier in the half, but this was different.
Some of his teammates standing next to him quickly motioned to the bench to have trainer Doug Halverson come attend to Davis. He was joined by Director of Operates Eric Hoots. And after a couple of minutes, UNC Coach Hubert Davis went out to see his point guard.
The White Plains, NY, native was helped off the court but walked on his own power through the tunnel to the locker room, though his face was buried in a bloody towel.
"RJ's fine," his coach said afterward. "He got hit a number of times. He had a dislocated finger on his shooting hand, he got hit in the nose, and then the last charge that he took, he got hit in the eye. He's pretty banged up, but in terms of being alert and aware, he's fine."
This was a gritty win for UNC (15-6, 7-3 ACC), with each player having a hand in it. But Davis' toughness may have been most instrumental. Mintz was assessed a Flagrant 1, so UNC got two free throws and the ball. Caleb Love hit one of two free throws twice, because he was fouled before the ball was inbounded.
Love appreciated his teammate's fire on the night.
"He's tough as nails," he said. "I appreciate having him on my team because he brings that toughness and grit to this team, and we need those of guys. He put his body on the line. His eye is messed up right now; he got a slit (above) his eye. But he'll be alright."
Davis handed out five assists, grabbed five rebounds, and had a pair of steals. But no play was bigger than the final charge on Mintz, as bloody as it was.