Finally, A Buzz In The Building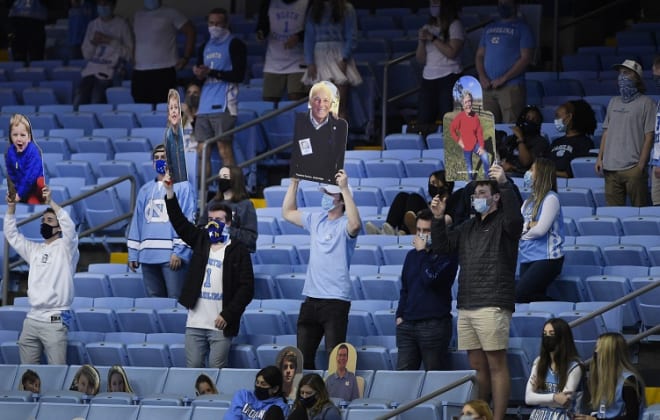 CHAPEL HILL - For the first time in 361 days, North Carolina fans finally returned to the Smith Center on Saturday afternoon to watch the Tar Heels upset eleventh-ranked Florida State, 78-70.
And what a game to come back to.
Behind 12 at half, UNC shot 50 percent from the field, hit all of its 14 free throw attempts and outscored the Seminoles 49-29 in the final 20 minutes of play to pick up its first win over a ranked opponent this season.
It may have only been 15-percent full, but the 3,263 fans in the Smith Center, the first time spectators have been allowed in since Mar. 3, 2020, played a huge role in the win.
"I think the fans definitely helped us get our energy level up a lot," freshman guard Kerwin Walton said. "Just all those people just cheering for us, I think it definitely gave us a lot of energy."
The Smith Center was loud from minute one to 40, especially during Carolina's second-half push that saw the Tar Heels overcome the Seminoles' 12-point halftime lead in just four minutes and 21 seconds.
The crowd's influence didn't go unnoticed, either, with UNC Coach Roy Williams heaping high praise on their impact after the Hall of Famer became the fastest Division One coach to reach the 900 career wins mark, joining Mike Krzyzewski, Jim Boeheim, Jim Calhoun and Bob Knight as the only Division One coaches to have reached the milestone figure.
"It was the best 3,200 crowd I've ever seen in my life," Williams said. "I can't explain to them enough how much better an atmosphere it was. I can't explain to them enough about how helpful it was. And I've never lost a game because of the crowd, but today they helped us win this game because they didn't give up."
Despite roughly 85 percent of the seats remaining empty Saturday, there was a ruckus atmosphere and buzz inside the 21,750-seat arena. This shouldn't come as a surprise, either, as it was the first time many students in attendance had ever even been to a Carolina basketball game.
A Charlotte, NC, native and freshman student at UNC, Adam Szabo's first time stepping inside one of college basketball's most decorated arenas is an experience he'll never forget.
"It just feels great to see if finally," Szabo said. "You hear so much type about basketball games here at UNC, it's a huge reason why people come to UNC is for sporting events. It's just great to finally be here and see people again. It's awesome."
Freshman Vanessa Valencia, a Statesville, NC, native, was another lucky Carolina student who won out in the student's lottery system along with thousands of others, so she was one of 2,400 students on hand.
"This is my first time getting to see everything," Valencia said. "It just feels super surreal being here and I just can't wait for more games, honestly."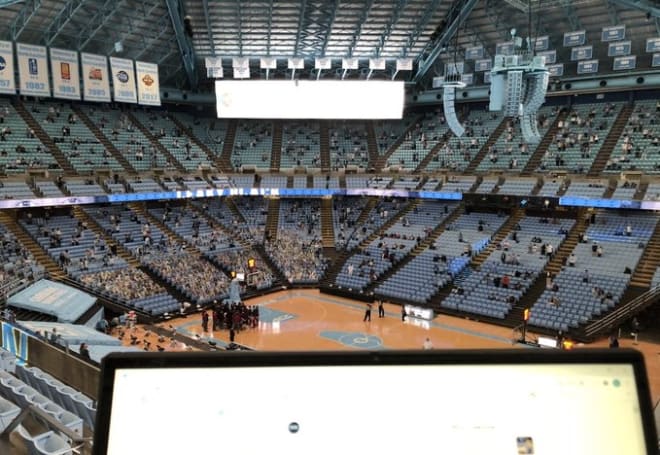 The player that received the most love from the Carolina faithful on Saturday afternoon was freshman forward Walker Kessler, who led the Heels with a season-high 20 points, eight boards and four blocks in 24 minutes. Fourteen of those 20 came in the second half, which Kessler started after getting the nod ahead of sophomore forward Armando Bacot at the break.
From his career best performance to "Wal-ker Kess-ler" chants ringing out across the Smith Center on three separate occasions, the freshman big's first time playing in front of a home crowd left him searching for the right words after the win.
"That was my first time experiencing anything like that," Kessler said. "I get kind of chills and I'm kind of smiling about it because it was just a seventh full, 3,000 out of 21,000. I'm kind of lost for words honestly."
RJ Davis, another freshman, said the fans' impact particularly in the second half played a major role in the team's improved performance, which ultimately led to the come-from-behind victory.
"Going into halftime, we had to come together as a group and actually pick up the energy," Davis said. "We had the fans there, so I think that made a big difference."
What a difference a crowd makes. From coaches to players to students, Saturday's win over ACC league leaders Florida State was a game that will be remembered by many for years to come.
THI Fan Video Feature
THI Fan Clips From Before Saturday's Game...