Florida: Vince Carter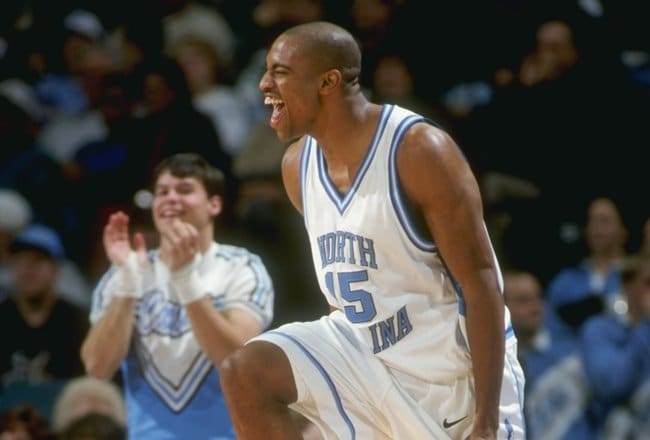 The Sunshine State has produced plenty of highly regarded football and basketball players that left a mark in Chapel Hill as well as in the NFL and NBA. Among them is Daytona Beach native Vince Carter, whose 21-year NBA career sealed the deal in earning him this spot. And it's well deserved.
At North Carolina, Carter was a high-flying dunking machine who quickly developed into a terrific defensive player. The other parts of his game were there at times, and then grew more by the time he left following his junior season.
As a professional, his incredible on-court theatrics gave birth to the phenomenon "Vinsanity." And now after 21 years, Carter may not be done yet, though he'll one day end up in the Naismith Hall of Fame.
He was a consensus second-team All-America and first-team All-ACC in 1998, he was a key member of UNC teams that won consecutive ACC Tournament championships in 1997 and 1998 and advanced to back-to-back Final Fours in those same years.
Carter made the ACC all-tournament team in 1998. At 6-foot-5, he averaged 15.6 points and 5.1 rebounds per game that season, which was his junior year, and he was on the ACC's all-defensive team.
The No. 5 overall pick in the 1998 NBA draft, Carter was named the NBA Rookie of the Year in 1999, he's played in eight NBA All-Star games, won the NBA slam dunk championship in 2000, and in 2016 was named the NBA's Teammate of the Year.
Carter has averaged at least 20 points per game in 11 different seasons, his career average in 1,481 games is 17.4 points and overall he's scored 25,430 points. He's also averaged 4.4 rebounds (grabbed 6,482), 3.2 assists (dished out 4,666) and 1.0 steals (1,507) per contest in the 1,481 games he played. He's averaged 18.1 points while shooting just 41.6 percent along with 5.4 rebounds and 3.4 assists in 88 career playoff games.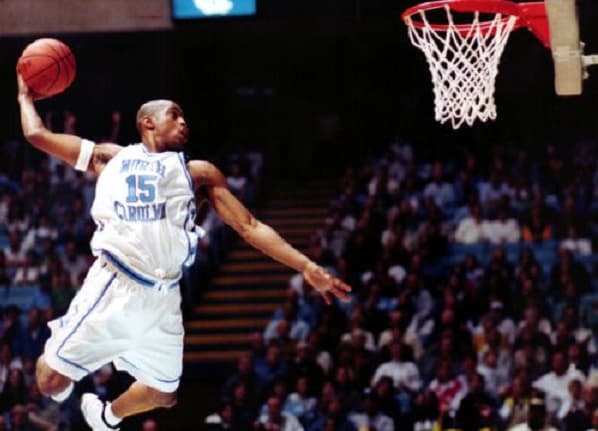 Five times Carter has been named the NBA's Player of the Month and 11 times he's been the Player of the Week.
He may not be one of the top 25 UNC basketball players of all-time based strictly on his Tar Heels career, and he's never been on a team that won a Final Four game or NBA Finals game, but his professional success has earned him a special place in the sport's lore at UNC.
A gold medal winner at the 2000 Olympics, Carter donated $2.5 million to UNC in 2011 to help pay for "Letterman's Lane," which is a brick pathway between the Smith Center and Koury Natatorium.
Carter's decision was in large part because he wanted to help the amazing fraternity that is Carolina basketball, something he's often spoken about during his career, especially in more recent years. Carter was in Houston in 2016 and Phoenix in 2017 supporting the Tar Heels' in national championship games because, he says, that's what the family does.
In an interview last year with TheUndefeated.com, Carter said the following:
"That's just what North Carolina is. It is a family. It is a brotherhood. We all keep in touch with each other through the generations. From (Jerry) Stackhouse and that group on down to now some of the newer, young guys. We are in this together. We stick together.
"We all try to encourage from afar. All of us on the West Coast can't get back there. 'Sheed (Rasheed Wallace) is always down in Chapel Hill. Shammond Williams is always down there. We keep in touch and give support from afar. It's been an unwritten rule and tradition of the support we give each other and when we play games."