Greg Brown Raves About UNC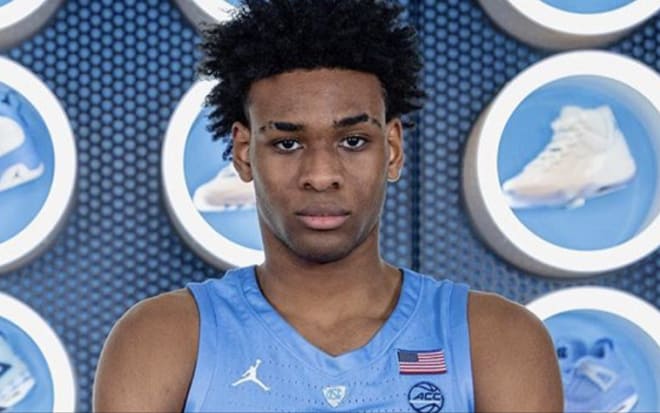 The North Carolina Tar Heels hosted seven 5-star recruits for the UNC versus Duke game last weekend. One of them was Texas superstar Greg Brown, one of the most athletic and ferocious prospects in the nation.
THI spoke with the 6-foot-8 junior. And it was evident that the skywalker had a truly incredible visit.
THI: I saw you court side and it looked like you were living it up. Take me through the visit, mainly the game atmosphere. What was that like?
Brown: "When we got in the stadium, it was pretty packed. And we got in like an hour prior (to the tip) and it was like 75-percent filled already. And the fans were really loud. They got super loud at one point. And they were very active in the game. It was a great environment. And during the game, it was just a different story. It was just incredible."
THI: Your dad mentioned that he had never seen a basketball atmosphere like what he saw. I know you've seen football crowds like that down in Texas. But what was it like seeing ACC Basketball in a big rivalry game like that?
Brown: "It was a great experience because I've never been around people that like basketball a lot. Where basketball is their primary sport. It was very different for me and I loved it."
THI: You're such an energetic, attacking, sky-walking player who plays with passion and energy. And you see and feel that energy coming out of a crowd, what does that do for you?
Brown: "What I know that I can do. And what I can bring to the table at North Carolina, I can feel that energy like as if it was me making that play. I can imagine feeling that energy as if it was me dunking the ball in that game. It was just great to be around."
THI: When you look at a school like North Carolina, there's no doubt it's a basketball school. Just like Kentucky or Duke or Kansas. Does being a basketball first school make a difference to you?
Brown: "Not really. I just really want to go somewhere that is the best fit for me. Somewhere that will help me achieve my dreams."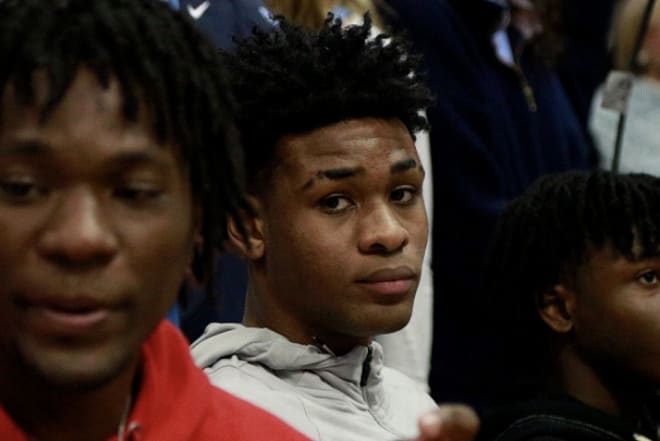 THI: Whenever I hear that answer, talking about a best fit for you.... I always like to ask a follow-up question on that. To dig a little deeper. What makes a school a good fit for you? What would make a college program a best fit?
Brown: "First and foremost, is what my role would be on the team. What I would need to bring to the table. And where I would be playing at. And secondly, what do I need to do in the game. What's expected? Like do I need to rebound? Do I need to run the floor? And third, is how the coach is to the kids or how does he interact with the players."
THI: Well you got a chance to see that during your visit. And you got to spend a lot of time around those coaches. So, what's your opinion on how those coaches interact with the guys on the team, like Luke Maye, Cam Johnson, Coby White and those guys?
Brown: "I feel like they have a great relationship, going off of the senior speeches. We were there for that. When they were talking, I could really see how they have a great connection with Roy and the coaches off the court. And I really liked that, to be honest."
THI: What did you learn about Carolina on this visit, that you may not have known before? I know this was your second visit. But you spent more time there this time. What did you learn?
Brown: "I knew that Carolina had a lot of winning. But I didn't quite know how much they've won. They have a lot of trophies and championships. They've had a lot of awards like National Players of the Year. They have so many achievements. More than I knew."
THI: And what did you think of UNC's style of play? How does that style fit what you like to do?
Brown: "It fits great. They play fast. They jump into you on defense. I love it. They're an energy team. I just loved it all."
THI: Did you get to spend some one-on-one time with Roy Williams? If so, what can you share about his message to you? Like how does he think you fit?
Brown: "I talked to Roy about my role. He said it's a two or a three that can rebound. Basically, it's Cam Johnson's role. A real active two or three that can rebound and run the floor that's very active. And then he talks about the other recruits. Like if they come in, we could be a certain type of team. And that would be a really good team."
THI: So, after the dust settles and the emotion from the visit dies down, what are the two or three things that you feel left the biggest impact on you? What helped Carolina move up your list a little bit?
Brown: "I liked the environment off the court. We walked around the campus and everybody was taking pictures with the coaches and telling them 'good win.' I just loved how the fans were so into the basketball team. They really enjoyed seeing them succeed. And I just really liked how the players interacted with each other. We went into the locker room after the game and they were just really hyping each other. It's like a family - hard to break. And I just really liked that too."
THI: Were there any objections to Carolina? For instance, was there anything that you saw that you maybe think would be an obstacle at Carolina?
Brown: "No. Not at all."
Greg Brown Highlights