Heels relish challenge ahead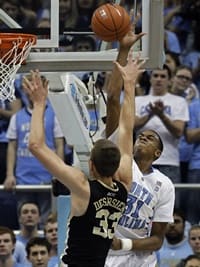 When exorbitant expectations trail a team into a season, the game can become a burden.
Listening to the Tar Heels talk, however, one is quickly struck by the impression that this season will be anything but a burden. In fact, it's obvious these guys have been working toward and eagerly awaiting the start of practice on Saturday.
"All of our goals are team-oriented," Marshall said. "We want to become dominant. We want to win games. We want to be the number-one team in the country."
As far as individual awards go, there is every reason to believe Barnes will be a first-team All-American and be in the thick of the running for national player of the year.
He started slowly last season, but by the end Barnes had established himself as one of the top players in the ACC and the nation.
He scored 40 points against Clemson in the ACC Tournament and made it appear amazingly easy. His buzzer-beaters at Miami and Florida State to win those games will be remembered for years to come, not just for the fact that he sank the shots but for his fearlessness in the manner in which he attempted them.
Those were the kinds of plays he made throughout the second half of the season, proving he was worthy of all the acclaim he received before he ever arrived at UNC.
Barnes was named the ACC's rookie of the year last season, and he is the odds-on favorite to be player of the year this season. But he is not alone on a roster filled with gifted athletes and outstanding basketball players.
How the Tar Heels utilize their varied gifts is what will make the difference.
Henson used his extraordinary reach and a great sense of timing to block 3.2 shots per game. He is an outstanding rebounder as well. He averaged double figures in points (11.7) and rebounds (10.1). He blocked five or more shots in 11 games.
Barnes said this team should quickly build on the improvement it made at the defensive end.
"I think we got that just through experience," Barnes said. "We know what it takes. It's a matter of letting our freshmen know how we do things around here, and being consistent every night by bringing the same intensity, the same focus and the same execution."
If this team can make anywhere near as much progress as it did last season from the start of practice on Saturday until the NCAA Tournament begins in March 2012, the Tar Heels can realistically have their fun and win a title, too.
"Last year was a big process, not only for me but us as a team, us coming closer together and playing better," Barnes said. "The coaching staff trusted this new group they hadn't really been around. Coming into last year, there were a lot of expectations put on us, but we really didn't know what to expect.
"We didn't know how things went. [This season] we're not looking at it as championship or bust," Barnes said. "We're looking at it as go out every game and play the best basketball we can play."