Howell Eventually Turned Loose And It Pays Off
CHARLOTTE – There were two schools of thought going into North Carolina's season opener in how it might use true freshman quarterback Sam Howell: Bring him along slowly or throw him to the wolves?
UNC Coach Mack Brown and offensive coordinator/quarterbacks coach Phil Longo did the former, and it worked in the Tar Heels' 24-20 victory over South Carolina at Bank of America Stadium.
They didn't put too much on Howell's hands early, easing him into the passing game with opportunistic calls. In fact, by halftime, the Tar Heels had run nine offensive plays in the red zone throwing the ball zero times. It wasn't until their twelfth offensive snap in the red zone before Howell attempted a pass, a 5-yard toss to Toe Groves on a play that started at the Gamecocks' 10-yard-line.
From that point on, they turned Howell loose and all he did was complete seven of his last 10 attempts for 146 yards and two touchdowns.
To Brown, the staff didn't even entertain the idea of letting the self-described gunslinger go full-Sam-Howell early on. They took it easy.
"We felt like we had to," Brown said, "We had three scoring opportunities and we had some read plays in there that we felt like gave him opportunities to run because he's a really good runner, obviously… We also felt like in the second half we had to start throwing the ball deep.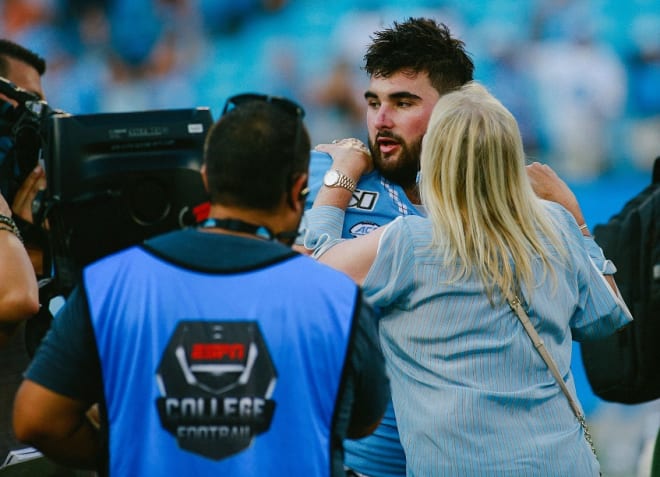 "They were pressing us and doing what we call 'bear coverage,' they put the big guy over the center and they're covering the guards and they're just daring us to run the football. You're not going to make any yards. That's when we felt like we've got to move the quarterback some and we've got to get him throwing down field."

Howell wasn't worried about the play calling or when the staff might cut him loose. His broader-picture approach, courtesy of maturity beyond his 18 years, ha him so grounded he almost comes off as a grizzled vet who's been through this many, many times.
"I wouldn't say I was handcuffed," he said. "We were still moving the ball well in the first half and obviously we didn't take any shots in the first half. We kind of opened up in the second half and our receivers made some good plays."
The Heels did open the offense some, but they didn't simply air it out. There was a healthy balance to their approach, and when Howell was called on, aside from one blunder that gave the Gamecocks the ball, he was awfully good.
Junior running back Michael Carter saw some evolution in Howell's game.
"He got really comfortable with being uncomfortable," he said. "You could see it, he got smoked a couple of times, he got up though. And then late third quarter, he made a Johnny Manziel-type of throw, and I just think he really showed his chest hair."
Howell finished the game having completed 15 of 24 pass attempts for 245 yards, two touchdowns and no interceptions. Those are fine numbers for just about any quarterback in any game, but more impressive was Howell's growth and the staff's trust in his game as it went on that stand out as extremely positive for he and the Tar Heels.
So positive that it's unlikely they'll ease him into anything when Miami visits next weekend.