{{ timeAgo('2021-02-22 08:42:38 -0600') }}
basketball
Edit
Increasing Comfort Fueling Walton's Expanding Game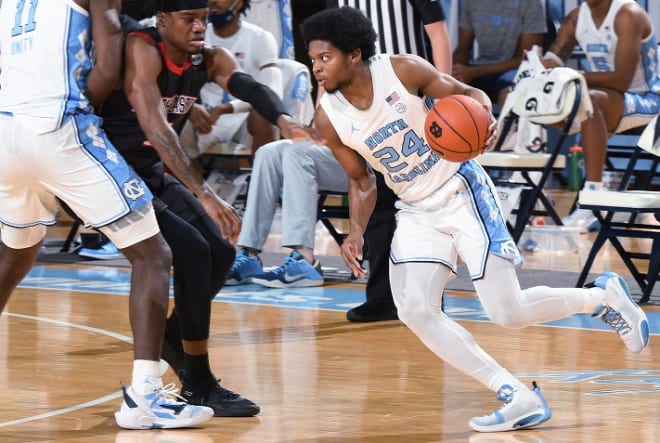 CHAPEL HILL – Opposing defenses are beginning to learn a rather cruel lesson when facing North Carolina: Kerwin Walton is not just a long-range jump shooter.
A three-point specialist he certainly is, but Walton's pastry has more icing than scouting reports have suggested all season. Walton's game is growing and look no further than his exploits in Saturday's 99-54 rout of Louisville at the Smith Center as the latest supporting evidence.
Walton finished with 19 points on 7-for-10 shooting, including 5-for-7 from the perimeter, but two things stood out in his performance exemplifying the gradual change in his game.
First, Walton handed out four assists, each time using the dribble to get better angles to teammates, and second, he's adding a second and third dribble to create shots for himself, often going toward the basket.
That stuff has been there all along, but like with most freshmen, comfort breeds expansion of their games, just like air fuels a fire's growth.
"I think that Kerwin has been able to do those things, it's just that he's not been comfortable doing it," UNC Coach Roy Williams said, following the Tar Heels' rout of Louisville. "I'll say something to him about pump-fake and get a guy off the ground and that kind of thing, but he's showing us a little bit more of his game as he's going along. And I think that the comfort level is the biggest part of it."
Case in point: Nearly four minutes into the second half Saturday, UNC sophomore forward Armando Bacot got the ball at the top of the key, and when defended, he passed to Walton on the right wing. Immediately, 6-foot-5 Louisville small forward Dre Davis jumped out, left arm extended, trying to prevent Walton from shooting a three.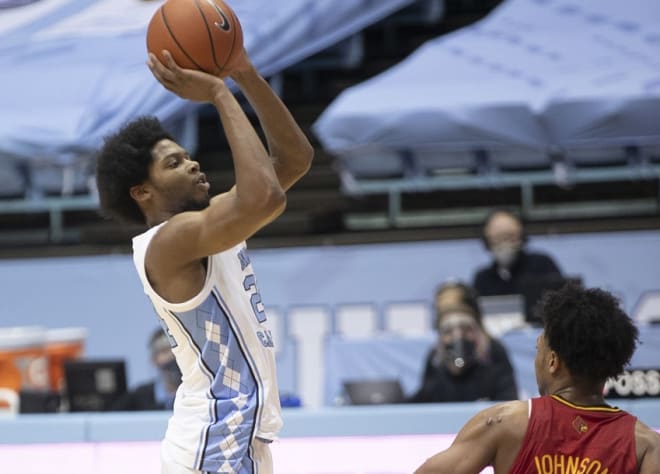 So, the Hopkins, MN, native pump faked and put the ball on the ground, dribbling twice getting inside Davis, paving the way for an open lane to the basket where he paid the ball off the glass for two points and a 52-33 Tar Heels' lead with 17:26 left to play.
Perhaps Walton would have let fly a contested three a month ago or swung the ball right back to the top, but instead, he reacted naturally and created a shot for himself. It is a part of his game that existed in high school, but it was locked up in the process for a while. Not anymore.
"I've been getting real comfortable, very, very comfortable," Walton said, when asked about his not-seen-much-before repertoire. "I know defenses are going to come up on me because I'm a shooter and they're going to try their hardest to take that away from me.
"So. I'm just going to take what they give me, and if they're going to give me the drive, I'm going to go in for a layup and go in strong and just try to finish the basket."
Now, driving the ball is nice, but Walton's perimeter shooting is the most important dimension he gives the Heels, and he knows it. The 6-foot-4 wing guard is 42-for-90 on the season, which is 46.7 percent, and if he keeps the pace going, Walton will finish the campaign as the best three-point shooting freshman in Carolina history.
Jeff McInnis converted 41.5 percent of his threes in 1993-94, and the highest percentage for a freshman in the Roy Williams era was Kendall Marshall at 38.5 percent.
Walton may or may not know he can eclipse those marks, but he also may not care too much. His mission from day one has been to get better and be ready. Walton was the last piece to UNC's class to sign, which he did late last April, and he was the least celebrated of the six-man class that ranked second in the country.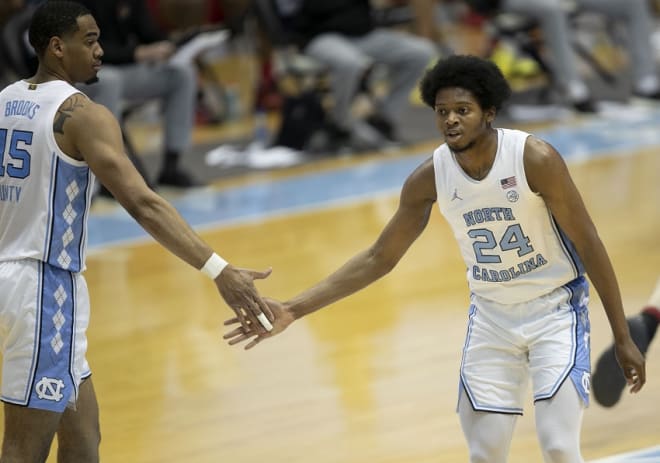 Walton finished his high school career as the No. 93 overall player in the class, but here he is, starting for North Carolina and turning in a rather solid freshman campaign.
"I didn't know what to expect, I just knew my time would come," he said. "I didn't know when it was going to come, but I was for sure going to be prepared for it. And my focus was getting better every single day.
"I didn't really care about whether I was ranked high or whether I was ranked low. I was just worried about putting the ball in the hole, playing defense and winning games. That was my motto and that's what I stick by."
And his teammates stick by the reality that every time Walton catches a pass on the perimeter, they stand in anticipation of another twine-tickling three fresh from Walton's fingertips. They believe in him and certainly fuel him.
"That just gives me so much confidence," Walton said, smiling. "Everybody has a lot of confidence in me, they get super surprised when I miss and they always tell me I'm not allowed to miss, which is hilarious.
"But they just have a lot of confidence in me, they think everything I put up is going to go in because they know how good of a shooter I am, and that actually gives me a lot of confidence."
Each time Walton uses a bounce or two his self-assurance ticks up a bit, as well.
He has more game than just launching threes, and in the last few weeks, Carolina's opponents have started finding that out, much to their chagrin.
Kerwin Walton Louisville Postgame Interview