Johnson Returns To Form
CHAPEL HILL - Cameron Johnson bounced back Wednesday night in a big way for North Carolina.
A week ago, Johnson finished with just five points in Carolina's 17-point loss in Ann Arbor, converting only 2 of 7 shots from the floor. In Wednesday's 97-69 victory over UNC-Wilmington at the Smith Center, Johnson was a very different player.
Johnson tied his season-high with 21 points against the visiting Seahawks. The Moon Township, Pa., native shot 50 percent from the floor and also pitched in five rebounds in 28 minutes of play.
The graduate transfer has now scored in double-figures in every game this season for the Tar Heels, aside from aforementioned loss. For Johnson, the bounce back was nothing more than assertively taking advantage of what UNCW's defense was giving him.
"Yea, it was just opportunity," Johnson said. "I tried to make some things happen for myself and I tried to make some things happen for my teammates."
After the loss in Michigan, two of the most frustrated figures in the locker room were seniors Kenny Williams and Johnson. After the game, both guys really harped on the lack of toughness and energy their team showed in the Tar Heels second loss of the season.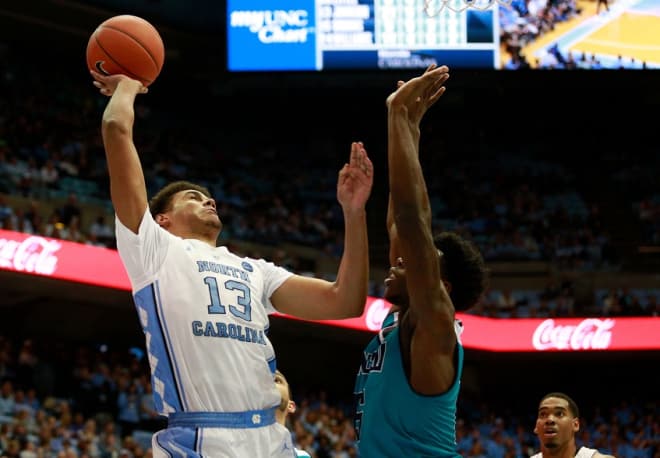 Regardless of what took place at Michigan - especially shooting the ball - Johnson stayed level headed and it showed in his performance tonight.
"The last game for me was not a good game…," Johnson said. "I don't really worry about it too much, I just keep trying to play my game, keep trying to do everything I can to help the team and stuff will come and, today, some things came."
The team's second-leading scorer at 15 points per game, Carolina needed Johnson to play to his standard with leading scorer Coby White in street clothes nursing a sore ankle. He did, and when Johnson fills it up, the Heels excel and his confidence grows.
"I'm very confident shooting the ball," Johnson said. "And, once you see mine start to fall, Kenny's start to fall, Luke's start to fall, you'll see a little bit of a difference on the scoreboard obviously."
Now, as the Tar Heels turn their attention to the primetime matchup with No. 1 ranked Gonzaga on Dec. 15, Johnson knows he and his teammates must improve if they want to get a win in Chapel Hill over the Bulldogs.
"It's going to be a big-time test for us," Johnson said. "We've got to come out prepared and we've got to correct the things that we haven't done well. If we go out there and play like we did tonight, we've got to be better than that for the 15th."
No need for him to bounce back for the top-ranked team in the country, now he simply needs to string together another strong performance.
Cam Johnson's Wednesday Postgame Interview