Jordyn Adams Commits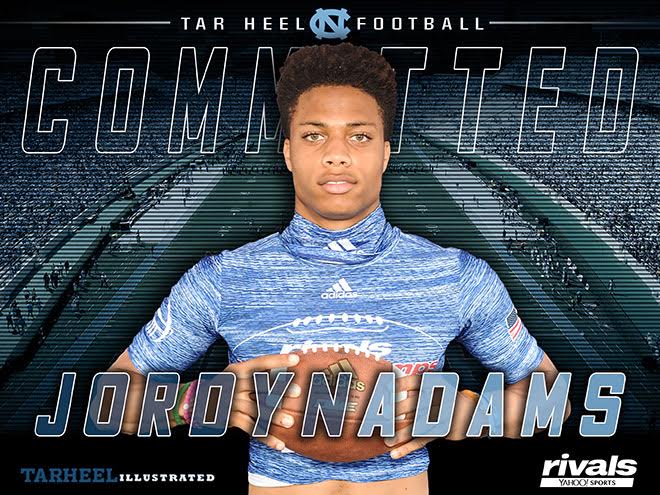 Jordyn Adams, a 4-star wide receiver from Green Hope High School in Cary, NC, committed Monday to play college football at North Carolina.
Adams, who made the announcement while participating at The Opening in Oregon, is also a highly touted baseball prospect and will walk on to the UNC baseball team, as well.
The son of UNC defensive line coach Deke Adams, Jordyn, who is 6-2, 175 pounds, said all along one of the things that impressed him the most about UNC's coaching staff was that it never took landing him for granted.
He even said his father didn't get in the way, he allowed the process to play out naturally.
"He doesn't push me to go over there, I just go over whenever I feel like, I'm bored and just need something to do," Adams told THI before his announcement.
"(Wide receivers) coach (Gunter) Brewer has recruited me the exact same, nothing has really changed. It shows that they really want me, not just because of my dad."
Adams also looks at UNC's fast-paced spread offense as something that fits his immense skill set.
"I like how explosive they are on offense," he said. "I've known Coach (Larry) Fedora since I was like 10, so I know how his offense is."
The offense just had six players selected in the NFL draft, so UNC's staff has proven it can improve players and put them in an offense that helps their NFL chances, too.
"It shows that in the future, if I go there I will have somebody that can get me the ball and I can make plays," Adams said.
Stay with THI for more on this developing story.