Lemming returns to action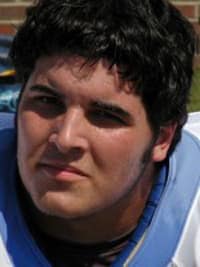 Junior offensive lineman Ben Lemming is back on the field this summer for UNC's training camp, and there's no place where he'd rather be. Coming off the second shoulder surgery of his career at North Carolina, which kept him out for all of spring football, Lemming returns this summer with a chance to help the Tar Heels at potentially more than one position.
"I'm definitely real happy to be back out here. I'm coming off my second shoulder surgery, and it's tough. I've still got to fight through that pain every once in a while; it's the kind of pain that I know is not going to go away, but it's playable, and I'm doing well, helping our team out. Definitely I'm up and running," Lemming said. "It's never going to get 100 percent again. I know that; the Doctors know that; the coaches know that. It's just about managing, and being smart with it. We have a long ways to go; we've got over 20 practices left (in camp), and my goal is to make it through camp healthy, so I can help this team win."
Lemming entered training camp this August as UNC's top backup at center behind senior Scott Lenahan, but he has had conversations with offensive line coach Sam Pittman about the possibility of moving around. With his experience as a tackle, having started several games last fall, along with his background at both guard and center, Lemming is capable of playing practically anywhere along the offensive line.
"We've definitely talked about maybe working at any of the guard spots or the tackle; wherever we feel is sort of a weaker position. Right now I'm working with the centers, but Coach Pittman said that in the next couple of practices I'm going to start working at tackle or guard," Lemming said. "I feel like I'm ready to play all of them. I played tackle, started eight games at tackle last year, one game at center, so I know I that can play both (tackle or center), or all three. I'm pretty much the utility guy; I can kind of play everything."
Lemming, along with his fellow offensive linemen, endured a great deal of negativity that shrouded the program in the final weeks of the former coaching staff's time at UNC last season, and he is thrilled to see the complete about-face under the new leadership of Pittman, a coach that tends to accentuate the positive rather than harp on the negative.
"He (Pittman) is awesome; he really is a great coach. He's one of the best we've had so far," he said. "He teaches about positive reinforcement. We had a lot of negative things happen to us last year, and there was just a lot of negativity around our (offensive line) room especially, but now it's completely 180 (degrees). It's so much different. Coach Pittman likes to joke around with us, but he's serious, too. He's a great guy; he's got a great personality. He really gets the best out of his players. He's not the most, you know 'harp on technique' kind of guy, but he's all about fits, where we need to fit, and the technique will come with that. He's really about playing physical, having fun out there, and playing fast."
From a strategic standpoint, the Tar Heels are implementing plays that best utilize the strengths of the personnel. The lineman are learning both zone and man blocking schemes, and taking advantage of their own collective intellect to effectively learn the new offensive system under John Shoop with the expectation to anchor the team this fall.
"We're definitely utilizing more of our strengths along the o-line in terms of our running ability, and in terms of our pass protection," Lemming said. "We're a really smart o-line. We're definitely taking advantage of our strengths, and Coach Pittman really wants us to put this team on our backs this year, and Coach Shoop does as well. We're really focusing on our strengths right now, and you'll see September 1st what we're talking about."
Although he's not entirely sure where he'll be playing yet when the Tar Heels take the field against James Madison in three and a half weeks, Lemming knows that he is in position to help the team in a major way this fall, and he is clearly ready to get things going.
"I'm so, so pumped about this. It's going to be awesome," he said. "It's a great feeling to have all these fans here, and we're going to put it to them. I know we've got some great schemes, we've got some great coaches, and we've got some great players, and I definitely think we're going to showcase that on September 1st. It's going to be awesome."