Lipford, Otis seek impact against GT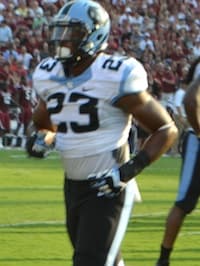 Saturday's game against Georgia Tech is going to be a tremendous challenge for North Carolina's defense, but the Tar Heels do have the benefit of a healthy
Darius Lipford
, who hasn't faced the Yellow Jackets since the last time UNC was in Atlanta, as well as an improving
Norkeithus Otis
, who has emerged as Carolina's top option at the hybrid 'Bandit' position.
"He (Otis) really fits that hybrid position," said UNC head coach
Larry Fedora
in a recent interview. "A guy that can go get the passer, create quarterback hurries, all the problems there, but also a guy that can drop into coverage and cover guys. You really don't know when he's coming or when he's not. He really fits that position very well."
"Then he brings all his energy to the position," Fedora added about Otis. "I mean, he just plays with his motor hot all the time. That's what we ask for. We want our guys to really play hard. He is really the epitome of what you're asking for when you say, 'Play hard each and every play like it's your last play'. That's what he does. At the end of a practice or the end of a game, he is worn out. That's what you're looking for from your players, is to leave it all out there on the field."
"I feel like I've come a long way. I still feel like I need some work setting the edge and getting off blocks better, things like that," Otis told us.
North Carolina fans can only hope that Otis, as well as his UNC defensive teammates, bring that hot motor and play hard every play mentality into Saturday's game in Atlanta.
The Tar Heels are looking to reverse history, having not won a game at Georgia Tech since 1997, when most of the current UNC players were in diapers or just starting school.
There's certainly a good chance that
Dan Disch
and
Vic Koenning
, the architects of UNC's 4-2-5 defense, will try to find ways to get both Otis and Lipford on the field at the same time.
Throughout training camp the Tar Heels employed a unique look with the 4-2-5 that had Otis at the 'Bandit' and Lipford playing something of a middle linebacker. And depending on how things are going Saturday, UNC may very well resort to the Otis/Lipford alignment in order to slow Georgia Tech down a little bit.
"It's a great feeling (playing alongside Lipford)," said Otis. "Darius Lipford is probably one of the best players I've seen around. As you guys know, he's been hurt for two years. But he's coming back. He was nervous (before the Middle Tennessee game), but after the game, I asked him if he was nervous, and he told me he wasn't nervous. I told him, 'Hey, great players make great plays,' and he's a great player."
"I love it (playing with Otis)," added Lipford. "Norkeithus is one of my really good friends. We've been friends since he's been here. It gives us an opportunity to make some mis-matches with the (offensive) front. Because they're not really sure what he and I going to do when we're out there, and especially when we're out there together."
Lipford's strong, healthy return has created some versatility within UNC's front six, allowing the Tar Heels coaches to potentially throw some wrinkles at Georgia Tech's offense in terms of alignment, presenting blitzes and stunts that they may or may not execute, and generally creating confusion up front along the Yellow Jacket offensive line.
"We're now getting Otis and Lipford on the field in some packages, and now you're seeing both of them making plays," said Fedora. "I think he (Lipford is) just going to come on more and more and more. Every play, a little light bulb comes on each time. He has something happen on the field, and he's becoming more comfortable just knowing and going hard. That's big for us to have both those guys playing the way they're playing right now. That's going to be huge."
"The 'Bandit' position, especially in this defensive scheme, has a lot of loopholes in it where we can do things that people wouldn't expect. So I feel like whenever both of us are out there, it gives us an opportunity to make some plays and just mess up some pass protections," added Lipford.
"I feel like we saw how sudden change can happen within an offense (like Georgia Tech's), and we've just got to come out there and stop them again. Just because you get a good stop means your job is necessarily done. You sit down, see what mistakes you made from the previous couple plays, sudden change, you get some water, get your helmet and get back out there and do it again."
One of the ways in which the Otis/Lipford tandem could really help the Tar Heels on Saturday is with handling Georgia Tech's multi-front scheme. So much gets said about the 'triple option' element of the Yellow Jacket offensive scheme, but not nearly as much about the way they move around, shifting their looks and keeping defenses off-balance.
UNC is hopeful that Lipford and Otis can counter that a little bit on Saturday with their own alignments, moving around and hopefully creating seams up front that they can exploit.
"The (Middle Tennessee) line didn't really count me in their pass blocking. So whenever the tackle crashed down, I just scraped off and the quarterback kind of hesitated, and I saw it was a chance to make a play," Lipford said. "Definitely we can come up and show (that we're blitzing) and get counted in the count (for the pass blocking scheme) and then back out. It just throws them (the opposing offensive line) off."
"It gives us an opportunity to send other player to make plays like Kareem (Martin), Tim (Jackson), and Norkeithus. It just gives us a chance to get other guys involved and expose single-block matchups.
Exposing single-block matchups is paramount to UNC's defensive game plan on Saturday, because Georgia Tech thrives on getting in space through mismatches, confusion, and powerful charges up front.
If Lipford and Otis play well when they're in the game, whether it's at the same time or not, can be critical for North Carolina as they look to slow Georgia Tech down just enough to win what would be a huge game for UNC's chances in the ACC Coastal.