Many Goals Remain In Sight, So The Quest Continues
North Carolina's second bye week of the season comes at a really good time for the Tar Heels.
In the three games since the last open date, UNC has played a six-overtime game at Virginia Tech that it lost, won on an interception at the goal line with 13 seconds left at home against Duke, and failed to convert a fourth-down play in Virginia territory to end hopes of defeating the Cavaliers in a wild 38-31 loss.
On top of the thrillers over the first six games, which includes five more affairs that went down to the wire, a second time to exhale is absolutely in need, even though their leaders say the down-to-the-wire games seemingly every week aren't taking a toll.
"We're definitely a team that can handle that," senior offensive tackle Charlie Heck said. "We've been handling it well this entire season."
The break allows the Heels to reset themselves and gear up for the final push of the season that comprises three games against teams they can beat, but two of whom likely will be a struggle to defeat. Expect more of the same next Thursday at Pittsburgh and two days after Thanksgiving in Raleigh at N.C. State.
At 4-5 overall and 3-3 in the ACC, the Tar Heels need to find two more wins to reach their goal of playing in a bowl game. Carolina fans can probably check the Mercer box, as it's highly unlikely Carolina will lose to an FCS team with a 4-5 overall mark.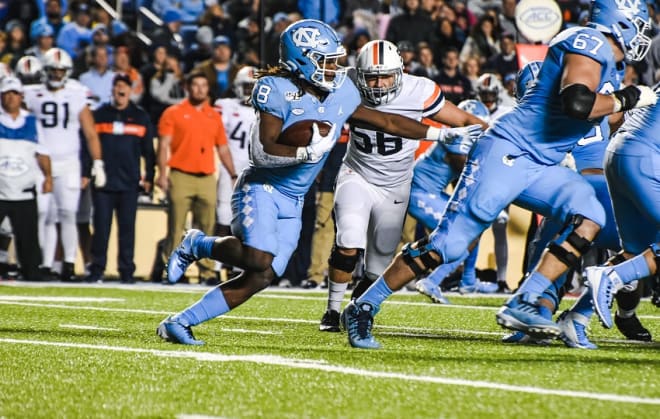 Then, the Heels must nab a win on the road in league play, something this program has done just two times in 37 months.
"We've got three regular season games left, we want to win all three of them and come out with seven wins for the season," Heck said. "That would be huge for us. And then go on to a bowl game and win that game. We have a lot of goals ahead of us right now."
With the BCS standings released earlier in the week, so much of the college football world is focused on the LSUs, Alabamas and Clemsons of the world, but within the Kenan Football Center, the focus is different, but for the Tar Heels it's no less important.
Carolina hasn't been to a bowl since 2016 after winning enough games to make the postseason for nine consecutive years. Only a handful of UNC's players have been to a bowl, so there's plenty of hunger driving the Heels.
"I've never been to a bowl game, so I don't think it's pressure," junior running back Michael Carter said. "I just think it's I want to go to a bowl game. I want gifts, I want to spend more time with my friends, I want to play one more game. It's motivation more than 'Oh my God, time's running down.' We're going to take it one game at a time."
Reset button now, and the final push in Carolina's quest for something special begins next week.