New-Look Tar Heels Unveiled In Spring Game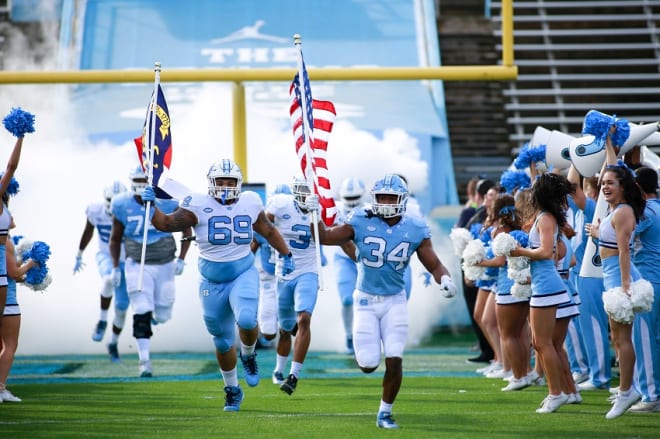 CHAPEL HILL - What was supposed to be a dreary afternoon at Kenan Stadium turned out to be a day of fun in the sun as the public got their first look at North Carolina's football team in Mack Brown's second tour as the program's leader.
Using a somewhat confusing set of rules, Team Carolina out-gained Team Tar Heels, 257-145, on its way to a 24-10 victory on Saturday afternoon.
"I thought the day was good," Brown said. "We got exactly what we needed out of it. I was afraid there'd be nobody that showed up with all the weather issues (but) the weather cleared for us and we had a beautiful day."
Sophomore running back Javonte Williams led Team Carolina on the ground with six carries for 51 yards while redshirt freshman quarterback Jace Ruder led both teams in passing, finishing 5-for-7 with 143 yards and one rushing touchdown.
Since there's been no competition for a playing rotation at quarterback this spring and won't be until fall camp opens in August, nothing can be read into the order quarterbacks played in Saturday's game. With that said, true freshman Sam Howell took the first snap at quarterback on the opening drive of the game for Team Carolina and went 4-for-6 for 51 yards before the drive stalled on the 17-yard line.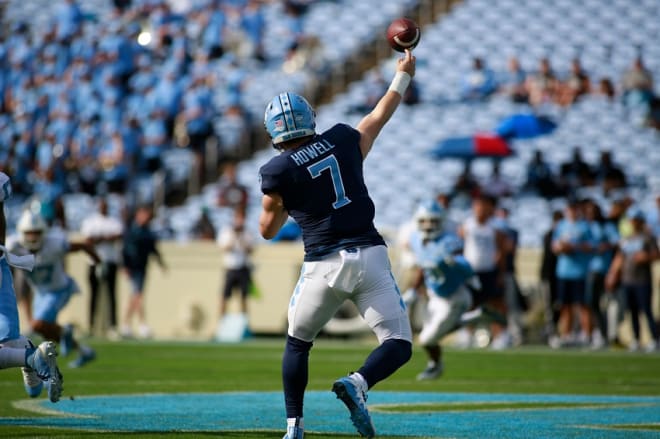 Redshirt freshman quarterback Cade Fortin took over for Team Tar Heels on the next drive but also stalled out around the 50-yard line after going 1-for-2 for 28 yards.
Ruder's first drive saw him complete a 77-yard pass to senior tight end Carl Tucker before Williams capped off a four play, 86-yard drive with a 7-yard rushing touchdown to give Team Carolina a 7-0 lead.
As the rain clouds gathered again over Chapel Hill, it was Howell's turn again for Team Tar Heels on the fourth possession of the game. He went 2-for-4 for 24 yards before he was intercepted by linebacker Dominique Ross on the 19-yard line.
Fortin's second drive saw him lead Team Carolina on an 11-play drive that ended in a 33-yard Noah Ruggles field goal. That sequence ended a 41-play first half with Team Carolina up 10-0.
The start of the second half saw Ruder in at quarterback for Team Carolina. On the third play of the drive, Dazz Newsome caught a 36-yard pass to put Team Carolina in the red zone before Ruder scored on a 6-yard run two plays later to increase the lead to 17-0.
The sixth drive of the game saw Howell go 2-for-2 for 49 yards and one touchdown after he completed a 46-yard pass to Roscoe Johnson to give Team Tar Heels their first points of the game and cut the deficit to 17-7.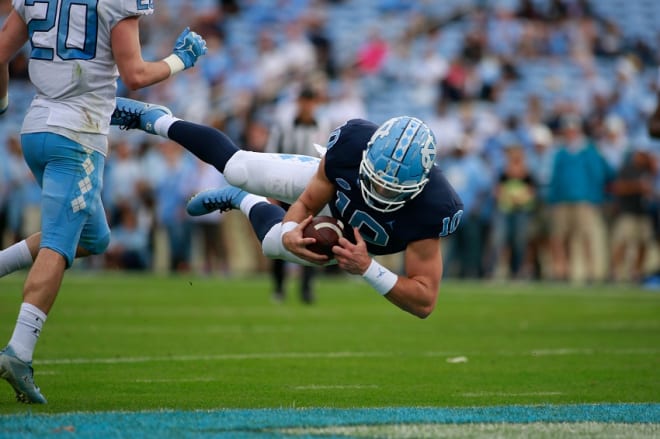 "I thought Sam did really well today," Brown said. "For a freshman to walk out there in front of a crowd, he's really a high school senior, but he made some throws with a quick release that were really good."
Fortin took over at quarterback for Team Carolina on the next drive but the Team Tar Heels' defense stood firm and forced a punt around the 50-yard line.
With Ruder back in at quarterback, redshirt freshman running back Devon Lawrence fumbled on a run up the middle, leading to a freshman cornerback Storm Duck recovery that he took 44 yards to the end zone to increase Team Carolina's lead to 24-7.
Just like they do to end each practice, Brown jokingly announced to the crowd that redshirt sophomore kicker Noah Ruggles' 42-yard made field goal was for the win, giving Team Tar Heels a miraculous 25-24 come from behind victory.
In reality, however, it was Team Carolina that kick-started a new dawn for UNC football with an impressive display both offensively and defensively. And, while the season is still over four months away, some players are already starting to believe in this team's ability going into 2019.
"I know the potential that we have," senior cornerback Patrice Rene said. "I'm just excited for the rest of the world to see what we can do. We have a lot of great talent on both sides of the ball."