No. 23: Walter Davis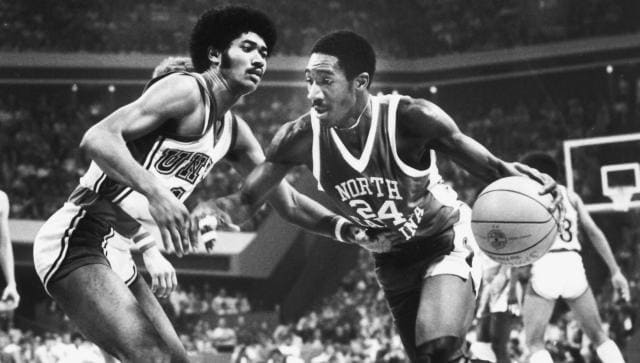 Every offseason, we run historical ranking series focusing on North Carolina basketball and football.
The purpose each spring isn't to make declarative statements, but to have fun offering a subjective look at the best teams and players ever at Carolina. This effort is to generate discourse, debate, and take UNC fans down memory lane.
This season, we are doing something a little different, combining football and basketball, as we offer our take on the Top 40 UNC football and basketball players of all time. The criteria is quite simple: The process includes playing careers with the Tar Heels and professionally, other relevant impacts they've had on their sports, coaching, and championships. We also gave a lean toward all UNC accomplishments.
So, this isn't a UNC-only list, a pro-only list, or a straight up purely best ever list. Some Tar Heels on this list didn't have great pro careers but were so good and historic at UNC, they simply had to make the cut. Some on this list weren't stars at UNC, but had outstanding and/or highly distinguished pro careers, that it warranted their place among these 40 athletes.
We hope you enjoy the list and feel free to disagree, as we know many will.
We continue our countdown with:
No. 23: Walter Davis (1973-77)
Amazingly, Davis was never named to any major first or second-team All-America squads, but he was first-team All-ACC in 1977, All-ACC in 1976, was on the 1977 NCAA All-Tournament team and was on the USA gold medal winning team in the 1976 Olympics. He might be the most underappreciated North Carolina player ever during his time as a Tar Heel.
Davis is UNC's 10th all-time leading scorer with 1,863 points, grabbed 670 career rebounds and handed out 409 career assists. His career scoring average was 15.7 points per game and he averaged between 14.3 and 16.6 points per contest in each of his four seasons at Carolina. He shot 53.1 percent from the field for his career and started 115 games as a Tar Heel.
He hit one of the most memorable shots in UNC history as a freshman in 1974, tying Duke to close out UNC's amazing comeback from eight points down with 17 seconds left. In 1977, he was a key part of the Tar Heels reaching the national championship game, which they lost to Marquette in part because Davis had an injured hand. Davis' No. 24 hangs in the rafters at the Dean Dome.
In the NBA, however, Davis was a star. He was the No. 5 overall pick by the Phoenix Suns in the 1977 draft. He made six NBA All-Star teams, was the NBA Rookie if the Year in 1978, and averaged 18.9 points scoring 19,521 points during his 16-year career. He averaged 20-plus points per game six times, and in 78 playoff games averaged 18.6 points.
Twice he was NBA Player of the Week. Davis also played for the Denver Nuggets and Portland Trail Blazers.
His jersey No. 6 has been retired by the Phoenix Suns.