No. 28: Ty Lawson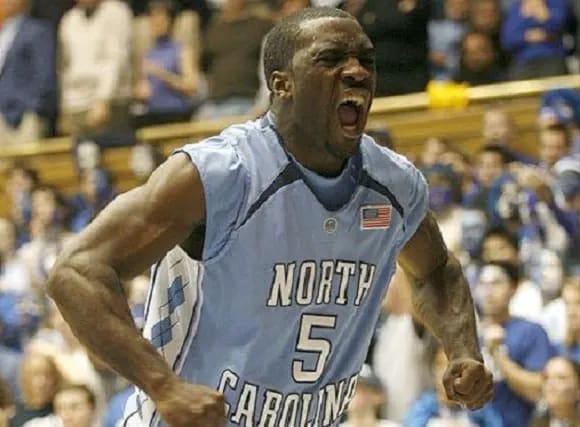 Every offseason, we run historical ranking series focusing on North Carolina basketball and football.
The purpose each spring isn't to make declarative statements, but to have fun offering a subjective look at the best teams and players ever at Carolina. This effort is to generate discourse, debate, and take UNC fans down memory lane.
This season, we are doing something a little different, combining football and basketball, as we offer our take on the Top 40 UNC football and basketball players of all time. The criteria is quite simple: The process includes playing careers with the Tar Heels and professionally, other relevant impacts they've had on their sports, coaching, and championships. We also gave a lean toward all UNC accomplishments.
So, this isn't a UNC-only list, a pro-only list, or a straight up purely best ever list. Some Tar Heels on this list didn't have great pro careers but were so good and historic at UNC, they simply had to make the cut. Some on this list weren't stars at UNC, but had outstanding and/or highly distinguished pro careers, that it warranted their place among these 40 athletes.
We hope you enjoy the list and feel free to disagree, as we know many will.
We continue our countdown with:
No. 28: Ty Lawson (2006-09)
The 2009 ACC Player of the Year, Lawson was a consensus All-America who led the Tar Heels to the national championship that season. He set a national title game record with eight steals in UNC's championship victory over Michigan State. He also won the Bob Cousy Award that season, which goes out to the top point guard in the nation.
Lawson also helped lead the Heels to the 2008 Final Four and the Elite 8 as a freshman in 2007. He was named the South Regional MVP in 2009. In all, UNC went 13-2 in NCAA Tournament games with Lawson at the point while also winning two ACC Tournament championships and ACC regular season titles in each of his three seasons.
Lawson did not play in the 2009 ACC Tournament, so UNC was 6-0 in ACCT games in which he played during his Carolina career. UNC was also 40-8 in ACC regular season contests with Lawson.
He averaged 13.1 points and 5.9 assists per game at UNC.
Lawson played eight seasons in the NBA before playing in China, though he concluded the campaign back in the NBA. He played nine years in the NBA overall, and in 2021 played in Greece, and this past season spent time with US Monastir in Tunisia. In a four-year stretch between 2012-2016, Lawson averaged between 15.2 and 17.6 points per contest with the Denver Nuggets.
In 2011, Lawson became the first player in NBA history to convert his first 10 attempts from three-point range in a game. He averaged 21.3 points and 8 assists during the 2013 NBA playoffs. In 2014, Lawson led the Denver Nuggets with 17.6 points, 8.8 assists and 1.6 steals per contest.
For his career, Lawson averaged 12.7 points and 6.0 assists in 551 games in the NBA. He shot 46.0 percent from the floor, including 35.9 percent from the perimeter. He also averaged 1.2 steals per game, and finished his career with 6,977 points.
Twice, he was NBA Player of the Week, he received MVP votes in 2013.