{{ timeAgo('2022-05-11 22:42:05 -0500') }}
football
Edit
No. 31: Eric Ebron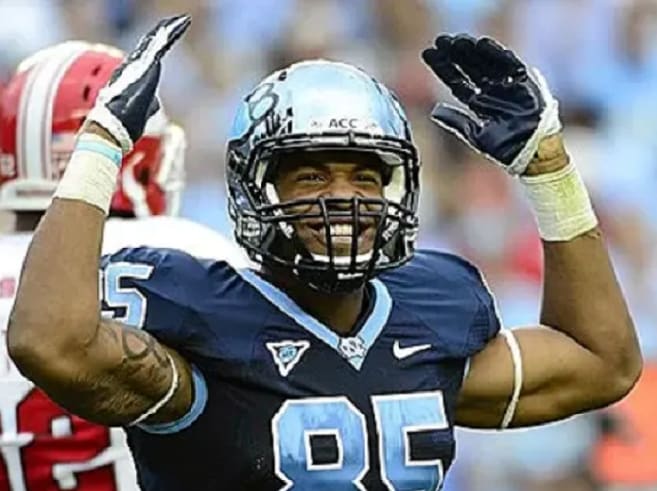 Every offseason, we run historical ranking series focusing on North Carolina basketball and football.
The purpose each spring isn't to make declarative statements, but to have fun offering a subjective look at the best teams and players ever at Carolina. This effort is to generate discourse, debate, and take UNC fans down memory lane.
This season, we are doing something a little different, combining football and basketball, as we offer our take on the Top 40 UNC football and basketball players of all time. The CRITERIA are quite simple: The process includes playing careers with the Tar Heels and professionally, other relevant impacts they've had on their sports, coaching, and championships. We also gave a lean toward all UNC accomplishments.
So, this isn't a UNC-only list, a pro-only list, or a straight up purely best ever list. Some Tar Heels on this list didn't have great pro careers but were so good and historic at UNC, they simply had to make the cut. Some on this list weren't stars at UNC, but had outstanding and/or highly distinguished pro careers, that it warranted their place among these 40 athletes.
We hope you enjoy the list and feel free to disagree, as we know many will.
We continue our countdown with:
No. 31: Eric Ebron (2011-13)
Ebron played three seasons at UNC before leaving for the NFL. In 34 career games as a Tar Heel, he caught 112 passes for 1,805 yards (16.1 yards per reception) eight touchdowns.
As a sophomore, Ebron caught 40 passes for 625 yards and as a junior he hauled in 62 passes for 973 yards, which is an ACC single-season record for most receiving yards by a tight end, 348 more than the UNC record he set the year before. He was a finalist for the Mackey Award that season, which goes to the nation's top tight end.
In addition, three times he amassed more than 100 yards receiving in a game that fall. He also had two plays that went more than 70 yards and one that went 58.
Ebron was named second-team All-ACC as a sophomore and first-team All-ACC as a junior along with AP second-team All-American.
One of Ebron's most explosive plays of his UNC career came during the first ever Thursday night game at home for UNC, a blackout versus Miami. Ebron scored on a 71-yard pass play from Marquise Williams en route to his career-best 199-yard performance. Ebron never missed an opportunity to boast, but he also took losing hard, especially so that night.
Ebron was the No. 10 overall pick in the first round of the 2014 NFL draft. In eight seasons, he has caught 351 passes for 3,837 yards (10.9 average), and 33 touchdowns. He also has three rushing touchdowns in five attempts in the NFL, as each score went from one yard out.
Ebron has played in one Pro Bowl, and has earned just under $38 million in his career.