On The Hardwood: Carmichael, Leaky's Role, Love's Guys & More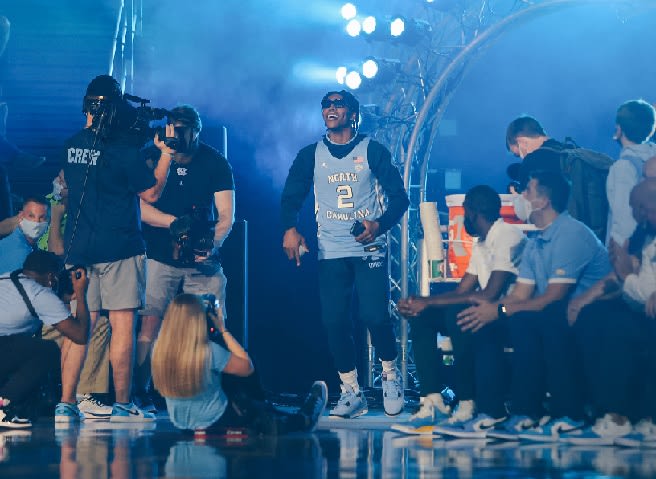 CHARLOTTE – North Carolina is less than three weeks away from the formal start of the Hubert Davis era, but there are so many storylines to tackle as the season charges closer.
Last week, UNC Coach Hubert Davis and Tar Heels Caleb Love and Armando Bacot took part in the annual ACC Tip Off, the league's media day in Charlotte, and spent plenty of time fielding a wide range of questions.
As THI continues to build up our basketball coverage, we will dig back into what came out of the Carolina camp last week and then some so continue piecing together whole picture that is the 2021-22 UNC basketball team.
We ran one Hardwood piece earlier this week, and here is another one focusing on some notes and interesting things Davis, Love, and Bacot had to say:
*Davis didn't play any games in Carmichael Auditorium when he was a Tar Heel, but his uncle, former Tar Heel great Walter Davis did. Carolina playing games in its much smaller former home doesn't make much financial sense, but Davis wouldn't mind playing a game there every once in a while.
"I'd love to play in Carmichael, I'd love it," Davis said. "That would be emotional because that's where I saw my first Carolina game. And to say that I would be the head coach of the men's basketball program in Carmichael, I would absolutely love to – my dream is to play one nonconference and one conference game in Carmichael."
Like the Wofford game a couple of years ago?
"Yeah," Davis replied. "And us winning next time."
*Times were occasionally rough for Love last season with him turnover the ball almost as much as he was credited for assists to go with consistent shooting struggles. But the benefit of so much on-the-job training should pay off this season. At least that's how Love sees things.
The game doesn't blow by so quickly anymore. He can see the other nine players on the floor and gauge their movements, something he struggled with last winter.
"I feel like it's slowed down a lot, because having that year under my belt I feel like that helped me a lot," Love said. "Just sitting down and watching film of all my games and certain shots that I took, certain decisions that I made, I feel like I've learned from it I'm gonna take that big leap and have a better season."
*Bacot has seen a different Love over the last several months.
"Definitely just his confidence," Bacot said. "He got a new and different swagger about him. He is going out there to kick butt all year. He's been really shooting the ball well. He's been limiting his turnovers too."
*Kerwin Walton displayed an improved handle last Friday night when he drove to the basket in the halfcourt offense and rammed home a dunk. A few days earlier, Love was asked which teammate took the biggest strides in their game in the offseason, and without hesitation, he said it was Walton.
"I feel like Kerwin has made the biggest leap," Love said. "He was just a catch-and-shoot, (but) he's putting it on the floor, he's getting downhill. His shot making ability is has gone to another level."
*Davis made some news in the summer when he said he expects Bacot to play like a first-team All-ACC big man. So he was asked about those expectations in Charlotte and doubled down on them.
"100 percent," he said, backing up the earlier statements. "Armando is the rare big that has the size, athleticism, can run the floor, he's an outstanding rebounder, he can score consistently down on the block. And over the summer, he made a thousand threes each week.
"So now, he can handle the basketball better, and he can shoot the ball from the perimeter. He is a modern big in the NBA right now. That's how good he is."
*Leaky Black has started the last two seasons, usually at the three a year ago, but he started at least one game at four spots aside from center in the 2019-20 campaign. Black is not a prolific scorer and has been a bit overshadowed with so many other Tar Heels returning along with the talented trio of transfers Carolina brought in. So what is Davis looking for from the 6-foot-8 senior?
"He's going to be great for us this year," Davis said. "Throughout his career, he's played a number of different positions… And one of the things I've told him is that I just want to simplify things. I think with his length and his athleticism he can be an unbelievable defender, I really believe that. And I want him to focus on that.
"I think Leaky can be a great offensive rebounder, and so I really want him to focus on that. And then his ability to get to the basket and make plays. If you ask from an offensive standpoint what he loves to do best, he loves to facilitate. He loves to pass. He's always wanted to.
"So having somebody 6-8 at the small forward position that can distribute to Caleb, to RJ, to Kerwin, to Armando, to Dawson, that gives us a lot of flexibility. I'm expecting huge things from him this year.
*As we continue to look at what's being said about various current Tar Heels, Bacot had an interesting comparison when speaking about 6-foot-11 Marquette transfer Dawson Garcia. The comparison? How about former All-ACC forward 6-foot-8 Luke Maye.
"I will just say the way he was able to do a lot of different things like shoot, score off the dribble and post up," Bacot said. "Just being able to score on three levels. That was probably the most recent guy I can attach that to."
*Even though Love is just a sophomore, he is a bit of a veteran on this team. It remains a fairly young club, but there's a lot of experience among the club's younger guys, but Love led the Tar Heels in minutes played last season with 801, so he is a bit of a vet on the squad.
"I feel like I am because what I went through last year," he said. "I just feel like it's gonna do nothing but help me this year, and I feel like just having a year under my belt I can strive and take everybody else under my wing and just lead them."
*Let's say for a moment Love was named captain and could pick four teammates to roll with him in a scrimmage game against the rest of his teammates, who would he go for?
"I'm running with Kerwin, Brady, 'Mando, RJ, and me," Love said, smiling. That's his team right there? "Yep, yep."
So how did Love's quintet do in Carolina's Blue-White game last Friday night?
They combined to shoot 28-for-50 (56 percent) from the floor, including 8-for-18 (44.4 percent) from beyond the arc with 70 points. The rest of the team combined to shoot 15-for-37 (40.5 percent) from the field, including 2-for-13 (15.4 percent) from three-point range, with 35 points.