One on One with Williams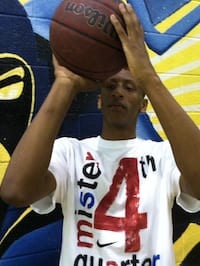 HAMPTON, Va.--- Tar Heel Illustrated was in the house Friday night for one of the top prep basketball rivalries in the state of Virginia, as Hampton High and Phoebus High squared off in a sold-out gymnasium.
In a matchup of AAU teammates,
Anthony Barber
's 19 points helped lead Hampton to an overtime victory over Phoebus, led by
Troy Williams
and his 12 points, six blocked shots, and six rebounds.
We spoke with the 6-6, 190-pound Williams, the No. 4 small forward and No. 14 overall prospect nationally in the Rivals.com Class of 2013 rankings.
Williams, who recently received a scholarship offer from North Carolina, talked about his recent visits to UNC and Kentucky and how things are going in his recruitment in the first of a two-part feature.
You recently visited North Carolina with your uncle and grandmother. Tell us about that visit. What did you learn about North Carolina that maybe you didn't know before?
I didn't know that they (UNC) got up and down that much, to tell you the truth. I didn't know they had that much space on the court. I didn't know they had that much open freedom to do anything they wanted to. Well, not really anything, but still be structured.
And why does that appeal to you?
Because that's what I'm looking for---good academics, and how I can turn into an NBA basketball player.
You also just visited Kentucky recently. Tell me about that visit and how it went.....
It was good. I also visited them last year between fall and winter. This one, we just went up there for a game, talked to the coaches for a little bit and see how the team played.
Talk about your relationship with the Kentucky coaching staff, and John Calipari. How's that working for you?
It's real good. I have a close friendship (with the UK players). My uncle (Boo Williams), he's known Coach Calipari, so they get along and every time they see each other, they tell old stories or whatever. But the assistant coaches and I, we also have a good relationship too.
Kentucky recently came here to Hampton to see you as well right?
Yeah, Coach Calipari did on Wednesday.
The college coaches can't talk to you when they visit, but was there any message the Kentucky staff gave your coach when they visited?
No, not really. Before he came down, Coach Orlando (Antigua) said he was going to come down and see my practice, and just check in see how I was doing and stuff.
What's the appeal to you for Kentucky?
People at my school say they play my type of style. They like to get up and down. We watch them a lot (on television).
People down here, there's some real Kentucky fans down here (in Virginia). I remember one time on Twitter this dude hit me up and said, 'I live in Virginia and I'm a big Kentucky fan and I can see you there (at UK).'
When you look at UNC vs. Kentucky, they're both big-time programs. They're both on TV. What advantage does UNC maybe have over Kentucky?
I would say a more disciplined, structured type of freedom out there on the court, but also, it's still under control.
And if there's an advantage Kentucky has over Carolina, what might that be?
Making NBA players in like one or two years at the most. And then they're gone and they're making money and more.
If you could look into the future and kind of paint your college career---I know you've still got another year and a half in high school---but if you could think, 'Man, it would be really awesome to play this sort of way,' what would be that way? Describe that way?
Getting up and down, but still having discipline and structure, I would say. Can they (the coaches) turn me into an NBA basketball player? Do I have a good issue with the head coach, and not just the assistants and the players? I want to know the head coach too. Of course good academics is part of the situation, also.
Villanova made your list of top five schools. Most people think that it's Kentucky, Carolina, and Georgetown, those are the three leaders. What's your tie to Villanova?
They just really got into the mix really in December. Coach
Jay Wright
came down (for a visit). I was going to put Florida in there (in my top five), but if my family thought Kentucky was far, then I didn't want to put Florida in there.
But then when Villanova came, that's when I was like, 'Okay, I can just scratch off Florida and put Villanova into there (my top five).'
So proximity from home is a factor in your decision, so your family can see you?
Yeah, I'm not trying to go too far. Yeah (so my family can see me play).
How far of a drive is it to Kentucky from here? How about Carolina, Georgetown, and Villanova?
Probably eight hours I would say (to Kentucky). It's like four hours (to UNC). It's three and a half (hours to Georgetown). Villanova is in Philadelphia, so I don't know (the distance).
We haven't talked about Georgetown much, but I saw your grandmother wearing a Georgetown sweatshirt. I know Boo is real close to the guys at Georgetown. What are your ties to Georgetown, and what's your feelings about that program?
They're a real good program. They have a lot of history out of there, and very good academics.
Really the reason my grandma had that (the Georgetown sweatshirt) on is because my aunt, she's the head coach for Georgetown's girl's (women's team), and we get a lot of Georgetown gear from her. Most of the time when you see her (my grandmother) out and about, she'll probably have a Georgetown sweatsuit on or something like that.
When it comes to Carolina, what's been Roy Williams' message to you?
Really before he even offered, Coach Roy said that he wanted to know me as a person first, outside of basketball. As a kid. When he (Coach Williams) first came down here, my Athletic Director came down here and she talked with him. From what he told me, she came down and talked to him about how I was outside of basketball.
And then a friend of my parents came up to him (Williams) and started talking about me as well. So he learned from them how I am outside of basketball. And then he wanted to know my transcript, and after he saw my transcript he said, 'Okay, I can offer you now.'
He checked with his academic people (at UNC) and said I was okay and everything. Of course I have another year (of high school), but he said everything was good, so he decided to offer.
So grades are not an issue? You're fine to go now?
Yes, I'm good (academically).
There's a lot of talent in Hampton. How does it benefit you to play so many good teams to prepare you for the next level?
In ninth grade playing on my uncle's team (Boo Williams Elite), he always told me that competition is something that I wanted. So looking at it like that, and playing on the 'big' Nike (AAU) team, playing with (James Michael) McAdoo and (Andre) Dawkins and
Kendall Marshall
at the same time, that was real good. So I got to see them play and add stuff from their games to my game.
Now I just like the competition. It always gets you better, so that's how I look at it.
What's your uncle's influence in the recruiting process. What's been his advice to you?
Well, of course he's a wise man. He knows a lot about this (recruiting). He just tells me, 'Just don't rush anything,' and whenever I felt like releasing my top five (recently), I did it. If I feel good, he'll let me do it. Whenever I want to commit, he'll let me commit, whenever I feel good about it.
Looking into the future, is there a timeframe where you think you might want to make a decision?
We were going to wait until after AAU season (in August), but I've been thinking about it some more and somebody may take my position (at the school I want to go to). So now I've told my aunt and uncle that I wanted to do it in May. So in April I'm going to narrow my list down again, and then in May I'm going to commit.
So in April you're going to knock it down to two?
Knock it down to two or three.
Pretty good chance UNC and Kentucky make that?
Yes.
Do you have interest in being a one or two 'and done' in college?
I'd say I'm looking at two at the most. I want to go 'one and done,' but if I can't, two years would probably be the (preferred maximum number) of years.
If you had to rank your top five today, how would they rank today?
Right now for the No. 1 spot, it would be UNC and Kentucky. Then after that it would be Georgetown, then after that it would be Virginia Tech, and then it would be Villanova.
Who do you feel out of those schools is making you feel like a priority?
Basically it's between UNC and Kentucky. They're showing the most interest in me.
Stay tuned for Part II of our interview with Williams in the coming days right here at TarHeelIllustrated.com.