Pembroke-UNC Observations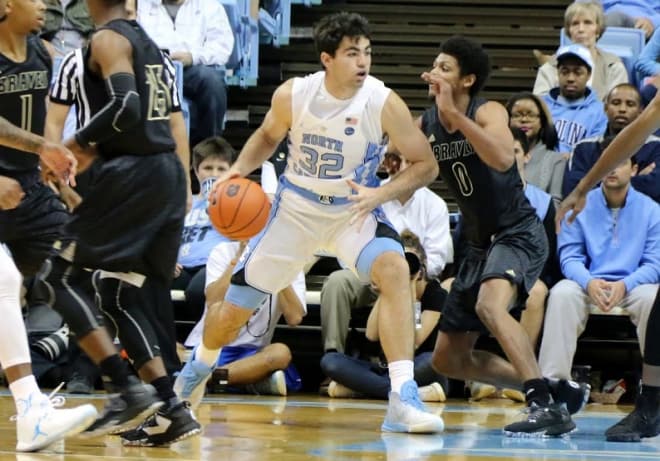 CHAPEL HILL – As expected, North Carolina didn't have any trouble with Division II UNC-Pembroke on Friday night at the Smith Center. And, considering it was an exhibition game, it's hard to glean a lot from the Tar Heels' 124-63 victory, but there were enough moments to gauge something out of the performance.
A few game notes before offering some observations on the individual Tar Heels:
Joel Berry led the Heels with 20 points in just 22 minutes of action. Justin Jackson and Isaiah Hicks each finished with 16 points in 22 and 16 minutes, respectively. Luke Maye totaled 15 points, 8 rebounds and 5 assists in 19 minutes. Kennedy Meeks and Kenny Williams also scored in double figures.
Carolina was 44-67 from the field (65.7 percent), including 10-20 on 3-pointers.
Jackson and freshman Seventh Woods led the Heels with 7 assists each with Berry handing out 6. In fact, UNC assisted on 33 of its 44 field goals.
The Heels only outrebounded the Braves by a 50-46 margin and were paced by Maye and freshman Tony Bradley with 8 boards apiece.
The scores at the official timeouts:
15:53 – UNC 11, Pembroke 7
11:52 – 21-12
7:23 – 38-15
2:54 – 55-22
Halftime UNC 61, UNC-Pembroke 30
2nd half…
15:06 – 80-37
10:46 – 85-43
7:00 – 101-52
3:49 – 118-60
A few team observations:
*The Heels collectively played with a lot of energy, though segments of the last 14 minutes weren't very pleasing to the eye. But that was human nature.
*Pembroke grabbed 30 offensive rebounds, which is the most allowed by the Tar Heels during the Roy Williams era. The Braves missed 70 of their 95 shot attempts, but 30 offensive boards is still a lot. How concerned was Williams over that number?
"You're going to have more opportunities if you shoot a poor percentage, but we didn't do a good job of boxing out," Williams said. "I told them about a kid that came and visited while I was at Kansas who said he didn't realize there were 11 commandments. He said after watching our practice that the eleventh commandment was our shout box out, and we did not believe in the 11th commandment tonight."
Ten Tar Heels played between 15 and 22 minutes, which was one thing Williams wanted to get out of the game. Freshmen Seventh Woods, Tony Bradley and Brandon Robinson played 18, 17 and 15 minutes, respectively.
It allowed the staff to look at a bunch of different lineups in a game situation as opposed to the many they've had in practice.
"We've gone through 24 practices now, and I still haven't played a quote starting lineup together every day," Williams said. "I tell these guys every single day in practice, so they will play with different combinations almost every single day."
Here are some observations about the individual Tar Heels:
Tony Bradley – Tar Heel fans are going to really like this young man. He initially entered with 15:53 left in the first half and it wasn't hard to notice him or keep your eyes off of him. He is really long but has a nice, solid frame, too. He boxed out quite a bit, especially compared to some other Heels, and looks like he can be a quality post defender right away. He even moved well defensively away from the basket.
Bradley moves really well and there is nothing awkward about him, he has game. Strong, he converted a shot while being fouled and then drained the free throw. He's going to get a lot of stuff near the basket and has the look of a player that will do a lot of damage at the free throw line.
Bradley finished with 9 points, 8 rebounds and 4 blocks in 17 minutes.
Seventh Woods – Entered at 13:59 left in the first half and played with a lot of poise, saw the floor well and was a willing distributer. He has a ready-made body, is strong, and could develop into an outstanding defender.
Woods handled the ball well, has a nice cross over, and looks like he will develop into a solid backup to Joel Berry at the point. One particular moment was a beautiful short bounce pass to Kenny Williams on the break for an easy basket. Woods knew where his teammate was and got him the ball in position to score.
"I think Seventh did a real good job, he can really push the ball fast, and get to the rim at will," Joel Berry said about Woods. "He is really going to help us out going forward, defensively is where it starts for our guards."
Woods finished with 9 points, 3 rebounds and 7 assists in 18 minutes.
Brandon Robinson – Energetic, wiry, athletic, and very thin. But, Robinson plays exceptionally hard and with a lot of energy, which can't be understated, and is aggressive. He first entered at 13:59 mark left in the first half and was effective helping with a couple of traps that caused turnovers.
He's not afraid to mix it up, though he caromed off of players a lot, so adding strength and thickness will be a point of emphasis over time.
Robinson finished with 6 points, 2 rebounds, and 3 assists in 15 minutes.
Joel Berry – He was as expected, the best player on the floor. His vision was fantastic, as he found open mates all over the floor. Berry was 5-6 from the floor, including 3-3 from 3-point range, and he converted 7 of 8 free throw attempts. The junior also handed out 6 assists while playing 22 minutes.
Berry acknowledged it can be a challenge playing a game like this, especially given his experiences at Carolina.
"Sometimes it's hard getting up for game like this, (but) you still have to give it your all," Berry said. "I just try to go out there and play with the same intensity. Sometimes it's hard, but you have to do it to be the best you can be."
Justin Jackson – Jackson also did what one would expect versus an over matched opponent. He economized his game well, thus he didn't stand out, but was really solid. He appeared more physical at times around the defensive glass, but must get more so.
Jackson finished with 16 points on 6-10 shooting from the floor, including 2-4 from the perimeter while grabbing 4 rebounds and handing out 7 assists in 22 minutes.
Isaiah Hicks – Hicks looked leaner but didn't really stand out much because he did what one would expect in a game like this. He didn't commit any silly fouls and made a lot of simple plays and pleased the crowd with two dunks, one an alley-oop jam.
Hicks finished with 16 points on 5-6 shooting plus he converted all 6 of is free throws. He also grabbed 5 rebounds in 16 minutes. He was whistled for 3 personal fouls.

Kennedy Meeks – Meeks rolled to the basket well, was fluid, and had good hands catching and going up right away when fed moving to the hoop. He had a reverse layup where he used used one dribble and made a nice, quick, assertive move. He also got on the floor after a loose ball that led to an alley-oop slam by Hicks from Berry.
Meeks ended the game with 11 points and 5 rebounds in 18 minutes.
Nate Britt – Steady as expected. Britt can shoot, or at least he has been in practice and he hit a few shots in this game. But he is a stabilizer out there, plays within himself and the team, and is going to help the Heels a lot this season.
Britt totaled 5 points and 2 assists in 17 minutes.
Kenny Williams – The sophomore appeared much more confident than a year ago and his stroke looked really good. He hit 2 shots from the perimeter in the first half and all four of his 3-point attempts were smooth and within what the Heels were doing.
He also did some nice things defensively, though he fouled a 3-point shooter. Two possessions later, however, he blocked the same guy's shot.
"Last year was mainly a confidence issue," Williams said. "I felt this off-season If I worked harder to get stronger nothing could stop me from my goals. With Theo being out I knew there was a chance, for me to have a bigger role, and with confidence I know Coach will trust me out there to get more playing time."
Williams finished with 10 points, 3 rebounds and an assist in 16 minutes.
Luke Maye – The most interesting performance of the night came from Maye. He was very good and turned in a well-rounded performance. He played like the player we heard about before his freshman season a year ago, which was a struggle. Here are some bullet-point notes about Maye's performance:
*Put back of Jackson missed 3. Quick to the ball and quick back up with it.
*Jump hook for a bucket on the next possession.
*Played with a different level of confidence than last year.
*Even hit a 3 from the top of the key.
*Steal near midcourt and led Jackson for a fast-break layup.
*Moved well, rolled to the basket for one of his buckets.
*Rebounded well, kept the ball high and quickly found the guards.
*Found a cutting Bradley for a thunderous jam in the second half, it was an example of the well-rounded game we heard Maye had before he got to UNC.
"I play differently from the typical big men Coach WIlliams recruits, he just tells me to go out there and work hard, and do the dirty work the team needs, whatever that may be," Maye said.
"I feel I have made a big improvement since last year, solely based on having a year under my belt, I know what to expect, so I just go out there and do it."
Maye finished with 15 points, 8 rebounds, 5 assist and 2 steals in 19 minutes.