Seniors Talk Final Game At Kenan, N.C. State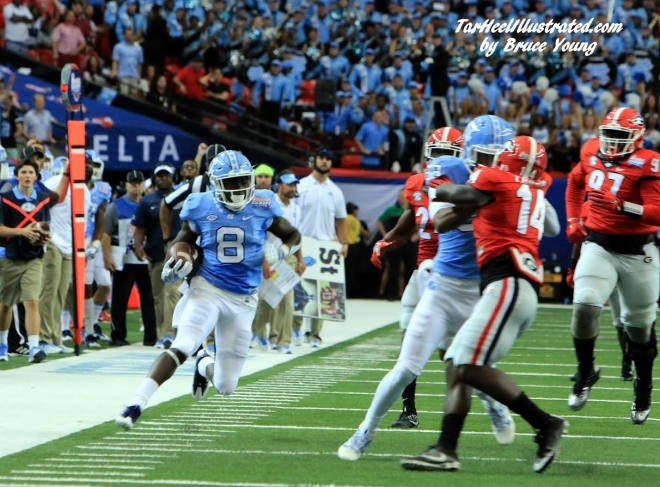 CHAPEL HILL - It's N.C. State week, and for Carolina's, Friday will be the last time they will ever play in Kenan Stadium.
So, that combination makes for an amped up, but also emotional, week for the Tar Heels. So we asked several seniors their thoughts about this being their final home game and also facing their most bitter rival:
Offensive Tackle Jon Heck
What the N.C. State game means to him?
Number one, it's my last game in Kenan Stadium, senior night. And number two, this is my last rivalry game in college ever. They are our biggest rival in football, it's a big game and it's my last home game.
On adding spice to it they can keep State from qualifying for a bowl game.
That hasn't even crossed my mind. All we're worried about is beating them, we're not worried about anything else going on in that program other than taking care of ourselves and winning that game.
On State's defensive line and why it's so good
They have a very good D-line. Across the board, they're probably the best D-line we've played so far. , They're big, they're strong, they play relentlessly. Across the board you see them beating guys, they don't stay blocked for long, they get after the quarterback. We've got our work cut out for us.
Wide Receiver/Punt Returner Ryan Switzer
Noting that Switzer is admittedly emotional and nostalgic, is he guarding against that this week?
I think I've done a pretty good job of keeping my emotions intact. Coach Fedora met with the seniors earlier this week and gave us some advice on how to handle playing our last game in Kenan and taking everything in. I've been a guy that wears my emotions on my sleeve, but when it comes to playing and making sure you're ready for the game, that's not going to be a problem.
He'd noted about six weeks ago how fast his senior season was going, has it sped up and gotten even faster these last few weeks?
Oh yeah, most definitely. Looking back, I feel like we were just in Atlanta so it's really flown by. And it always does when you're having fun and playing the game you love with people you love. It's been a great ride. Obviously, we still have some work to do, but a little bit of reminiscing going on.
What N.C. State means to him…
It's a big game, obviously. It's a game that neither team wants to lose. Each team brings a little bit more mojo and more juice when they step up on that field. I know we have a big task at hand, they're defense has been really solid all year. So it's fun, my last game in Kenan I get to play State, and I get to play some guys on that team, especially that defense, that are NFL-caliber players.
On two years ago…
It's a completely different culture out here. Obviously, if we don't show up and aren't ready to play, we can get our tails handed to us. But I don't think showing up and being ready to play is going to be a problem.
Defensive End Mikey Bart
On the rivalry…
It means a lot even though I didn't grow up a UNC fan. But as soon as you got here you realized that we hate State and, you know they hate us – honestly, I don't want to say nothin' but they just hate us. It means a lot and we're definitely going to try and get this win.
Coaches Fedora and Chizik often speak about how hard Bart plays, in fact, Fedora said if all 11 guys played as hard as Bart on every snap the team would be in great shape. With that said, can he possibly elevate it and does he when State is the opponent?
Yeah. Coming off The Citadel game, we beat them pretty bad, just getting back to a normal defense, how it was, it's just a challenge, especially with them being our rivals. We always play at a high level, but I feel like we can bring it up even more, especially me.
If he's noticed something different around practice this week…
Yeah. We've had a really good two days of practice – we usually practice good, the defense, at least the defense practices really whether we won or lost. We just have that mentality to come out here and work. I definitely see it with people wanting to make plays, do something extra with whatever's going on around here. I can see it in Naz's eyes, I can see Dajaun's hungry, I'm hungry.
Running Back & Kick Returner T.J. Logan
On if it's special that his final home game at Kenan will be against one of the team's biggest rivals
It's great, I wouldn't have it any other way just because we get to go out there in a hostile environment, which is our crowd, but against N.C. State. It's going to be a great time. It's my last time, but I'm going to put it all out there.
Senior day to years ago and the ugly loss, how different is the program now in his estimation?
It's really different. We know it's out senior night and we're not going to try to go out there and do anything out of our element, we're just going to go out there, play hard and try and get a win. As for the culture, I feel like we really have changed it. I feel like people used to see us on the schedule and look over us, but they know who we are.
On if he ever considered going to State while being recruited
No, no (smiling).
Did they reach out to him?
I definitely took a visit there, I'm not going to lie that I didn't take a visit. But, when I came here it was clear cut, I knew I was coming to Carolina.