{{ timeAgo('2020-11-19 17:18:21 -0600') }}
football
Edit
Some Heels Set To Exceed Last Year's Numbers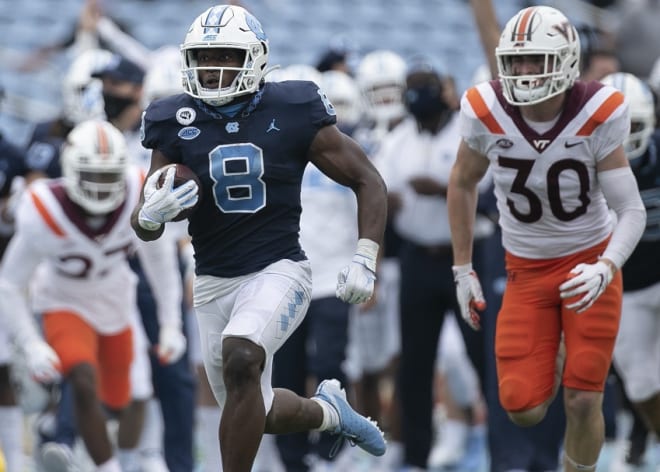 CHAPEL HILL – One of the last things most people expected would happen this season is college football players who had terrific seasons a year ago would eclipse those performances in this COVID-ridden season.
Everyone is playing at least one fewer game than last fall, plus the fractured routines and other effects of how programs and the sport are responding to COVID simply put record-setting expectations on the back burner.
Not at North Carolina.
If Tar Heels' fans thought having a pair of 1,000-yard receivers, nearly a pair of 1,000-yard rushers and an historic quarterback performance was pretty cool, imagine doing something similar again in this shortened and never-before-experienced season?
That's where the Tar Heels are headed, at least four of them.
Michael Carter, Javonte Williams, Dyami Brown and Sam Howell are on pace to surpass what they did a year ago, and it appears only cancellations, injury or illness will keep them from posting even better numbers this season.
UNC has three games left in the regular season – Notre Dame, Western Carolina and at Miami – plus a bowl game. So these Tar Heels have four more games to surpass last season's numbers.
Let's take a look:
Michael Carter, Sr. RB
2019: Carter ran the ball 177 times for 1,003 yards (5.7 average), 77.2 per game average, with three touchdowns.
2020: Carter has run the ball 116 times for 807 yards (7.0 average), 10.1 per game average, with four touchdowns.
Needs: 61 carries, 196 yards, he's ahead of last year's TD total and is averaging 1.3 yards more per attempt this season.
Phil Longo on Carter's improvement: "Just overall technique and his knowledge of the game. Having veterans comeback, they just come back with so much more experience in all of the different scenarios. You see a lot of them handling more progressive situations better and differently and more effectively than they did last year, and I think that his biggest improvement from last season to this season."
Javonte Williams, Jr. RB
2019: Williams ran the ball 166 times for 933 yards (5.6 average), 77.2 yards per game average, with five touchdowns.
2020: Williams has run the ball 120 times for 868 yards (7.2 average), 108.5 yards per game average, with 15 touchdowns.
Needs: 46 carries, 65 yards, is well head of last year's TD total and is 1.6 yards per-attempt ahead of last year.
Mack Brown on Williams: "The thing about great backs is they get better as the game goes on. Those three and four-yard runs in the quarter become 10-yard runs in the fourth quarter, and that's what he does so well. He never gets tired, he doesn't seem to hurt after hits."
Dyami Brown, Jr. WR
2019: 51 receptions for 1,034 yards (20.2 yards per catch), 12 touchdowns, 79.5 yards per game average.
2020: 45 receptions for 829 yards (18.4 yard per catch), eight touchdowns, 103.6 yards per game average.
Needs: 6 receptions, 205 yards, four TDs.
Sam Howell on Brown: "He's a really good player and a great wide receiver. And if the ball is in the air, Dyami's going to come down with it."
Sam Howell, Soph. QB
2019: 259-for-422 with 3,641 yards, 38 TDs, 7 INTs, 280.1 yards per game, 160.25 QB rating.
2020: 168-for-248 with 2,631 yards, 23 TDs, 6 INTs, 328.8 yards per game, 182.6 QB rating.
Needs: 91 completions, 174 attempts, 1,010 yards, 15 TDs and 1 INT.
Mack Brown on Howell: "Sam is reading defenses much better. He studies so hard, and last year he was a rookie that was trying to learn and now he knows. He knows exactly what's going to happen in a ball game. He can tell you on Friday night, 'Coach, here's what they're going to do and here's when they're going to do it.' And he expects to execute everything."