{{ timeAgo('2021-04-07 13:18:20 -0500') }}
football
Edit
Spring Practice Report: Coordinators Talk Units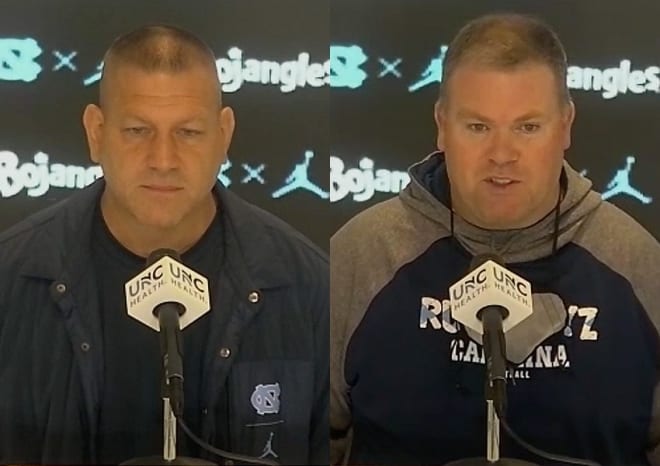 CHAPEL HILL - North Carolina offensive coordinator Phil Longo and defensive coordinator Jay Bateman met with the media via Zoom from the Kenan Football Center on Wednesday morning.
The Tar Heels are six practices into spring ball and did not work out on Wednesday, though they did Tuesday morning. They will resume Thursday morning before having another open practice in Kenan Stadium on Saturday.
Among the topics discussed during the pressers were depth, the three different phases of spring practice, forcing more turnovers and much more.
Below are the full videos of Longo and Bateman's press conferences along with some pulled notes and quotes from what they had to say:
Phil Longo
*One of the biggest question marks going into next season is who is going to step up and replace the likes of Michael Carter and Javonte Williams at the running back position.
The Tar Heels brought in graduate transfer running back Ty Chandler from Tennessee but, besides him, the running back room lacks real game experience.
Senior British Brooks, a former walk-on, and junior Josh Henderson haven't seen a lot of action during their respective times in Chapel Hill and only played a combined 85 snaps in 2020.
Sophomore DJ Jones, redshirt freshman Elijah Green, and true freshman Caleb Hood all have a ton of potential, with Jones in particular showing glimpses of how good he can be in cameo appearances last season, but they're all still unproven.
With all this in mind, Longo discussed how the running back position has shaped up so far during spring ball.
"It's a lot of fun going into the spring knowing that you have talent in a particular room," Longo said. "It's younger, and it may not be completely developed, we may not know who's going to rise to the top yet and become the guys that fill the shoes of Michael Carter and Javonte Williams, but right now there's six guys in that room with a new running backs coach in Larry Porter.
"And everyday we're doing something, with regards to what we script in practice, to put these guys in, not just run situations, but pass protection situations and pass catching situations because we've got a lot of guys."
While there may not be a set starter yet, Longo is glad to have the number of options he has at that position.
"'It's unique, and it's a good problem to have, because there are so many talented guys in the room that we've got to figure out who's gonna roll into the opening game with Virginia Tech," he said. "And so, it's fun because we've got guys that are competing hard, they're smart, and it's a great room. And all of them have flashed at one point or another in practice."
*Developing more depth along the offensive line is another goal for this team during spring practice.
The Tar Heels return all five of their starters on the offensive line from last season, including center Brian Anderson, guards Marcus McKethan and Joshua Ezeudu and tackles Asim Richards and Jordan Tucker.
UNC Coach Mack Brown has said many times that his goal is to have eight-to-10 guys across the offensive line that are ready to play on Saturdays and, according to Longo, his offense is getting closer and closer to having that.
"Last year, I think we had seven most of the time…" Longo said. "And I think, two seasons ago, we weren't very good on the o-line and then we tried to play ourselves into being competent. And then, last year, I think we went from competent to being pretty good.
"And I think, this year, we can be really, really good up front. And a lot of that has to do with so many veterans."
Longo also singled out junior William Barnes, a player Brown has also praised numerous times this spring.
"This year right now with the emergence of William Barnes, I think we are adding to the depth of the offensive line room," he said. "And then there are three or four guys right now that are flashing that are doing some good things that are showing a lot of progress.
"And we're hoping one of those gives us that ninth guy going into September and I think that's a pretty elite situation when you can have nine guys that you feel comfortable playing every Saturday."
*Longo has been living in Chapel Hill now for nearly two-and-a-half years after being hired as the Tar Heels' offensive coordinator back in Dec. 2018.
Despite the 31-year coaching veteran being no stranger to living in different places around the country, including Mississippi, Texas, Pennsylvania, Ohio, Illinois, Minnesota, and New Jersey, Longo considers Chapel Hill one of his favorites.
"I've gotten the elbow a few times (from my wife), like, 'Hey, we can stay here as long as you want to,'" he said. "And my feeling resonates the same. We want to be here with Mack Brown and the staff and we want to be here at Chapel Hill. And the good thing is there's really, for us right now, no reason to leave."
Jay Bateman
*With 15 practices allowed during the spring, the Tar Heels break the period into three phases, which changes every five practices.
Bateman offered more insight into what those phases are and how they change, particularly for his defense as a whole.
"So, the first five days was just kind of go back to install and kind of the basic nuts and bolts of the defense," he said. "We've spent time with them, really since the bowl game, working on those things. Trying to fine tune some things, trying to make some things a little bit more streamlined.
"I think now we're in the phase where we're looking at some different things. We're looking at, hey, do we like this call better than this call against this look? Do we like to package these two calls together better?
"So, I think, now, we're kind of in the new calls, new coverage, new tags phase of the install. And then after about practice 10, at that point it starts to become, now let's put it all together, let's go do it for four or five practices, and then play the spring game."
*UNC returns a ton of depth on the defensive side of the ball this season, with linebacker Chazz Surratt the only starter gone from last year's team.
The program is recruiting a lot better, too, with their 2021 class ranking No. 15 in the country with 19 total commits, 12 of which have enrolled early and are participating in spring ball.
So, what does Bateman think about the depth he has at his disposal now compared to when he first arrived in Chapel Hill over two years ago?
"I think we had some good players when we got here, I just think we have more of them now, especially in the front seven," he said. "So. I absolutely think our front seven pieces are more physically aligned with what you need to compete at the highest level in college football. And then I think in the secondary, we've kind of had to patch some things.
"But I think now, Dré's (Bly) done a great job with the corners. I think we've got five corners I can play. They're all good players. So I think we've made great strides with talent and now we need, as a defense, to implement that."
*Forcing turnovers is something Brown's teams have really struggled to do since his arrival back in Nov. 2018.
The Tar Heels ranked No. 73 in the country last season in turnover margin, forcing 11 turnovers compared to turning the ball over 13 times on the offensive side of the ball.
Brown has mentioned many times he wants his teams to force more turnovers than they have in the past, so what's the secret to doing just that this coming season?
"I think the first thing to do to create turnovers is you have to stop the run," Bateman said. "And I think when we were consistent at stopping the run, we caused more turnovers. There's no secret sauce, right? So, I think it starts with being better in the run game. And I think, when you're better in the run game and the pass game becomes something they have to do, and then on defense you're anticipating the pass game, I think the ability to cause interceptions and cause fumbles increases dramatically.
"So, trust me, we are reminded that we need to cause more turnovers. And I do think, as some of our guys have matured and become more veteran players, you become more confident in going for the football some than trying to make a tackle at times. And I think that's what we've done."
Bateman added that his defense, because it is so experienced, is putting more of an emphasis on forcing turnovers during spring practice.
"One thing we talk about with them right now is, when the ball is exposed, when can we attack the football? And I think, with more veteran guys right now, that's something that we can take a shot at."