Swofford Addresses ACC Network, Gambling & More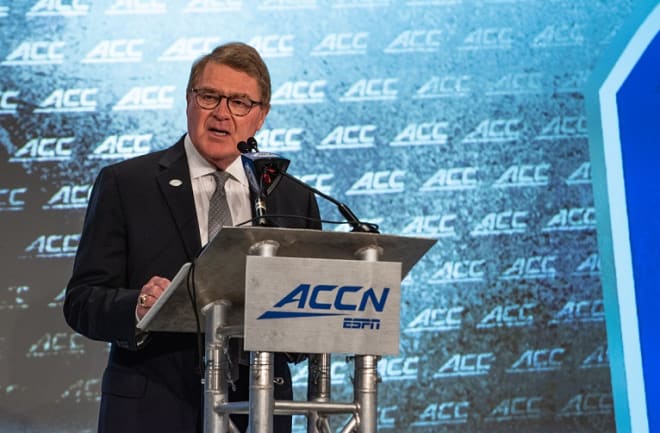 CHARLOTTE - Commissioner John Swofford opened the ACC Kickoff with his annual State of the ACC address Wednesday morning at the Westin Hotel.
Some of the major talking points ahead of the 2019 football season was the launch of the ACC Network, the conference's recent success across different sports and gambling in college athletics.
As always, Swofford started his speech with some of the league's accomplishments over the past few years:
*Since 2015, the ACC has won seven national championships in football, men's basketball, women's basketball and baseball. That's the most of any conference.
*The ACC has won more national titles in men's basketball than any other conference since 2013.
*An ACC team won the men's basketball (Virginia) and football national championship (Clemson) in the same academic year for the fourth time in conference history.
Undoubtedly the biggest talking point of the day was the ACC Network, which launches at 7 p.m. on Aug. 22. The network is owned by ESPN and is solely dedicated to covering sports across the conference.
Here's what Swofford had to say about the launch:
"Looking forward, the most significant opportunity that's upon us is the August 22 launch of the ACC Network. Having the opportunity to do this with a terrific partner we're working with has been a progression over time. It's been a journey…
"The ACC Network will give our schools a national platform to showcase our campuses, our coaches, our student athletes. This will result in 24/7 ACC programming, increased exposure for our athletic programs, our student athletes, our entire universities and their communities. It will bring unprecedented exposure for our women athletes and programs."
In addition, the ACC announced its broadcast teams for the 2019 football season:
*Dave O'Brien (play-by-play), Tim Hasselbeck (analyst), Katie George (reporter).
*Chris Cotter (play-by-play), Mark Herzlich (analyst), Kelsey Riggs (reporter).
*Wes Durham (play-by-play), Roddy Jones (analyst), Eric Wood (reporter).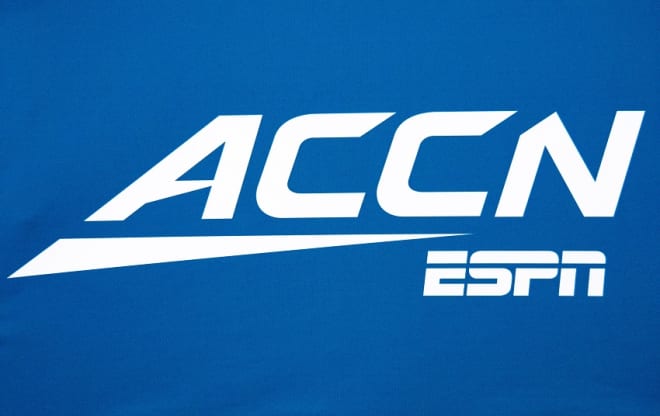 Despite already having more subscribers than the Pac-12 Network, ESPN is still working on negotiating with satellite providers to carry the ACC Network before it launches. As of right now, DirecTV, Verizon Fios, Altice, Hulu and Playstation Vue have all agreed to carry the network while Comcast, Dish and Charter are some of the biggest providers that have yet to agree a deal with ESPN.
Here's what Swofford had to say on the matter:
"You'll be able to get the ACC Network anywhere in the nation one way or another. Whether it's DirecTV, whether it's HULU that are already on board. People will have an opportunity to change carriers if they're not happy with their current one who isn't carrying the ACC Network.
"And, one I've said over and over, contact your carrier if they're not carrying it and demand that you want it. It's a consumer type of thing and be passionate when you do it."
The last major point of conversation was gambling in college athletics. Concerns originally arose in May 2018 when the Supreme Court ruled that it's a state's decision on whether or not to legalize sports betting. And, while little to no problems have occurred since that ruling, some people are concerned betting on college sports could lead to problems in the future, especially with the ACC Network allowing people to watch more games across the conference than ever before.
Here's what Swofford had to say on gambling:
"It's obviously a changing world for us. Quite frankly, our president's would like to see a carve out for college athletics so that college athletics could not be gambled on as well as high school athletics.
"So, that effort continues and we'll see how that works out. Obviously, with ESPN or anybody else we're partnering with, we want space between gambling and our games. We do have those discussions and we will have conversations ongoing about that."