The Fire Inside
Cole Anthony is the best high school guard in the entire country.
The 6-3 star from Briarwood (NY) Archbishop Molly is as tough, skilled and as intense as they come in the class of 2019. He's desired by virtually every college basketball program in America.
The son of former UNLV and NBA great Greg Anthony is a better prospect than his dad was. Both father and son will tell you that. He has Derrick Rose's explosiveness and Chris Paul's feel for the game.
He's driven. He's a gym rat. He actually plays defense, and he's virtually unstoppable when completely locked in. And as immensely talent as he is, we haven't even mentioned his best traits -- his confidence and competitive drive. Those last two attributes are off the charts.
"Absolutely," he said. "My confidence just comes from constantly being in the gym and every time I step into the gym, I just get a little more confident. I know how hard I'm working. There's no reason why I shouldn't be that confident in myself. It's a blessing."
Now, how about that relentless competitor within?
"I honestly can say I've had it my whole life," Anthony said. "I wasn't always the best kid when I was younger, but that's something I always had. I was always going to go as hard as I can. It's just something I was blessed with."
As an evaluator of talent, watching Anthony in action is so enjoyable. He never takes plays off, is supremely gifted as an athlete, which is evident with his 40-inch vertical and shocking speed. He plays with purpose, pace and precision and never gets rattled, always maintaining his poise when the games even reach the chaotic state, which is commonplace in AAU basketball.
Missing from the regular praise heaped onto Anthony is his defense. He's engaged, communicates, anticipates passes, stays close to his assignment and moves his feet extremely well.
His father was known for his intense defense as a key part of some outstanding teams in Las Vegas in the early 1990's, as well. Dad nearly won consecutive national championships, claiming one in 1990 and losing in the Final Four the following season.
"Well, the name of the game is defense," the younger Anthony told Tar Heel Illustrated. "Defense makes the game easier for you. You go get a steal, it creates a fast-break opportunity. And a fast-break is the second easiest way to score a basket.
"So (my father) just stresses to me how important defense is. I'd say I'm an all-around player. I'm going to go do it. Give you everything I can on defense and then give you everything I can on offense at the same time."
When asked where he will be for the remainder of the summer, most prospects simply name events. But Anthony is just wired a little differently.
His first thoughts were to get better and keep working. He'll absolutely be at events, but his first instinct of what he thought about lends so much credibility to his work ethic and insatiable desire to compete, to win and to get better.
"I'll be in the gym everyday," he replied.
The most obvious thing that fans from across the country want to know is where Anthony will play his collegiate hoops. And here's the thing -- he's not going to talk recruiting specifics. He won't entertain the questions, so as a recruiting analyst, the intel must to come from other channels, such as college coaches, who may talk off the record. Or teammates who may speculate.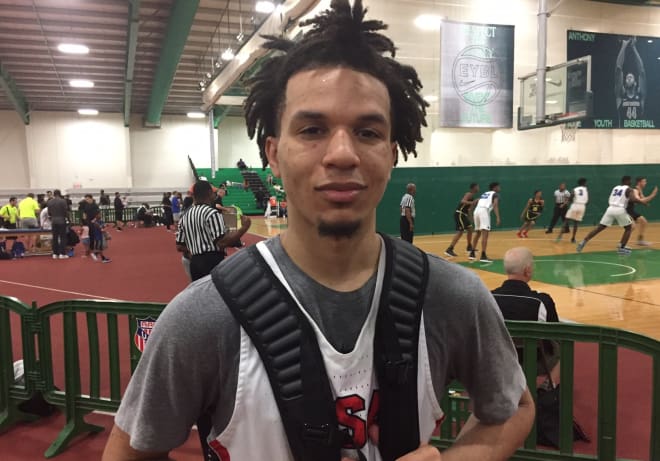 The family keeps their circle tight, and anyone who says that they know where the ball-handling whiz will attend college, they're just guessing.
Reading the tea leaves is all anyone can do. And the best way to gauge who feels like they have a chance is to see what programs are sitting along the baselines during his games. And how many times they're present.
Blue bloods such as Kentucky, Duke and North Carolina have been regulars at many of his games. Villanova, Oregon and UCLA have also shown strong presences at his games.
But even the most clever questions about which programs he's noticed won't elicit a response. He's not showing his cards, and the family considers the matter private.
And you know what? That's something we all have to respect and honor. He answers the question just like we thought he would.
"I really wasn't even paying attention," he said, with conviction in his voice. "I was on the court trying to win the game. I'm trying to make myself better. I'm trying to make my teammates better and trying to get my teams some wins. That's it."