The Other Guy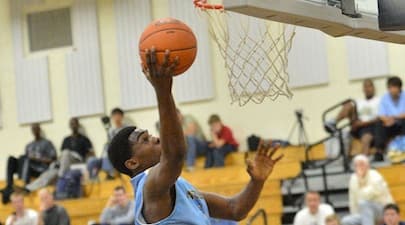 Andrew Wiggins
might be the best player on
Rob Fulford's
powerful Huntington Prep (WV) team, but he isn't the only prospect that college coaches are coming in to see.
Most of his friends and family simply call him "Teki," and it's a nickname that he has had for a long time despite the fact that he absolutely doesn't know where it originated from.
"I have no idea," said Gill-Caesar. "I ask my mom where it came from all the time, she has no idea either."
Regardless, Teki is earning a lot of accolades as the "other" wing on Fulford's loaded and nationally ranked team.
He's a well-built 6-5, 205-pounder who boasts several high major qualities including the ability to drive and slash, coveted athleticism and a jump-shot that is getting better and better in time.
The 2014 SG/WF feels that his game has many strengths -- from his versatility to his overall athleticism and shooting range.
"My ability to play multiple positions as well as guard multiple positions," he told THI.
"I think I'm a strong finisher around the basket and I can get out in transition and finish due to my athleticism. I've been working hard on my outside shot a lot and I'm getting more consistent with my three-point shot."
Of course going up against the nation's number one player in the USA in practice every day also
Wiggins has made Gill-Caesar work harder, be consistent and learn to score against someone who is more athletic. It's also made him a better player on the other side of the ball.
"It's increased my competitive edge," he said of going against Wiggins. "Even though I know how good he is, I never want him to show me up, so it made me work harder. He's also an amazing defender, so I had to find different ways to score. On the defensive end, you have to work twice as hard to contain him and that's made my defense that much better," he continued.
For the season, the 2014 wing is averaging 14 points, four rebounds and two assists per game.
His recruitment is starting to pick up some steam because of it.
He claims offers from West Virginia, Central Florida and Baylor and says that he is receiving consistent interest from Ohio State, Kentucky, Indiana and South Florida. His coach, Rob Fulford, tells THI that North Carolina is also showing some interest for the well-rounded wing.
"They (North Carolina) have been more focused on Andrew but they like him (Gill-Caesar) and are going to track his progress," said Fulford.
Should the Tar Heels increase their interest in Gill-Caesar, he is going to be very receptive. He told THI that UNC, Kentucky and Indiana were three schools that he has a fond interest in.
He elaborated more on the Tar Heels.
"I like their tradition of winning. They've produced some great players, the main one being Michael Jordan of course. I like their style of play and their fans are very supportive, Every game I see on TV, the seats are always full."
Gill-Caesar will play his AAU basketball this summer with the powerful Canadian squad, CIA Bounce.