Time for Action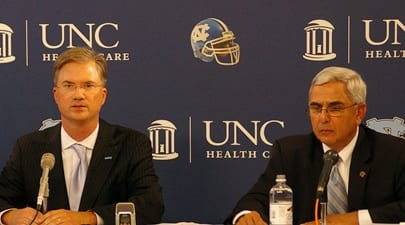 The NCAA, as with religions of antiquity, requires a sacrifice in cases such as the one that lay before Carolina with the official Notice of Allegations released this week.
This would be the ideal time for UNC to make that sacrifice and render a strong statement that it has learned from its errors and will act in concert with the image it strives so hard to portray.
There is no better way to accomplish this than for Dick Baddour, director of athletics, to retire gracefully.
He should make a statement that he has done his best for the school he loves so dearly and is ready to spend more time with his family.
Now is no time for stubborn pride.
He has served the university longer than many of its alumni have been alive.
There is no need to take cheap shots at him on the way out the door, either. Throw him a party; congratulate him on a retirement well-earned and then get down to the business of finding an AD who can finish what Baddour has guided the school through so carefully in the last year.
But it is important that he walk out that door.
His retirement and then a strong statement from a new AD could go a long way in Carolina's favor. UNC has already done plenty by suspending players later found to be innocent, and by losing players who were guilty of accepting improper benefits and academic improprieties.
The NCAA wants its pound of flesh.
UNC appears to an easy target for making an example, unlike Auburn and the rest of the Southeastern Conference, which the officials at NCAA headquarters clearly fear.
Of course, by now many of you reading this are saying, maybe even screaming, that Coach
Butch Davis
is the one who should go.
You are wrong.
Davis is at fault for hiring John Blake. But no coach in America can keep a player from taking money from a runner or agent if the kid wants to do it.
Also, Davis does not oversee the tutoring program. That falls under the leadership of Chancellor Holden Throp and Baddour.
With the tremendous investment in the football program at the moment and Davis' public relations skills, he can lead the football program out of this mess, back to respectability and to more wins on the field.
As for Thorp, he is relatively new to the job and would be better off learning from his mistakes than resigning. His departure would be an unnecessary sacrifice.
The sacrifice must come from the man whose direct responsibility was to see that these kinds of mistakes did not occur in the athletic department.
He is the man who has preached the "Carolina Way" every day of his life as AD.
Well, the Carolina Way in this case should be to step aside with class.
This game is run by the people at NCAA headquarters and they fixed it from the start with scare tactics and grilling teenagers without proper representation. UNC has no choice at this point but to finish by the NCAA's rules, hypocritical as some may be.
The letter Carolina received this week reveals nothing earth shattering. We have heard it all, repeatedly.
Anyone who has watched the NCAA through the years, though, has seen that preemptive moves can make a difference. More than once, a resignation and self-imposed sanctions led the NCAA to back off some at the end of its inquisition.
So I'll say it one more time. That sacrifice should be Baddour announcing his retirement.
Do it now and there would be time to find a replacement, give him or her a chance to make a strong-sounding statement and then give the school's final answer to the NCAA's inquiry.