UNC Enters Picture For 5-Star 2019 Power Forward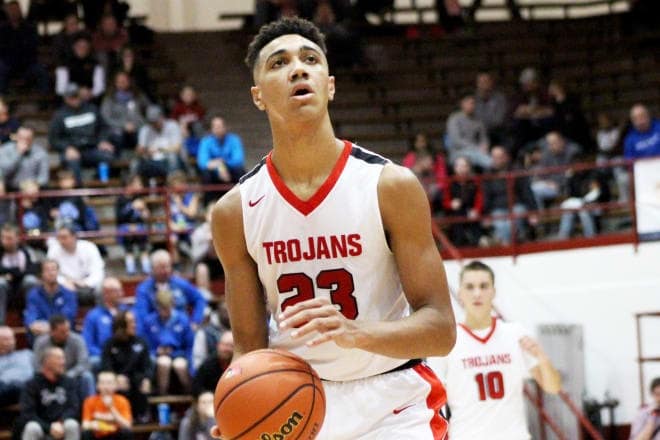 One of the most productive big men that Tar Heel Illustrated saw in the Nike EYBL circuit this spring and summer was 6-10 power forward Trayce Jackson-Davis with the Indy Heat.
The athletic big man with a 7-1 wingspan was very productive and efficient inside the paint and was one of the better rebounders in the circuit.
But he wasn't on the Tar Heel radar, so we didn't have to interview him. But that's now changed, as the class of 2019 Indiana native has heard from Roy Williams.
Jackson-Davis confirmed the news this week.
"Yes, Coach Williams has told me about their offense and that they watched me over USA and they want to know more about me and get to know me," he said. "He also talked about the position and how they are inside-out and how their bigs get to do more than just post up.
"North Carolina and Coach Williams said that they are highly interested."
The bouncy 235-pound rising senior sees himself as a guy who can play inside and outside. He wants to show his full plate of skills on the next level.
"I consider myself a stretch four where I can slash people of the dribble," he said. "I can also post guys up that are smaller than me, but I want to be able to be as versatile as possible."
He was part of the USA 17U squad that just finished up, where he played more of a center role with a team that played fast and spread the floor.
"I felt like (the USA coaches) wanted me to play more of a five position because our team was guard dominant, and it was the role that Coach (Bill) Self needed me to play."
With tons of offers and interest from state, regional and national programs, we asked the soft-spoken big man which schools he felt was making him a priority. And the list is long and distinguished.
"UCLA has told me numerous times that I am a priority," he replied. "Purdue tells me that they want me really bad, and I can thrive in their offense. Indiana has told me I'm their top target in recruiting. Iowa has told me that they are highly interested.
"Memphis and Coach Mike Miller and Coach (Penny) Hardaway have told me that I was a huge target. Ohio State has been recruiting me hard. Georgia has told me about how they develop players and that I would thrive in their system."
And he went on. Not forgetting any of his major suitors.
"Wake Forest and Coach (Danny) Manning have told me that they would love to be able to coach me, and that Coach Manning would help me improve my game."
We got him to elaborate a bit more on UNC as well.
"I just see Coach Williams as one of the best coaches of all time. And the knowledge you could learn from that. And also, there (are) always high caliber players there. I just think that they are always in the mix to win a national championship."
With so many options, how does he move towards an eventual decision? We asked him that very question.
"I'm taking at least six or seven visits," he said. "I need to find times and dates right now. I know right now I have three of them, but that doesn't mean anything because I will be visiting every school that will be in my final seven. Just need to figure out which ones will be officials."
Jackson-Davis is the 22nd rated prospect in the United States, in his class, according to Rivals.com.