UNC To Part Ways With Fedora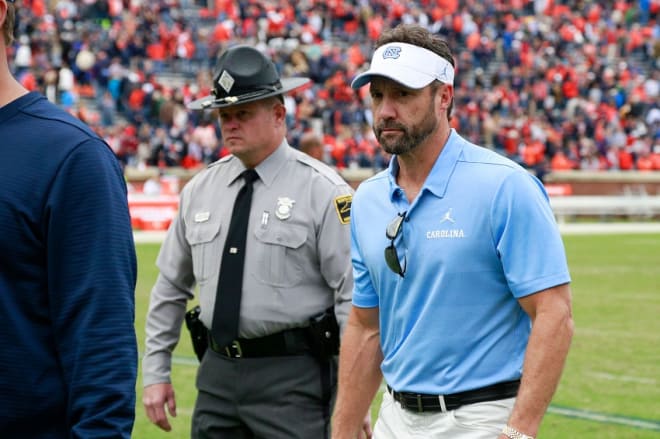 North Carolina football coach Larry Fedora has been relieved of his duties, effective following Saturday's season finale at home versus rival N.C. State, multiple sources around the program have confirmed to Tar Heel Illustrated.
Fedora just finished his seventh season at the helm of the Tar Heels, who concluded the season 2-9 overall and 1-7 in the ACC. A year ago, UNC went 3-9, and over the program's last 27 games, the record is 6-21. That followed a 22-game stretch in which he led UNC to 18 victories, including an 11-3 mark in 2015 and Coastal Division championship.
Overall, Fedora is 45-43 at Carolina, including 28-28 in ACC play.
Fedora was named UNC's head coach Dec. 9, 2011, and inherited a program headed toward NCAA probation, which was handed down the following March. It included a one-year bowl ban and a loss of 15 scholarships over three seasons, which was the term of the program's probation.
Even with that hanging over, Fedora led UNC to an 8-4 mark his first season and a share of the Coastal Division title, though UNC couldn't compete in the ACC championship game or play in a bowl that season.
The 2015 team lost its opener and then reeled off 11 consecutive victories, the longest in-season win streak in the program's history. The Tar Heels lost a competitive game to Clemson in the ACC championship and later lost 49-38 to Baylor in the Russell Athletic Bowl in which UNC allowed 756 total yards, including a bowl record 645 on the ground.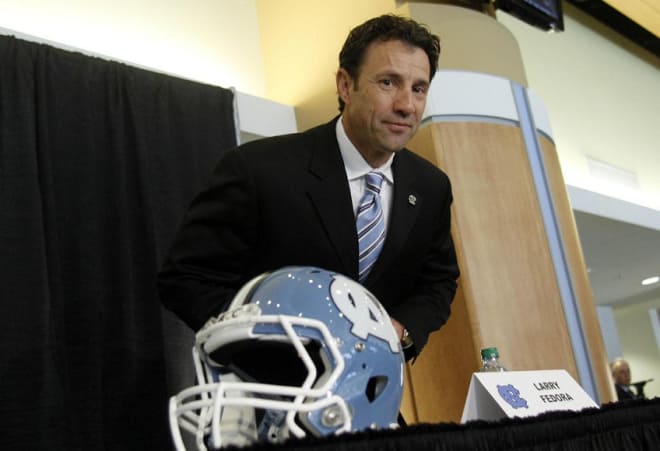 The Tar Heels' defense under Fedora has always been one of the most criticized elements of his teams. In the 87 games he's coached, UNC has allowed 30 or more points 38 times, 40 or more 16 times, 50 or more 6 times and 60 or more twice, with a high of 70. UNC also lost to Georgia Tech, 58-50, in 2012 in the highest scoring game in ACC history.
Carolina has allowed an average of 29.9 points per game in Fedora's tenure, and if you exclude eight games versus FCS and transitional programs, the defense has averaged allowing 31.4 points per contest.
UNC has lost three consecutive games to East Carolina, allowing 55 points per game in the process.
Furthermore, this past season started with two negatives that generated national news: The NCAA suspension of 13 players for their roles in selling team-issued sneakers and Fedora's controversial CTE comments at the ACC Kickoff in Charlotte in mid-July.
According to sources, UNC is working out an agreement on Fedora's buyout, which could soon be announced by the university. The reported buyout figure is $12.2 million.
Fedora, who turned 56 in September, has been a head coach for 11 seasons, with his first four at Southern Mississippi. His overall record is 76-61.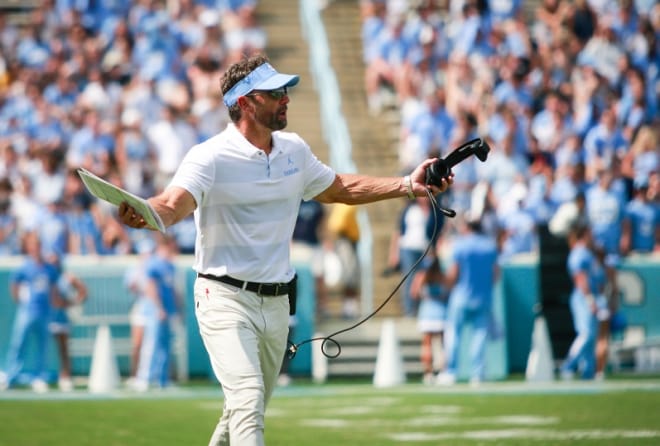 Fedora By The Numbers
*UNC's average score in Fedora's 88 games as head coach: UNC 33.5, Opponents 29.9.
*Carolina has played eight games versus FCS or transitional teams winning all eight by an average score of 58.7-16.3.
*UNC's average score in 79 games versus FBS teams not in transition: UNC 30.7, Opponents 31.4.
*Under Fedora, the Tar Heels have scored 30 or more points 49 times, 40 or more points 26 times, 50 or more points 10 times, 60 or more 4 times and 80 or more once.
*Under Fedora, UNC has allowed opponents to score 30 or more points 39 times, 40 or more points 16 times, 50 or more points 6 times, 60 or more points twice and 70 or more once.
*In Fedora's 88 games, the Heels have scored fewer than 20 points 18 times, 11 times in the last two seasons.
*In Fedora's 88 games, the Heels have allowed fewer than 20 points 19 times, but it happened 10 times in Gene Chizik's two seasons at defensive coordinator.
*In the 27 games Chizik was defensive coordinator, UNC allowed 40 or more points twice, an average of once every 13.5 games.
*In 60 games Chizik has not been defensive coordinator, UNC has allowed 40 or more points 14 times, an average of once every 4.3 games.
*In 88 games under Fedora, UNC's defense allowed 37,953 total yards, which equals 21.3 miles, which comes out to an average of 431.3 yards per game.
*Under Fedora, UNC has allowed 19,362 passing yards, which is an average of 220.3 per game, and 18,591 rushing yards, an average of 211.3 per contest.
*In that span, opponents have run the ball 3,985 times against the Tar Heels for an average of 4.7 yards per attempt.