UNC Opponents Snapshot: Notre Dame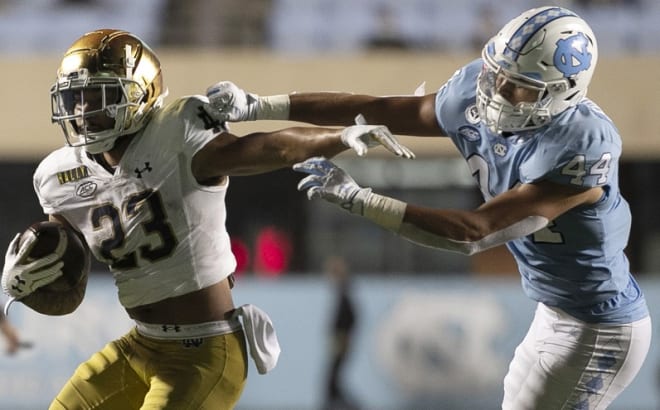 Notre Dame's brief stint in the ACC was rather successful, as the Fighting Irish outright won the regular season conference title with a 9-0 mark and placed quite a few players on the all-league team.
But the Irish are back to Independent status in 2021, which means they will face just five ACC clubs this fall, including an Oct. 30 home date with North Carolina, which will air in primetime on ABC.
Before the Tar Heels arrive in South Bend, though, Brian Kelly's team has a lot of work to do. Fourteen players from last year's team that lost in the CFP semifinals were either drafted or signed free agent deals with NFL teams. Notre Dame ranks No. 124 out of 127 FBS teams that played last season in returning production from the fall of 2020. So, Kelly's task is considerable.
But this is Notre Dame, and the Irish certainly aren't void of talent. THI continues looking at UNC's opponents for the coming season. First, we are diving into the Tar Heels' four nonconference opponents, then we will do the four ACC road opponents, and then the four ACC home opponents.
To learn more about the Irish, we asked Blue & Gold staff writer Patrick Engel to give us his thoughts about Notre Dame:
Notre Dame Fighting Irish
Game Date: Oct. 30, South Bend, IN.
2020 Record: 10-2 overall, 9-0 ACC
2021 Offense: No. 26 overall (448.5 ypg); No. 24 rushing (211.1 ypg); No. 30 scoring (33.4 ppg)
2021 Defense: No. 25 overall (343.6 ypg); No. 16 rushing (113 ypg); No. 14 scoring (19.7 ppg).
Starters Returning: Offense 4, Defense 6.
Offensive Strengths: Notre Dame has two reliable, versatile and explosive running backs in Kyren Williams and Chris Tyree, who were important pieces a year ago and figure to be even more so this year. There's a lot of uncertainty surrounding who catches passes, but tight end Michael Mayer was a freshman star a year ago with 42 catches and enters the season as a strong Mackey Award candidate.
Defensive Strengths: It starts with Kyle Hamilton, the best NFL safety prospect since Derwin James and an omnipresent force who can play all over the defense. Notre Dame's defensive line is two-deep at each position and might be the team's best overall unit – not because of individual star power, but enviable depth of talent.
Offensive Weaknesses: The offensive line has just 31 returning starts (though it adds that many with Marshall grad transfer Cain Madden) and might start a freshman all season for the first time in Brian Kelly's tenure. The wide receivers have a combined 88 career catches, and the Irish are counting on slot man Avery Davis (24 catches last year) a bunch of unproven seniors to carry the unit this year.
Defensive Weaknesses: The secondary has a hole next to Hamilton at safety that will likely be filled by seniors Houston Griffith or D.J. Brown, who have had bumpy careers so far. The boundary cornerback job is open again, with converted receiver Cam Hart the favorite. He has the physical tools to excel there, but he has played just 91 career snaps and isn't yet a bankable asset.
Overall Outlook: Kelly has the floor high once again, even in this year of much transition. The Irish's schedule also doesn't have a team that's undeniably better than them, an idea sportsbooks and predictive stats support. They're underdogs in just one game (Wisconsin in Chicago). But there are enough good-to-very-good teams on the 2021 slate, and winning all of those is usually a big ask. Ten wins feels like a safe projection, but to expect 12 would be overzealous at this point.
- Patrick Engel
Notre Dame Football on Twitter