UNC-Virginia Concerns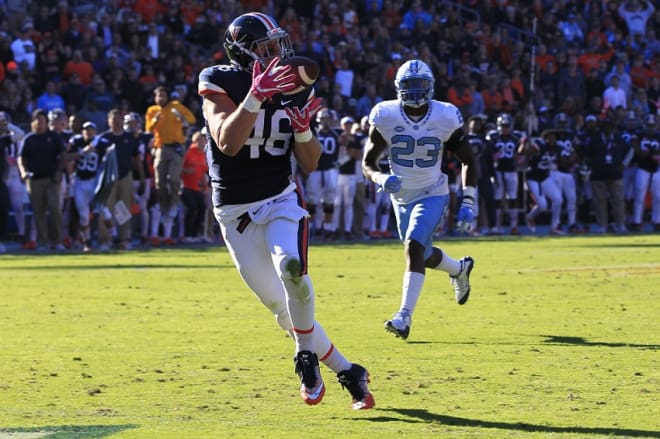 CHARLOTTESVILLE – There just wasn't a whole lot North Carolina did wrong Saturday.
The No. 21 Tar Heels had some poor moments in their 35-14 victory at Virginia, of which are noted below, but for the most part, none were ultimately costly in the grand scheme of things.
Here are some concerns from the Tar Heels' 6th win in 8 games, and 4th in 5 ACC contests:
Fumbles – First, T.J. Logan fumbled on what appeared to be a certain scoring drives, coughing up the ball on th Virginai 6-yard-line with the Cavs falling on it at their own 1. Then, on Carolina's first possession of second half, after a 13-yard run by Elijah Hood and a 22-yard pass play, Ryan Switzer fumbled on a jet sweep and UVa recovered on its own 45.
12-Play Drive – The Tar Heels had hammed in a couple of nails after going to 28-7 late in the 3rd quarter, but the defense allowed a 12-play, 53-yard scoring drive by the Wahoos aided by a pass interference on M.J. Stewart and a 4th-down conversion by Virginia. The Hoos scored to make it 28-14 with 9:01 left in the game.
UVA's Trick Play – The Cavaliers lined up to kick what would have been a 28-yard field goal but shifted its alignment to something the Heels appeared to have not seen before. The Heels were suddenly in panic mode, fingers pointing, and nobody knew what to do. While the kicker remained behind the center, nobody else did. The tight end snapped the ball behind and to his left to former starting QB Matt Johns who hit the TE rolling into the end zone for the score.
Fedora considered calling a timeout before the play.
"I did, I did consider calling a timeout," he said. "In fact, I was going to call timeout but the defense said, 'We got this.'
"We practiced it, we practiced it … and he had that guy."
Another Injury – Junior right guard R.J. Prince, who was the third player slotted for the position since before John Ferranto went down for the season with an injury in July, also went down early in the 4th quarter. No news yet on what the injury is, but Brad Hansen replaced him for the rest of the game.